MAGLDBenedict
From MasonicGenealogy
DEAN EDWIN BENEDICT 1937-2017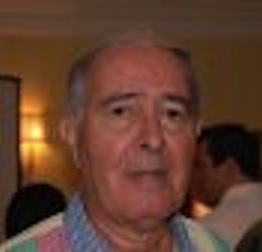 BIOGRAPHY
MEMORIAL
From online obituary:
Rev. Dean E. Benedict age 79 of Concord, Clearwater, FL and formerly of Batavia, NY passed away on Monday, May 29, 2017 at Beth Israel Medical Center in Boston. He was the husband of Vivian (Fisher) Fanton-Benedict and the late Jean M. (Learned) Benedict who died in 2011.
Born in Batavia, NY on November 21, 1937 he was the son of the late Donald C. and Gertrude (Hutton) Benedict.
Dean and Jean married on June 21, 1958 at the First United Methodist Church in Hudson and began a loving and faithful marriage lasting of over 52 years.
Dean graduated from Boston University School of Theology in 1967 with a Master of Divinity degree. He served as Pastor or Supervising Pastor in the New England Conference of the United Methodist Church. He also spent many summers as a camp counselor at church camps sponsored by both the New England Conference and the Boy Scouts of America. While serving as Pastor at the First United Methodist Church in Hudson he also served several terms on the Hudson School Committee and one year as Chairperson.
A longtime and active Rotarian Dean served as President of his Rotary Club, he was awarded the Paul Harris Fellow by Rotary International in recognition of his outstanding service to his community and to the world.
Dean was an active member of the Shrine, he served three terms as the Board of Governors of the Shrine Hospital for Children. From 1976-1982 he also served as the Chaplin of the Shrine Burns Hospital in Boston and in 1999 Dean served as Potentate of his local Shrine Center and as the International Chaplain of the Shrine of North America. Dean was also a Master Mason and was a member in several Masonic Lodges and the Commandery.
A well known motivational speaker and writer he has been called upon to speak at organizations as well as author devotional pieces. In 1980, Dean was given an honorary Doctor of Divinity degree by the University of Santo Domingo in appreciation for all he had done to help the children of that country.
A devoted husband and family man, Dean cherished spending time with his children and grandchildren. He traveled to many states and countries and embraced the adventure of each new experience. He wintered in Clearwater, FL and summered in New England and was often found on the golf course or volunteering for local charities and organizations.
Along with his wife Vivian, he is survived by his children Rebecca L. Appel and her husband Charles of Hudson and David C. Benedict and his wife Catherine of Norwell. Stepfather of Wray Fanton and his wife Tara of Pittsburgh, PA and Troy Fanton and his wife Cindy of Acton. Dean is also survived by his grandchildren Brianna and Colleen Benedict, Abigail and Maggie Appel and Lillian Fanton. He is also survived by his brother-in-law Charles Learned and his wife Joy of LaGrange, TX and their children Lori Jo Burton, Julie Clark and Jill Harris.
SPEECHES
FEAST OF ST. JOHN, DECEMBER 1991
From Proceedings, 1991-203:
Most Worshipful Grand Master, Most Worshipful Past Grand Masters, distinguished guests, my brethren all. When our Grand Master — Let's see if I get this right, Most Worshipful. When Most Worshipful Edgar William Darling, Grand Master of Masons in Massachusetts, asked me to do this I honestly didn't know what 1 would say. He told me he wanted me to talk about the image of Masonry and the fact that we had to bring it into the 21st Century. He told me he wanted me to talk about how our image had to change from that stodgy old image that many of us remember to something new and different. And I couldn't think of anything better to begin with tonight than something that happened last night.
Last night I was with our Grand Master and the guests from out of state. In the course of the evening a number of us took a break to go where all of us go at one time or another. We all marched in, and there were eight of us lined up in a neat little row, all in our little black tuxedos. Another guest in the hotel walked in. He looked up and he looked down. He said, "I didn't know you had to get dressed to go to the men's room." I don't know what that did for the image of Masonry. I don't think the fellow remembered what he went in there for. But I am convinced that the image of Masonry is already improving.
With all due respect to my good friend, Worshipful Dave Davies, I went to the new Grand Marshal's place of business about a week ago. As I drove up, there was a beautiful new BMW in front of his place of business. Then he drove in in a Volvo. Then I remembered our then current Grand Marshal in his Renault Alliance. You know, our Grand Master used to send him on all sorts of little junkets around the state. On one occasion there were a couple of guests with him. One was from the Grand Lodge of Israel and one was from the Grand Lodge of India.
As our then Grand Marshal was driving along in the western part of the state, the car died. They made their way to a farmhouse. They were told there was no place they could get the car fixed that night, but they could stay there that night. There was only one problem. There was only one double bed and there was three of them, but there was room in the barn. Well, the brother from India said, "Well, I was raised on a farm. I have no problem with that. I will go sleep in the barn." So our Grand Marshal and the brother from Israel started to prepare for bed.
All of a sudden there was a rap on the door. It was the representative of India. He came back. He said, "I can't stay in that barn." He said, "There's a cow in the barn. We in India think very highly of the cow. I can't sleep there." The representative from the Grand Lodge of Israel said, "That's no problem. I'll go sleep in the barn. I was raised in a kibbutz." So off he went to the barn.
David proceeded to get into his pajamas along with the representative of the Grand Lodge of India when all of a sudden there's a rap on the door. The representative of Israel says, "I can't stay in the barn. There's a pig in the barn. You know, I can't be there." Whereupon David said, "Well, I'll stay in the barn." He grabbed his stuff. Out to the barn he went.
Just as the representatives of Israel and India climbed into bed there was a knock on the door. It was a cow and a pig.
I'm so glad you have a BMW and a Volvo that you're driving, although your sister tells me you'll never get your hands on that BMW.
But I can't help but think of the image of Masonry, and, you know, we do many things that affect the image of Masonry. And many times they are the things we don't realize that we're doing rather than the things that we are attempting to do. So I'm going to share with you some things tonight.
On one occasion I thought I would write a book and entitle it "Questionable Contributions That I Have Made to the Ecumenical Movement." A number of years ago my closest friend at that time passed away. At that time he was a Grand Chaplain of this Grand Lodge. His name was Worshipful Reverend Harry Paine Folger. I'm sure some of you who have been around a while remember Harry.
When Harry died his funeral was in Maiden. I was privileged to be his associate at the time. After the funeral he was going to be buried in a place called Tuckerhoe, New Jersey. Well, I had never been to Tuckerhoe, New Jersey until Harry's funeral. We drove down to Tuckerhoe the day before Thanksgiving, wanting to be back with our family for Thanksgiving. My superior and I made arrangements so that we could go to the funeral, get a ride back to the Newark Airport and then fly back into Boston Thanksgiving Eve.
We arrived at Newark Airport at 9:25. The last shuttle on the old Eastern Shuttle was at 9:30. In the old Newark Airport, when you entered you pulled a ticket out of the machine. It looked like the things you get in a bakery. Then you ran from here to Park Square to get to the airplane.
My friend and I started running through the airport. He's taller than I am, and has broader shoulders than I do. I was running directly behind him. We both had on black suits, black topcoats and clerical collars. All of a sudden he made a sharp right turn. Have you ever tried to follow someone? When they go you go a little bit wider. When he took a sharp right turn I realized why. There in front of me was this very matronly lady. She had one of those little fur collars with the fox head sticking out one side. She had a hat on that included everything that would be in Thanksgiving dinner, I think. Then in her right hand she held a leash. It went out and branched and there were two poodle dogs on the end of it. I knew there was no way I could miss all of that.
So as I banked, I jumped. I think I clipped one of the dogs. I came down catching my balance, never breaking stride and running for the plane. As I ran through Newark Airport ringing in my ears were the following words, and I quote, "You no good G. D. priest." If that woman was Catholic, she became an instant Protestant or Jew. If she was Protestant or Jewish, she never wanted to be a Catholic in the first place.
You see, I did something to the image of the priesthood that I didn't intend to do. This is the problem that many of us have in Masonry. We do things without even trying. We make an innocent move in one direction or other. Someone looks at it, they see the result and they blame everybody involved.
A good friend of mine who summers right near me in New Hampshire is also a pastor, but he is in Ohio. On one occasion he got called back to Ohio to conduct a funeral. It was in the heat of August. He doesn't have a phone. We do. We received a phone call that he would be arriving at Logan Airport at 2:30 the following afternoon and could his wife pick him up. My wife agreed that we would take care of their children and his wife was going to go to the airport.
His wife that day spent most of the morning on the beach with the rest of us. She had on this real cute little bikini, and she filled it very well. When you're on a diet you can still look at the menu, you know. She put on one of these little beach coats they wear in the summertime, her Doctor Scholl's and jumped in the car because it was about 95 degrees. She drove to Boston. She timed it perfectly. She drove two times around Logan Airport and there was her husband standing on the curb, black suit, clerical collar and briefcase, and he got into the car. She slid across the seat, and they headed back up Route 93 toward New Hampshire.
The further he went the warmer he got. The wanner he got the faster he drove. All of a sudden he looked in the rear-view mirror. There was one of those little blue lights going around. He pulled over. The policeman came up beside him. He says, "Where do you — I beg your pardon, Father. I realize you must be in a hurry, but take it easy and be careful. Don't drive too fast." He let him go.
As they started on down the road his wife said, "You know, Bill, you should be ashamed of yourself. You know full well who he thought you were." He said, "Yes, dear, that's true, but the real question is who did he think you were?" Again, image. What do we do without trying to the image.
I'm a member of the Shrine and I have been for a number of years. I can remember on one occasion standing in an elevator. On my lapel was a Shrine pin as there is tonight. A man got on the elevator. He spoke broken English. He looked up at me, said, "You're a Shriner." He began to pump my hand. I didn't think he was ever going to let go. He was telling me how wonderful the Shriners were and how his little niece had been burned in a fire and had been taken care of at the Shrine Burns Hospital. He said, "You know, the Shriners are the most wonderful people in the world. They are the only organization that is any good. They are not like the Rotary, the Kiwanis, the Masons, the Knights of Columbus," on and on. I had to stop him and explain to him, you know, the Masons are Shriners. Every Shriner is first a Mason. If I can editorialize, I hope it stays that way.
He didn't know that. A lot of people don't know that. The image of Masonry, a part of it is what we are doing in the collateral bodies, whether it be the Scottish Rite, Shrine, or the Grotto. They don't realize this. But instead they have an image that really doesn't fit.
I remember as a youngster in my hometown there was going to be a Shrine parade. The Shrine was coming to town. They were going to have a parade. I was six years old. My little friend who lived next door heard there was going to be a parade going right by the end of the street. I said to my mother, "Can I go watch the parade?" She said, "You come right into the house. If they get two little boys, you never know what's going to happen." I didn't tell my mother I was a Shriner until I had been one for almost ten years. I was afraid to.
Image. What are we doing to promote the image of Masonry? You know, sometimes we do things to our image and we don't realize it. I read not long ago about two preachers who passed away. Well, when they came to the pearly gates Saint Peter said, "You're both on the list to come in, but your condominiums aren't ready yet. You'll have to go back. But you can go back as anything you want." So one of them said, "Well, I always wanted to be an eagle and soar over the Grand Canyon," and he was an eagle. Now the other one said, "You're sure, no matter what, I'm in?" Saint Peter said, "yes." He said, "Well, you know, Saint Peter, I always wanted to be a real cool stud." Saint Peter said, "Fine." He was gone.
Two weeks passed. He called in one of his underling angels. He said, "You know those two preachers that were here that didn't have their condos ready? They are ready now. Would you go get them?" He said, "Well, where do I find them?" Saint Peter said, "One of them is soaring over the Grand Canyon. He's an eagle. He will be easy. The other one will be a little more difficult. He's somewhere in the Detroit area on a snow tire." We're talking about the image of Masonry.
I will share with you two brief stories that come from the context of that place where I spent my spare time in the church. You know, when we go to church we hear the Scripture. We say the Scripture is from the Book of that or the Book of that. Those of us within the Christian church talk about the Gospel according to Matthew. Tonight I'm going to give you the gospel according to me.
In the Old Testament there's a story about Moses. Now Moses was a very interesting individual. He got into trouble in Egypt. He had been raised in the Pharaoh's household, but he killed an Egyptian and he was banished. The Pharaoh didn't want to kill him. He should have been executed for what he did. But the Pharaoh said, "No. I'll save your life. You will be taking a day's ride out into the desert. If you live, your life is yours."
He found this little oasis, and he stayed there. One day a group of young girls came down to that little watering hole to water their father's sheep. They were the daughters of Jethro. While they were there a band of ruffians came along. They had designs on kidnapping the girls, gathering the sheep, selling the sheep and all the rest of it. Moses was there and sort of hiding in the bushes. He made enough noise so they weren't sure how many were there, so they hurried off. The girls thanked Moses profusely for what he had done and went on home, acted as any young person would after something has happened.
Very soon Jethro realized something out of the ordinary had occurred. He said, "Well, what happened today?" They told him about this man. He said, "Where is he now?" "He's out on the oasis." He said, "Go get him and bring him here and let him dine with us." So I guess Moses was the original man who came to dinner, only he stayed. He married the eldest daughter of Jethro.
It was in that capacity while tending the flocks of his father-in-law that he saw the burning bush and God spoke to him. "I've got a job for you. I want you to go into Egypt, confront the Pharaoh and tell him to let my people go." Moses said, "Who me? You've got the wrong fellow. If I go into Egypt, I can lose my life. There's a death sentence over my head. I'm not going." The Lord said to Moses, "What do you have in your hand?" He said, "The staff of the shepherd." He threw it. When he did it became a serpent. Then God said, "Reach out and grasp the tail." When he did it became a staff again.
We all know that Moses marched into Egypt and the Pharaoh let his people go and that Moses led his people out of Egypt. Moses had something in his hand. He didn't know what that thing was.
Over in the New Testament in the Book of Acts there's a story about Ananias and Sapphira. Ananias and Sapphira decided they were going to join the early Christian church. Well, in those days when you joined the church you took everything you had and you gave it to the church.
My good friends Oscar Guinn and John Higgins are trying to figure out along with me how to work that out. Now if we do, Arthur Melanson is going to activate himself again. It was the original social security. You gave everything to the church and the church took care of you the rest of your life.
Well, Ananias and Sapphira decided to join the church. But the night before they were to take the proceeds of the sale of all they had they got to talking what if this newfangled religion doesn't work, what if it fails? We've lost everything, we have nothing. So they decided between them to put a little bit in an old sock somewhere just in case. When the time came Ananias presented Peter with the proceeds from the sale of all they had. Peter looked at him and said, "Is this all that you received?" "Oh, yes, Peter, it is." Peter looked at Ananias and said, "How is it you can contrive in your heart to deceive the Lord, your God," and at that the moment Ananias fell down dead right on the spot. The young men picked him up, carried him away and buried him.
A little while later Sapphira came in. She didn't know anything about this. Peter said, "Tell me, is it true you sold your property for so much?" She said, "Yes, Peter. That's right." He said, "Do you see these young men coming? They are returning from burying your husband." She fell down and died, too. They carried her out.
Here was Moses. He had something in his hand. He didn't know what it was. Ananias and Sapphira, they had something in their hands. They knew what it was, but they were unwilling to give it, at least completely. You and I have the image of Masonry in our hands. The way that we conduct ourselves wherever we are is going to determine the image that's out there when the Masonic Awareness Committee comes around to try and attract new members into our fraternity. I'm not talking about getting just anybody. But if we act as Masons in a quality way, we're going to attract quality.
You know, there are times when we all wish we could crawl under a rock. One of my other pastimes is going to the YMCA three mornings a week at 5:00 A.M. On on of these days I had done my workout and I was sitting in the steam room. I was sitting with four people that I knew fairly well. Every one of them is a member of the Knights of Columbus. Another man came in. I didn't know who he was. I don't know if they did. But out of the blue he proceeded to tell the rottenest, filthiest joke that I had ever heard. And the brunt of the joke was the Pope. I looked at them and they looked at me and none of us laughed. We all said un-humm and started to go on to the shower.
When I was getting dressed to leave I put on my jacket, a windbreaker, and it has the Shrine emblem on the front of it. As I was walking out of the locker room I came face-to-face with this individual who told the joke. He said, "Oh, Brother Hiram, it's good to know there's another one of us around." I didn't want to admit that I knew him. I hoped to God that those other four didn't, because they knew I was a Mason and I knew they were in the K of C, and we respect and love one another as friends and as brothers.
The image of Masonry. We have it in our hands. We can go out and carry on our lives in business, in our places of worship and in other places in such a way that people will see us and say, "They're Masons. Look at what they're doing in the community, like the D.A.R.E. program." Or they can say. "They're Masons, I don't want to be any part of them."
I was driving down from New Hampshire yesterday. I was coming down Route 93 and a car went by me. Now I'm not exactly known for the slowness with which I drive, but he went by me like I was going backwards. As I looked at the back of his car I knew that he was a Rotarian, a Shriner, a York Rite Mason, Scottish Rite Mason, he has a daughter in Rainbow and a son in DeMolay. They were all across the back of his car. He went by me like I was standing still. I was doing about 68 I think at the time. But I don't have all those emblems back there for them to pick me out with.
How many times have you had someone cut you off and you have looked at the back of the car and you have seen an emblem or sticker there and and you have automatically judged the entire group by that sticker that's on his car and his actions? You and I have the image of Masonry in our hands. You go into a place of business, someone doesn't treat you very well. You look at his lapel. When you walk out do you say, well, all Masons must be crooks because he cheated me. Sad to say, that's the way we are perceived many times.
Just as I in some ways may have made a questionable contribution to the ecumenical movement when I raced through the Newark Airport, we sometimes make a questionable contribution to the Masonic fraternity when we say things, when we do things, when we act in a way that deep down inside we all know is not very Masonic. Quality is going to be attracted to this fraternity, if you and I live and act in a quality way, if you and I take seriously the fact that the image of Masonry is in our hands.
Moses had something in his hands. He didn't know it. Ananias and Sapphira had something in their hands, but they weren't willing to use it. You and I have the future of this fraternity in our hands. What are we going to do about it? The answer is not mine, but ours. Thank you.
---