MAGLBPratt
From MasonicGenealogy
BRUCE K. PRATT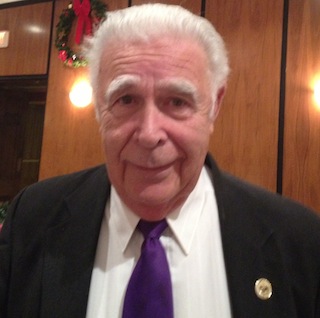 Senior Grand Warden, 2000
BIOGRAPHY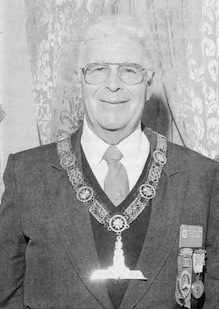 From TROWEL, Spring 2000, Page 5:
Right Worshipful Bruce Kingsley Pratt, a Past Master of Paul Revere Lodge of Brockton and resident of Mattapoisett. was elected and installed Senior Grand Warden. He is a Brother well skilled in York Rite Masonry and grooming a grandson for Freemasonry's future.
Born in Brockton, the son of Walter F. and Ellen B. (Dexter) Pratt. Jr.. Bruce was educated in Brockton's public schools and a graduate of Brockton High, class of 1958. He studied aircraft technology at Wentworth Institute but owns and operates Berwick Marine of West Bridgewater. He deals in the sale and service of trailable boats. He had been an electronics technician with the Foxboro Company but engaged in the retail boat business for thirty-nine years.
Married to Claire M. Pratt since 1967, they are the parents of five daughters and grandparents of seven. One young man carries the hope of his grandfather that he will be a Master Mason.
Raised in Paul Revere Lodge in 1969. he was Worshipful Master 1985, 1986 and 1996. He is affiliated with Saint George Lodge of Brockton and Abraham H. Howland, Jr. Lodge of New Bedford. In 1997 and 1998 he served as District Deputy Grand Master of the Brockton 29th Masonic District. He holds membership in the Worshipful Masters Association of Southeastern Massachusetts, the Past District Deputy Grand Masters Association and was a charter member of the Paul Revere Colonial Degree Team.
A member of Satucket-Pilgrim Royal Arch Chapter, he was High Priest in 1976: was Grand Master of the Second Veil. 1996. with the Grand Chapter: served as Illustrious Master of Brockton-Abington Council. Royal and Select Masters and currently is Grand Conductor of the Grand Chapter. Bro. Pratt was Eminent Commander of Bay State Commandery No. 38. Knights Templar of Brockton, and in 1994. was Grand Commander of the Grand Commandery of Massachusetts and Rhode Island. He is serving as Junior General of the Knights of the Red Cross of Constantine and in 1998 was Prior of Massachusetts Priory No. 52. Knights of the York Cross of Honour: Honorary Member of Roger Williams Priory No. 48 and member of Mayflower York Rite College No. 105.
Bro. Pratt is a Scottish Rite Mason in the Valley of Boston and currently Deputy Master of Fall River Lodge of Perfection in the Valley of Southeastern Massachusetts. He is Second Lieutenant Commander of Old Colony Consistory and a member of the Valley's Executive Committee. Bro. Pratt is the recipient of the Achievement Award with two diamonds.
A Past President of the South Shore Shrine Club, he is a member of Aleppo Temple, the Tall Cedars of Lebanon. Shedad Grotto. New England Grotto Association and Huntington Chapter No. 197. Order of the Eastern Star.
As a member of the Bridgewater Rotary Club. Brother Pratt is the recipient of the prestigious Paul Harris Award.
---