MAGLAStaples
From MasonicGenealogy
ARTHUR STAPLES 1871-1933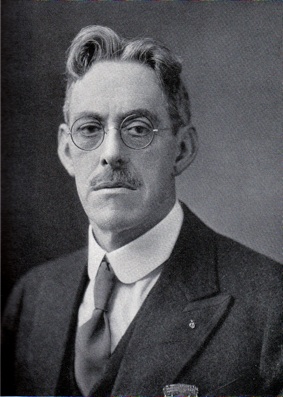 Junior Grand Warden, 1925
MEMORIAL
From Proceedings, Page 1933-20:
R.W. Brother Staples was born in Taunton, July 16, 1871, and died in Phillips House, Massachusetts General Hospital, after a surgical operation, January 29, 1933. He was educated in the public schools at Taunton and spent his whole life there, becoming a banker and business man, one of the most prominent citizens of the city.
He was raised in Alfred Baylies Lodge in 1898 and was its Master in 1905, 1906, and 1907. He was District Deputy Grand Master for the Twenty-eighth Masonic District in 1921 and 1922, by appointment of M.W. Arthur D. Prince. In 1925 he served the Grand Lodge as Junior Grand Warden.
He was a member if St. Mark's Royal Arch Chapter, of Taunton. He received the Cryptic degrees in Attleboro Council, and was a Charter member of Taunton Council. He was also a member of St. John's Commandery, K. T., of Providence, R. I. In the Scottish Rite he was a member of the Bodies in Fall River and of Massachusetts Consistory, of Boston.
His service to the Grand Lodge was far greater than the list of his offices would indicate. He was active and exceedingly helpful in the work of the Board of Masonic Relief, and his Masonic service and influence were most useful in the whole section of the state where he lived.
R.W. Brother Staples was one who consistently practiced in the world the principles taught in the Lodge. Always quiet and unassuming, none but himself ever knew the good deeds he did.
Men loved him deeply, but few knew how great the reason for their affection really was. His passing leaves a vacant place in all our hearts.
From Proceedings, Page 1933-126:
In the passing of Right Worshipful Brother Staples our Craft loses one of its most devoted, active, and useful members in the community in which he lived, one of its most respected citizens.
His was an active life. In early manhood he entered the coal business founded by his grandfather and which still bears his name. There he found opportunities to display his skill and thereby achieve success. By constant application of his talents he advanced to positions of trust and great responsibility. He was respected by his superiors and loved by his associates, for they all knew him as a sturdy, honest, square dealer.
Right Worshipful Brother Staples was born at Taunton, Massachusetts, July 16, 1871, the son of Herbert M. and Alice (Moore) Staples and died at the Phillips House, Boston, Massachusetts, January 29, 1933,leaving a widow, Grace Staples, two sons- Carlton Louis and Herbert Mason - and two grandchildren, Julie and Adele Staples.
His Masonic record was as follows:
Raised in Alfred Baylies Lodge, January 26, 1898; its Worshipful Master in 1905, 1906, and 1907; he was exalted in Saint Mark's Royal Arch Chapter March 23, 1899; received his Cryptic Degrees in Taunton Council Royal and Select Masters, May 13, 1915; was knighted in St. John's Commandery November 3, 1913; Scottish Rite Degrees - from the fourth to the eighteenth, in Fall River, May 11, 1921; Massachusetts Consistory, December 23, 1921. He was an honorary member of King David and Netop Lodges; Right Worshipful District Deputy Grand Master of the Twenty-eighth Masonic District 1921 and 1922; Junior Grand Warden in 1925.
Right Worshipful Brother Staples led an exceptionally active life. In addition to his regular business activities he was president of the Weir Co-operative Bank, director of Taunton Savings Bank, Bristol County Trust Company, and Morris Plan Bank, director of Morton Hospital and Taunton Public Library. He was also keenly interested in politics, serving in the Taunton Municipal Council for several years where he rendered distinctive service.
Right Worshipful Brother Staples loved Masonry, believed and lived its teachings, and gave freely of his talents in any capacity, always seeking an opportunity to be of service. Charity was his watchword. He rendered valuable service to the Craft as an active member on the Board of Masonic Relief. His charitable activities, however, were not confined to Masonry alone; they extended to those whom he believed were most deserving and many could testify to his helping hand in hours of distress.
Right Worshipful Brother Staples was intensely, constantly, jubilantly human and humane. From the sand dunes of Cape Cod to the Berkshire Hills he traveled to meet with his Brothers in Freemasonry, loved and respected by all who knew him.
"We stand on the shore for a moment,
With our feet in the ebbing tide,
That shall bear us forever onward
Toward that bourne on the other side."
Robert J. McKechnie
Lee R. Higgins
Albert A. Schaefer
Committee
---