MAGLFCBrown
From MasonicGenealogy
F. CROCKETT BROWN 1905-1989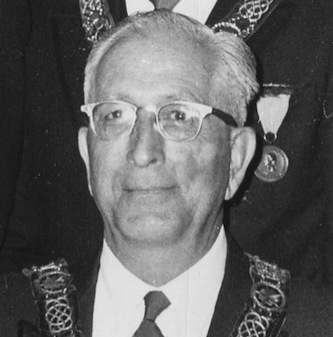 MEMORIAL
From Proceedings, Page 1990-14:
Right Worshipful F. Crockett Brown was born in Warren, Maine on December 5, 1905, the son of Fred M. Brown and Fannie Cates Brown. He received his education in the grammar and high schools in the town of Thomaston, Maine.
He graduated from Virginia Military and attended the University of Maine and the Massachusetts Institute of Technology. Right Worshipful Brown was associated for a number of years with the United Fruit Company in New York and Boston. On returning to &e Boston area, he eventually established a home in Newton, Massachusetts where be resided for many years with his family. He joined National Research Corporation in Cambridge and became involved in the designing of Vacuum systems. This led him to participate in some history making activities including the development of Atomic Energy and the Manhattan Project. Always a very private person, even those close to him never suspected that he was working on highly classified projects during the period of the Second World War. In later years his knowledge was put to use in the development of vacuum processes used in freeze dry coffee and frozen concentrated orange juice. Right Worshipful Brown joined Kenney Manufacnring (General Signal) a division of New York Air Brake. There his experience in Vacuum Systems resulted in his working on the first rocket tests which led to the development of outer space travel and the eventual landing of the astronauts on the moon.
His Masonic career was extensive. Taking his Degrees in Fraternity Lodge, A.F. & A.M., he went on to serve as WorshipfuI Master on two separate occasions, the latter after the Lodge became Fraternity and Fuller Lodge, A.F. & A.M. The offices held in Grand Lodge were: Junior Grand Steward, District Deputy Grand Marshal of the Waltham Fifth Masonic District, and District Deputy Grand Master of the Waltham Fifth Masonic District He was appointed in 1968 Deputy Grand Master by Most Worshipful Thomas A Booth and was an Honorary Member and Grand Representative to the Grand Lodge of North Dakota, which he held until the time of his death. He was presented the Henry Price Medal which he wore with great pride.
He was a Charter Member of The Masters Lodge, AF & AM. in Newtonville; a member of Scottish Rite, Valley of Boston; a member of Aleppo Temple A.A.O.N.M.S. in Wilmington; an Honorary Member of The Lodge of Edinburgh-Mary's Chapel Number 1 of Edinburgh, Scotland and a member of Palestine Chapter, Order of Eastern Star. Right Worshipful Brown's family was always foremost in his mind. He was married for sixty years to Lila Jones Brown. From this marriage they had three children, Jean Brown Hammett, Allen Crockett Brown, and Cynthia Lila Nelson. There are seven grand-children and three great grand-children. Brother Brown and his wife lived for many years in Wayland, Massachusetts where on the evening of November 17 , 1989 he was called to that Celestial Lodge above. Having laid down the working tools of the craft that he loved so much, he now resides with the Grand Architect of the universe in eternal peace. Relatives and friends who loved him will always remember his mild manner and willingness to stretch forth a hand of friendship. The following lines from a favorite poem of his sums up the life of Right Worshipful F. Crockett Brown. "To have played and laughed with enthusiasm and sung with exultation, to know even one life has breathed easier because you have lived - this is to have succeeded."
---