JohnAbbottSamuelCrockerLawrence
From MasonicGenealogy
JOHN ABBOT - SAMUEL CROCKER LAWRENCE LODGE
Location: Arlington
Chartered By: Fred K. Bauer
Charter Date: 10/02/2001 2001-109
Precedence Date: 10/21/1857
Current Status: formed by the merger of John Abbot and Samuel Crocker Lawrence Lodges, 10/02/2001; merged with Hiram and Russell Lodges to form Mystic Valley Lodge, 11/09/2004.
---
PAST MASTERS
Michael S. Podymaitis, 2001, 2002; PDDGM
John Rich Cannon, 2003
Douglas B. Carriger, 2004
---
REFERENCES IN GRAND LODGE PROCEEDINGS
VISITS BY GRAND MASTER
---
EVENTS
CONSOLIDATION, OCTOBER 2001
From TROWEL, Spring 2002, Page 32:
After presiding over the ceremony creating John Abbot-Samuel Crocker Lodge in Arlington, and having the inaugural line installed. M. W. Fred K. Bauer had a little surprise ready: he and D. D. G. M. Robert J. McNary of the Arlington 6th District presented the Joseph Warren Distinguished Service Medal to R. W. Irving E. Johansen. The Lodge is a big supporter of local youth activities and community services in Somerville.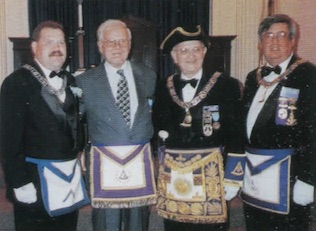 Wor Michael S. Podymaitis, Master; R. W. Irving E. Johansen: M. W. Fred K. Bauer: and R.W. Robert J. McNary.
GRAND LODGE OFFICERS
DISTRICTS
---
LINKS
---
The curator for this page is Brother Alan Jones. Please direct informational updates and questions to him.