Army
From MasonicGenealogy
ARMY LODGE
Location: Balboa, Canal Zone
Chartered By: Melvin M. Johnson
Charter Date: 03/08/1916 1916-62
Precedence Date: 06/08/1915
Current Status: merged with Darien Lodge to form Balboa Lodge, 07/28/1983.
---
NOTES
Though there is no dispensation date for this lodge in the Proceedings, the history of the beginnings of the Lodge in the 1924 Proceedings mentions the request for dispensation as being submitted in the spring of 1915 on Page 1924-755.
The actual dispensation date is given in the 50-year history of the Lodge on Page 1965-23.
---
PAST MASTERS
Herbert A. White, 1916
John J. Bradley, 1917
Frank L. Heald, 1918
William F. Ilgen, 1919, 1920
Robert O. Ragsdale, 1921
Frank Kinsman, 1922
Walter H. Sims, 1923
Arlington B. C. Deppe, 1924
Peter A. Freehan, 1925, 1926
William C. Oleson, 1927
Frank M. S. Johnson, 1928
Samuel E. Bardell, 1929
Cleveland A. Schecker, 1930, 1937
Frederick E. Reinhart, 1931
Herbert E. Pace, 1932, 1933
Lester F. Bailey, 1934
George H. Bevins, 1935
Norman E. Trusty, 1936
Robert L. Davis, 1938
Clare L. Comins, 1939
Herman E. Price, 1940
Milton S. Treadwell, 1941
Subert Turbyfill, 1942; N
Joseph J. Lukacs, 1943
Otis C. Myers, 1944
John J. Lieberman, 1945
Ray H. Hefington, 1946
William Trost, 1947
Edwin G. Tucker, 1948
William B. Godfrey, 1949
James R. Kimball, 1950
Charles L. Leslie, 1951
Warren K. Gerhart, 1952
Paul M. Jamesson, 1953
Donald M. McDonald, 1954
James C. Kennedy, 1955
Llewellyn Zent, 1956
Dean I. Studebaker, 1957
Carl E. Borgis, 1958
Kenneth D. Bergere, 1959
Francis M. Baggott, 1960
Oliver E. Richardson, 1961
M. Wayne Poland, 1962
Elmer E. Steakley, 1963
Robert A. Botzenmayer, 1964
Joseph W. E. Bourgeois, 1965 ?
Richard H. Kinsey, 1965; N
John W. Purvis, 1966
Jack M. Wilson, 1967
Joseph W. Winn, Jr., 1968
Ivan L. Jenkins, 1969
Harry Van Loon, 1970
Aldon Fulcher, 1971
Rubert B. Mathews, II, 1972
David E. Stocker, 1973
Wesley H. Sparling, 1974
Ralph O. Sheppard, 1975
Kenneth R. Littrell, 1976
William H. Breaden, 1977
Charles F. Schermerhorn, 1978
Eric P. Castleton, 1979
David E. Stocker, 1980
Clinton E. Trowbridge, 1981
Nicholas L. Unger, 1982
Thomas E. Sellers, 1983
---
REFERENCES IN GRAND LODGE PROCEEDINGS
ANNIVERSARIES
VISITS BY GRAND MASTER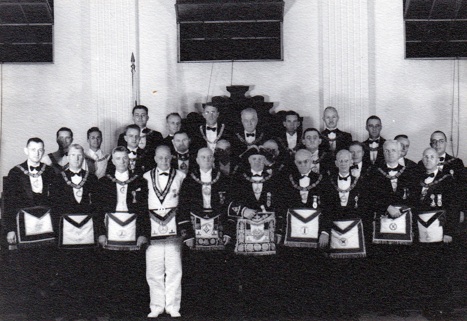 Canal Zone visit, January 1939
From the collection of the Grand Lodge of Masons in Massachusetts
BY-LAW CHANGES
1924 1928 1929 1930 1934 1935 1937 1940 1943 1945 1949 1950 1951 1963 1968 1976 1979 1981 1982
HISTORY
THE BEGINNINGS OF ARMY LODGE, 1924
From Proceedings, Page 1924-753; in a historical addendum to the 1924 volume: . By Worshipful G. W. Edgerly.
During the forenoon of November 23, 1914, the U. S. A. T. Buford docked at Pier 8, Cristobal, with the Fifth U. S. Infantry on board. Among her passengers were many Masons, both officers and enlisted men. That evening, after dinner, I took a drive through Colon with Second Lieut. Sumner Waite, of the Fifth Infantry, who had been made a Mason not long before at Plattsburg, N. Y. As we drove down Bolivar Street toward Eleventh, the great unfinished Temple there came in view, and, while looking upon that monument of our Craft, the idea of Army Lodge was conceived in my mind, and Brother Waite was the first man to whom it was mentioned.
The thought was a perfectly natural one to me, for I
 was at that time a member of Hancock Lodge No. 311,
 Fort Leavenworth, Kansas, a Service Lodge. Further, I
 had already learned that at Empire, our future station,
 we should be located so remotely, owing to difficulties of 
train service, as to make attendance at the existing Lodges 
very inconvenient. Also, in the three regiments then 
stationed or to be stationed on the west side of the canal, 
there would lie abundant material for our Craft. The 
field stood ready for the harvest. It appeared both as an 
opportunity and a duty.
After we arrived at our station, I talked the matter over, from time to time, as opportunity offered, with Brethren from the other regiments, the 10th at Camp Otis (Las Caseadas) and the 29th at Camp Gaillard (Culebra). As I presented my views to them, they agreed with me that "someone" should get busy. But who should it be? Everyone was busy, for the task of converting those abandoned towns into Army posts, drilling a swarm of recruits, building target ranges, and cutting grass, was a stupendous one, and all were busy. All agreed it would be a good thing to do, and all were willing to help, if someone would start it.
Meanwhile, at Cristobal was held that historic Scottish Rite reunion at which the bodies of that Rite in the Zone were founded. I attended this gathering, and there I discussed the idea of an Army Lodge at Empire with many of the Brethren, among others. Brothers Marcuse, James, Osborn, Perry, Jordan, Genac, Houston, Ford, and others whose names I do not now recall. All promised their cooperation and assistance, and I received much encouragement from Brother White, at Army headquarters, who became our first Worshipful Master later, when our Lodge was finally Constituted.
As the whole matter was so well received, but as no one had as yet stepped out to do the work, I finally decided, though with some hesitation because of my relative unimportance, to do it myself. I therefore asked permission from our Commanding Officer. Colonel Morton, of the 5th Infantry, to have a mass meeting of Masons at the Post Hall at Empire and sent out circular notices announcing it.
I do not remember the exact date of this meeting, but it was sometime in the spring of 1915. Brother Ira P. Fravel, of the 29th Infantry and Brother Roscoe C. Batson, of the 10th Infantry, spread the information of this meeting among the members of their regiments, and Brother Hyde of the 5th was also of great assistance, both in typing notices, etc. and in spreading the information of the meeting among the Brethren in our regiment. Without all this help the task would have been far more difficult.
When the date and hour of the meeting arrived, there were present, as I recall, thirty-two earnest and interested Brethren. I had drawn up. and Brother Hyde had typed, a petition for a Dispensation, and also a program for consideration. The petition, however, had to be redrafted, for as originally drawn, it carried no names for officers. I called the meeting to order, and requested the election of a permanent chairman, and Brother White was so elected.
I then stated the object of the meeting and, after some general and very inspiring discussion, it was unanimously voted to petition for a Dispensation for a Lodge, with myself as Worshipful Master, Brother John .J. Bradley as Senior Warden, and Brother Roscoe C. Batson as Junior Warden. If I may be pardoned a personal remark here, I will say that I was much astonished at being chosen when so many Brethren of greater years and experience were present. Also. I never hope to feel a greater sense of honor, of obligation, and of duty to be performed than I then felt. It was voted, also, to appoint committees to circulate the petition among the Brethren, to visit the existing Lodges, viz., Sojourners and Canal Zone, and obtain their endorsement, to draft by-laws, to obtain furniture, aprons, supplies, etc., and it was also voted to call ourselves "Army Lodge."
Brothers Batson, Fravel, and myself were the committee to attend to the signing of the petition, and to visit the adjacent Lodges, and we proceeded to this duty with the least possible delay. After a great deal of hard and careful work, we secured the signatures of fifty Brethren tried and true, and then visited Sojourners Lodge and Canal Zone Lodge in turn. Our neighbors, after careful thought, and in a truly fraternal spirit, bade us godspeed, and the petition was mailed to Boston. In due lime the Dispensation arrived, and we prepared for our first meeting.
At this time, at Empire, we had no regular place to inert, but Colonel Morton had promised us the old Lodge-room for our own as soon as the new Post Exchange building, then under construction, should be finished. Pending thai time, the hall was used for the daily moving-picture show. However, the Colonel very kindly consented to suspend the show for one evening, and to let us use the hall for our first meeting, so the event was advertised among the Craft, and. on the designated evening, the hall was ready.
I say ready, but it was at (lie cost of no small amount of labor. The floor had to be cleared and cleaned, and afterward the hall had to be restored for the "movies the following night. In this task the Brethren among the enlisted personnel of the three regiments did yeoman service, and it was a labor that called for no small amount of sweat. Nor did we have any furniture, nor any of the oilier necessities for the proper meeting of a Lodge. However, an empty soap box makes a good altar, when covered by a sheet. a Bible is a Bible, bottles are quite successful candlesticks, and our good neighbors from Canal Zone Lodge were most generous, sending by the hands of Brothers Ford, Genac, Boyd, and several others, a bountiful supply of the required articles. So. at the appointed time, we were able to open the first stated communication of Army Lodge in due and ancient form.
My own Bible was used, and afterward each officer (all being present) signed on its fly leaf the statement that on that date that Book had been used at the first stated communication of Army Lodge at Empire, C. Z. I bitterly regret that that Book was afterward so damaged in a flood as to he ruined. I prized it most highly, and planned to leave it to Army Lodge when 1 should require it no longer.
From this time on, the minutes of the Lodge contain our history. They show who petitioned, what was done, who was accepted, and when they were Initiated, Passed, and Raised. In connection with the records of the Treasurer, they show our growth in numbers and in prosperity. But the records of the real achievements of our labor, the teaching and assimilation of the great lessons of our Order, are graven only on the imperishable tablets of our hearts. It is neither fitting nor possible to attempt to relate them here. But, from the labors expended in founding and nurturing our Lodge has grown a body which, I feel sure, will never fail. Hard work there was, and there were sometimes mistakes, sometimes disappointments and attendant bitterness. But we who wrought in the early days wrought with hearts single to the growth and glory of our Lodge and Order, to do our share of the work allotted us by the G. A. O. T. U. And. as the evergreen acacia is the emblem of immortality, so the true, fraternal, unselfish spirit of our Order is the emblem of that Divine Love which must ever triumph, which can never, never die.
50TH ANNIVERSARY HISTORY, JANUARY 1965
From Proceedings, Page 1965-22:
By Worshipful Richard H. Kinsey.
To one man and to one man alone must go the credit of having stimulated that interest which eventually culminated in the birth and constitution of Army Lodge, namely, Brother George W. Edgerly. Here follows a copy of his first letter which he circulated to ascertain the interests and determination of the Brethren at Empire:
Camp at Empire, C. Z.
April 7, 1915

Dear Sir and Bro.

Moved solely by my interest in the noble order to which we all belong, and deriving my authority to act only from my interest in it, and my desire to aid and promote its welfare, and that of the Brethren, I submit to you the following proposal: Let us get together and take the steps necessary to form here at Empire, a Blue Lodge of our Craft. It is not necessary to enlarge upon the difficulty which too often confronts the Army member who desires to keep up his Lodge attendance. We have a very good illustration of it here, on the wrong side of the Canal. Nor is it necessary to point out that to drop out of attendance at Lodge is the first step toward an indifference which too often leaves one nominally a Mason. Also you will, I am sure, agree with me that if our Order is worthy of our membership, it is worthy of our interest, our time, and such effort as may be needed to set up its altar and lights where they do not now stand, that the illumination thereof may spread farther into the darkness of the world. All these, and many more arguments could be cited, did time and space permit, but all is summed up in the questions: (a) Has Masonry meant anything vital to you? (b) If so, are you willing to do something for it now to increase its influence and power?

If you feel that you are able to answer these questions affirmatively, will you meet at Empire, at Post Headquarters, on the evening of Tuesday, April 27, at 8:00 o'clock P.M., bringing your credentials with you? Also, will you inform any enlisted men, known to you as Brethren in the Craft, to come also, bringing their credentials? I cannot address the latter individually, as I have no means of discovering them in the various organizations, but you may be able to do so.

Please inform me as to this, and, if interested, try by all means to come.

Fraternally yours,
George W. Edgerly 1st Lt., 5th Infantry
The efforts of Brother Edgerly and his co-workers bore good fruit, for on June 8, 1915, the Grand Master, Most Worshipful Melvin M. Johnson, granted a dispensation to fifty petitioners for the institution of Army Lodge, and appointed Brother George W. Edgerly to be the first Master, Brother John J. Bradley to be the first Senior Warden, and Brother Roscoe C. Batson to be the first Junior Warden.
The first regular meeting under dispensation was held at Camp Empire on July 17, 1915. Brethren from all points on the Isthmus took part in the ceremonies over which Brother Edgerly presided. Ten petitions were received at this first meeting. The highlight of the year came on September 11 when we attended the dedication of the new hall of Canal Zone Lodge in Ancon. For Brother Edgerly's own account of the Beginning of Army Lodge, see 1924 Mass. 753 ff.
As our period of dispensation was drawing to a close, we had hopes that Brother Edgerly might be allowed to serve as our first Master under charter; but since he had never served as either a Warden or Master of a chartered lodge, he was not eligible for that honor. So Worshipful Brother Herbert A. White, Past Master of Hancock Lodge #311, Kansas, was elected to serve as our first Master when constituted.
On March 8, 1916, Grand Lodge granted us our charter; but the formal ceremony of constitution was not held until May 20, 1916. The gavel used to open the Lodge on this occasion was made from a railroad tie from the old Panama Railroad. The one used in closing was made from the wood of an ancient building captured during the occupation of the City of Vera Cruz, Mexico, by American Forces in 1914. Both gavels still remain in our possession. During the remaining seven months in 1916, twenty-four candidates were elected. New officers were installed December 26 to carry on.
In January 1917 we shared in welcoming an important official visit of Most Worshipful Melvin M. Johnson, who came to the Canal Zone as a Special Deputy Grand Master on commission issued by the Grand Master, Most Worshipful Leon M. Abbott, dated January 4, 1917. (See 1917 Mass. 2f). Chief among his duties was the recognition of the newly organized Grand Lodge of Panama and the negotiation of a treaty whereby the Grand Lodge of Massachusetts was granted exclusive jurisdiction over Symbolic Masonry in the Canal Zone.
At a Deputy Grand Lodge which he held in the Masonic Temple at Cristobal on February 1, he delivered his own Dispensation to Isthmian Lodge, dated December 22, 1916, and right there and then instituted the Lodge. He also erected a District Grand Lodge for the Canal Zone and installed Worshipful Herbert A. White as its first District Grand Master.
For a time all went well, when suddenly the entry of the United States into World War I posed our first big problem. All military personnel were ordered to the zone of activities; and immediately we were deprived of the Master and both Wardens; and no other member could legitimately open the Lodge or preside. Even the District Grand Master was called away. Fortunately, the Grand Master filled the latter vacancy by the appointment of R.W. Ralph Osborn, who in turn could preside over Army Lodge until a new election could be held and the elective chairs filled by Masons chosen from civilians. So our first mishap was overcome, and the Lodge continued to function.
Meanwhile, it was becoming apparent that we needed better quarters more centrally located; so we were successful in obtaining a meeting-place at Corozal on the east side of the Canal, and on December 3, 1918 held our first meeting there. Here we remained until the spring of 1926. Then after three meetings at Ancon we moved to the Government Lodge Hall at Pedro Miguel. We had long been anxious to acquire a meeting-place of our own and to this end had started a building fund; but at long last we found a most satisfactory home in the new Scottish Rite Temple at Balboa. Here we have joined with Darien Lodge and Chagres Lodge in occupying the third floor. We held our first meeting here on December 3, 1929; and here we still reside. It is inspiring to be housed in an exclusively Masonic edifice.
With few exceptions, the several Grand Masters who have presided over our Grand Lodge the last fifty years have made official visits to the Canal Zone to inspect our work and methods of administration. These visits have proved very helpful and inspiring. Of unique portent was the visit of Most Worshipful Joseph Earl Perry to our own Temple on Thursday, January 12, 1939. Our three Lodges — Army, Darien, and Chagres — had severally opened and were assembled in the lodge-room in joint session, awaiting the arrival of the Grand Master. Meanwhile in a nearby anteroom, the Grand Master opened a Special Communication of the Grand Lodge and was formally escorted into the lodge-room, where he immediately assumed the Oriental Chair. At the same time upon invitation of Most Worshipful Brother Perry, the Grand Master of Panama and his Suite had opened a Special Communication of their Grand Lodge in another ante-room and were formally escorted into the lodge-room and welcomed within the jurisdiction of the Grand Lodge of Massachusetts. Thus two Grand Lodges and three particular Lodges were in joint session, presided over by the Most Worshipful Grand Master of Massachusetts.
Two nights later the courtesy of the Grand Master of Massachusetts was reciprocated by the Grand Master of Panama; and a Special Communication of our Grand Lodge was held in Panama City within the jurisdiction of the Grand Lodge of Panama. The records and addresses on these two occasions might well be reviewed. See 1939 Mass. Iff. A military Lodge like ours may at times be somewhat handicapped by sudden changes in length of service in the Zone or a sudden call to duty at the front. So occasionally the administration of Lodge affairs has been a problem. But "where there's a will, there's a way." And Army Lodge has always triumphed.
We owe especial credit not only to our founder, Worshipful George W. Edgerly, but to two recent fine leaders and hard workers: R. W. Subert Turbyfill: W.M. 1943, D. G. M. 1960-1962; and Wor. Joseph J. Lukacs: W. M. 1944, Sec'y., 1947 to date.
OTHER
---
GRAND LODGE OFFICERS
DISTRICTS
---
LINKS
Massachusetts Lodges