MAGLGGordon
From MasonicGenealogy
GURDON W. GORDON 1871-1959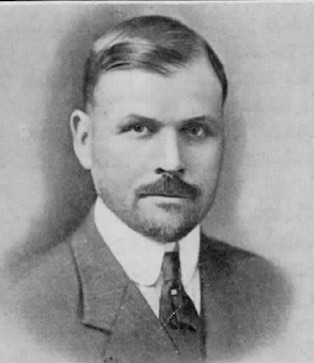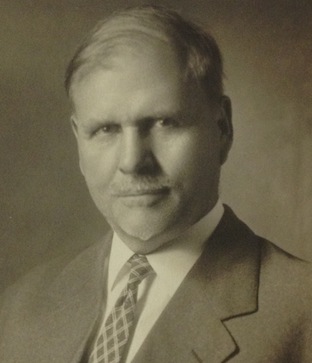 Senior Grand Deacon, 1915
Deputy Grand Master, 1938
MEMORIAL
From Proceedings, Page 1959-169:
Born November 26, 1871
Died February 9, 1959
Right Worshipful Gurdon Wright Gordon, past Deputy Grand Master, died at Wesson Memorial Hospital in Springfield, Massachusetts, on February 9, 1959, at the age of eighty-seven.
He was born in Sheffield, Massachusetts, on November 26, 1871, and attended the common school and high schools in Sheffield and Great Barrington, Massachusetts. Long a resident of Springfield, he spent his later years in Suffield, Connecticut. He received a B.A. Degree from Williams College in 1897 and an LL.B. from Boston University Law School in 1900.
For two years prior to entering college he taught school at Sedgwick Institute in Great Barrington. From May 1900 to June 1, 1902, he was employed by the United States Census Bureau and since 1902 he practiced law in Springfield, serving for many years as Vice President and General Counsel for the Monarch Life Insurance Company in Springfield.
On November 4, 1903, he married Ellen B. Walsh, who died February 27, 1937, and in 1938, he married Ethel S. Edwards. He had two sons, Gurdon W., Jr., born November 11, 1906, and Clyde B., born September 15, 1910.
He was active in many public affairs. From 1905 to 1912 he was Chairman of the Springfield Board of Health; in 1912 he was a member of the Massachusetts House of Representatives, serving on the Committee on Street Railways; and from 1913-1916, he was in the Massachusetts Senate, during which time he served as Chairman of the Committee on Public Lighting and as a member of the Committee on Ways & Means, Judiciary, Rules and Street Railways.
In 1917 Governor McCall appointed him as a member of the "Special Commission to Investigate Problems Relating to the Street Railways of the Commonwealth." In 1923 he was appointed United States Commissioner for the District of Massachusetts and was reappointed in 1927. On January 2, 1929, Governor Fuller appointed him "Special Judge of Probate and Insolvency Within and For the County of Hampden."
He was a staunch Republican, serving as a member of the Republican State Committee, as Alternate Delegate-at-large to the Republican National Convention in 1920 and as District Delegate in 1928.
He was active in various community affairs and particularly as a member of the former North Congregational Church in Springfield.
His Masonic career was broad and active. He received the Entered Apprentice Degree in Springfield Lodge, April 6, 1904, the Fellowcraft, May 4, 1904, and Master Mason, June 1, 1904, and became its Worshipful Master in 1910. He was also a charter member and Past Master of Samuel Osgood Lodge. In Grand Lodge he was Senior Grand Deacon and District Deputy Grand Master under appointment of M.W. Melvin M. Johnson and served as Deputy Grand Master in 1938, by appointment of M.W. Joseph Earl Perry. He received the Henry Price Medal in 1938 and the Veteran's Medal in 1956.
He received the Royal Arch Degree on February 24, 1911, in Morning Star Chapter in Springfield and was its High Priest in 1918. On January 1, 1917, he received the Super Excellent Degree in Springfield Council and was its Thrice Illustrious Master in 1925. He received the Order of the Temple in Springfield Commandery, June 18, 1917. He received the Scottish Rite Degrees (4°-18°) in The Valley of Springfield in 1914, and the 19°-32° in Massachusetts Consistory, Boston, in 1915. He demitted ftom the latter body to affiliate with Connecticut Valley Consistory in 1919.
In all his undertakings he was hard working, able and dependable and will be widely missed by all who have had an opportunity to appreciate his fine character and warm personality.
Fraternally submitted,
Joseph Earl Perry
Kenneth H. Keyes
Herbert A. Dunham
Committee
SPEECHES
FEAST OF ST. JOHN, DECEMBER 1937
From Proceedings, Page 1937-325:
Remarks by Grand Master Perry:
He is in the finest sense a product of western Massachusetts. Born in Sheffield in the Berkshires, a graduate of Great Barrington High School and Williams College, a teacher in various western Massachusetts institutions of learning, a practicing attorney in Springfield for the past thirty five years, conspicuous in many public services in his community, a representative in the Massachusetts House of Representatives in 1912 and a member of the Massachusetts Senate from 1913 to 1916. He has made excursions outside the Berkshires to study law in Washington, D. C., and in Boston University Law School, to teach in Connecticut and to serve in the United States Census Bureau at Washington, but his life and his influence have chiefly been invested in western Massachusetts.
In the task of making appointments, I have set for myself three standards of selection, and, although most of the appointees have had to be taken on the recommendation of others, none has been appointed unless I have believed him to be, first and most important of all, an outstanding Christian gentleman, not, of course, in any restricted theological sense, for some of my appointees have been adherents in the Jewish faith, but in the sense of being an exponent of the best of our Christian civilization. Unless that test could be met no other qualifications compensated for the lack, but if that test were met, then I sought sufficient ability for the particular post, and acceptability to the Craft.In presenting my appointee as Deputy Grand Master, I therefore present to you one whom I believe to be an outstanding Christian gentleman, able, public spirited, and beloved by his Brethren, Right Worshipful Gurdon W. Gordon.
Most Worshipful, distinguished guests, and Brethren:
It will be a very difficult matter indeed for me to live up to the introduction which the Most Worshipful Grand Master has given me. When he asked me to accept the appointment of Deputy Grand Master, I had many misgivings as to whether it was wise for me to do so. My engagements and my obligations to my home city are such that I cannot give as much time to the office as I wish it were possible for me to do, but inasmuch as the Grand Master very graciously agreed that it would not be necessary for me to accompany him in his visits about the eastern part of the state, 1 accepted. The understanding is that I shall do everything 1 can to promote the cause of Masonry in my own section of the Commonwealth, where I was born, where I have married and brought up my children and labored with the Brethren, in and around the city of Springfield.
I have no particular policy that I shall pursue as Deputy Grand Master.
We have honored tonight in one of the toasts, the memory of George Washington. The thought occurred to me, while we were drinking it, whether or not we as Masons of this generation really comprehend what the achievements of Washington were on the battlefield, in calling together the commissioners of Maryland and Virginia in 1785, which resulted in the Annapolis Convention of 1786, which Convention resulted in the convening of the Constitutional Convention in Philadelphia in 1787. To Washington, with men like Marshall, Franklin—to those men more than to any others, we owe all of the personal guarantees of liberty that are written into the Constitution of the United States. At this time, and in this hour, in a changing world, to which the Grand Master has referred, I know of no greater service, in my judgment, that I could perform to the Brethren in my part of the Commonwealth, than to try in the year that lies ahead to bring home to them what the accomplishments and the achievements of men like Washington and Marshall and Franklin mean to us, and what they will mean to our children and our children's children.
If I can do anything in driving home that one thought to my Brethren in western Massachusetts, I shall feel that I have accomplished something which is well worth while. I want to say to you frankly now that that is the real reason why I accepted this appointment as Deputy Grand Master.
This is my message, Brethren. I want to express to the Grand Master my personal appreciation of the honor which he has conferred upon me by appointing me as Deputy Grand Master.It means something to come back to the Grand Lodge after a lapse of more than twenty years, and find an entirely new group of faces. I started as Senior Grand Deacon the first year that Most Worshipful Melvin M. Johnson was Grand Master, and the two remaining years as District Deputy Grand Master, and I appreciate very much this opportunity.
I have had an opportunity this afternoon to meet many men, but one of them in particular, and I am going to refer to him. As a boy, just out of high school, eighteen years old, I went down into Connecticut and taught school for a year, and I became accustomed on Sunday evenings to drop into the Baptist church and listen to the preacher, and I did that because I enjoyed the preaching and it was profitable, and I had a nice little chat with Reverend Brother Baker this afternoon, and told him about that personal contact years ago.
I have had an opportunity this afternoon to renew a very pleasant acquaintance with Worshipful Brother Ramsay and Worshipful Brother Hamilton.
Brethren, this is my message. I pledge to the Grand Master my hearty support during the coming year, and when you come up to western Massachusetts, I am sure you will all have a good time.
---
[http://masonicgenealogy.com/MediaWiki/index.php?title=MassachusettsPeople#DISTINGUISHED_BROTHERS Distinguished Brothers