MAGLEDavis
From MasonicGenealogy
EDWIN LYMAN DAVIS 1868-1946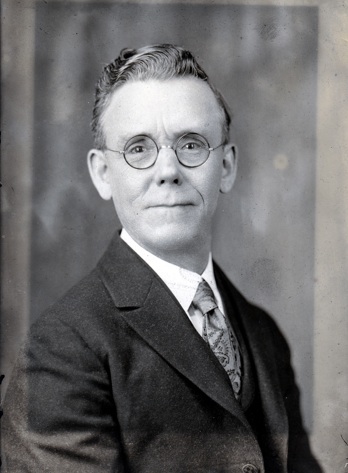 From the collection of the Grand Lodge of Masons in Massachusetts
Deputy Grand Master, 1931
MEMORIAL
Right Worshipful Edwin Lyman Davis was born at Peterborough, New Hampshire, February 19, 1858, and died at Springfield, Massachusetts, April 19, 1946.
He was the son of Oscar W. and Margie A. (Needham) Davis, both of old New England stock. He received his education in the district and high schools of Peterborough. After graduating from high school, he was employed in Peterborough for a few years as a shoe factory operative and as a clothing salesman.
In 1895 he moved to Chicopee Falls, Massachusetts, and became associated with the Overman Wheel Co., manufacturers of Victor Bicycles. This company was later taken over by the J. Stevens Arms Co., which was more recently acquired by the Savage Arms Co. Brother Davis remained with this organization until late in 1945 when his health compelled his retirement from active work. For the last forty-three years of his connection with the gun company, he was its Traffic Manager.
In government he had served the City of Chicopee as Alderman and as Chairman of the Licensing Board. He also held membership in the Massachusetts Chamber of Commerce and served the Chicopee Falls Savings Bank as corporator.
Brother Davis was made a Mason April 16, 1901 ; passed to the degree of Fellow Craft May 21, 1901; and raised a Master Mason June 25, 1901, in Belcher Lodge at Chicopee Falls. He served his Lodge as Secretary from 1903 to 19O7, and from 1909 to 1942, a tota| of thirty-seven years. He was Senior Warden in 1908 and Worshipful Master in 1909.
In Grand Lodge, he was first appointed Grand Lecturer for 1912 by Most Worshipful Everett C. Benton, and served continuously in that office for fifteen years through 1926, when he was made District Deputy Grand Mastet for the Chicopee 18th Masonic District, by appointment of Most Worshipful Frank L. Simpson, and served for the years 1927 and 1928. In 1929 and 1930 he was Chairman of the Committee on Education. During the latter four years, Brother Davis did much pioneering work in establishing Lodges of Instruction. He also served as the first Master of the 11th Lodge of Instruction in Springfield. In 1931 he was Deputy Grand Master by appointment of Most Worshipful Herbert W. Dean. At the time of his death, he was Grand Representative of the Grand Lodge of North Carolina near this Grand Lodge. In 1926, he was awarded the Henry Price Medal.
Brother Davis was also active in the Capitular Rite. He was exalted in Unity Chapter, R.A.M., of Chicopee Falls, June 7, 1905, and was its High Priest in 1908, and served as Secretary from 1913 through 1942. He was District Deputy Grand High Priest in the Fifth Capitular District in 1911 and 1912. He was Greeted in Springfield Council, R. & S.M., of Springfield, April 15, 1908; Knighted in Springfield Commandery, No. 6, Knights Templar, Springfield, December 10, 1906.
In the Scottish Rite, he became a member of Evening Star Lodge of Perfection in 1905; Massasoit Council Princes of Jerusalem in 1917; Springfield Chapter of Rose Croix in 1917; and was made a Sublime Prince of the Royal Secret in Connecticut Valley Consistory, Springfield, May 31, 1917. He held no offices in any of these bodies.
Continual active official service to his Lodge for thirty-nine years, to his Chapter for thirty-six years, and to this Grand Lodge for twenty-one years, brought him in contact with many members of the Craft throughout this Jurisdiction. For thirty-five years there was a continual demand for his services in many Lodges as Installing Officer. The fifteen years as Grand Lecturer, and the four years of educational work were of especial and valuable service to this Grand Lodge and to the Craft. He was respected and esteemed by everyone who knew him, and was affectionately regarded by the many who became closely associated with him.
---