Agawam
From MasonicGenealogy
AGAWAM LODGE
Location: Wareham
Dispensation Granted By: Winslow Lewis
Precedence Date: 01/18/1855
Current Status: Never chartered; dispensation returned.
---
PETITION, 1855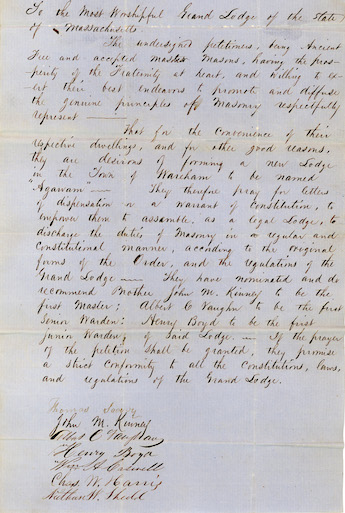 Click here for a larger version.
PAST MASTERS
John M. Kinney, 1855, 1856
---
YEARS
---
HISTORY
NOTES FROM THE 75TH ANNIVERSARY OF GATE OF THE TEMPLE LODGE, MARCH 1930
From Proceedings, Page 1930-227; Address of Grand Secretary Frederick W. Hamilton:
About Agawam Lodge hangs a tale. Their Dispensation was returned at the March meeting of 1856. A committee was appointed, as was customary in those days, and they reported back, deferring action for three months, until June, 1856, and that was the last that was ever heard of Agawam Lodge, but in June, 1856, it was voted to restore the Charter of Social Harmony Lodge of Wareham which had been surrendered during the persecution. So that, evidently, instead of taking out a Charter as a new Lodge this group of men who had started Agawam got the Charter of the old Lodge and went on as the Social Harmony that we know today.
NOTES FROM THE 125TH ANNIVERSARY OF SOCIAL HARMONY LODGE, MARCH 1948
From Proceedings, Page 1948-34:
In May, 1855, Agawam Lodge of Ancient, Free and Accepted Masons met in Odd Fellows Hall in Wareham and organized under dispensation granted by the Most Worshipful Grand Lodge of Massachusetts issued in January of that year. The officers were listed as John M. Kinney, Henry Boyd, William A. Caswell, C. W. Harris, Thomas Savery, Simeon Perkins, James F. Lincoln and N. W. Shedd. These are mostly names of families well-known in Wareham at that time. The records of Agawam Lodge ceased on June 18, 1856. On the following day, June 19, 1856, a meeting of old members of Social Harmony Lodge was held in Town Hall, Middleborough (note the return to Middleborough, if only for a day). Brother Henry Boyd was admitted a member and was chosen Master. Other Brothers admitted to the meeting as members were William A. Caswell, Nathan W. Shedd, Charles W. Harris, William H. Borden, Samuel T. Sherman, James F. Lincoln, William T. Leach, Lewis D. Perry, Rufus Lincoln II (all members of Agawam Lodge). It was voted to adjourn to meet at Odd Fellows Hall in Wareham on Wednesday, June 26, 1856. The original charter of Social Harmony Lodge was presented and the Lodge resumed its career which has been uninterrupted to this date.
NOTES FROM THE 150TH ANNIVERSARY OF SOCIAL HARMONY LODGE, APRIL 1973
From Proceedings, Page 1973-74:
In early 1855, a desire was felt by a number of Masons in Wareham, whose interest in Masonry had never flagged, to have a Lodge nearer than in New Bedford where they then had to travel to attend meetings. Grand Lodge was petitioned and granted a dispensation for a new Lodge, and the first meeting of Agawam Lodge was held on May 30, 1855.
The Lodge continued under dispensation until March of 1856.
It was then learned that if enough members of Social Harmony Lodge could be found, the charter of that Lodge would be restored. Enough were found, and a petition presented at the Quarterly Communication of Grand Lodge on March 12, 1856, exactly 33 years to the day from the date of the signing of the charter.
The dispensation was renewed until June 11, 1856, when the petition of eight Brothers from Wareham and Middleborough was granted and the charter and records returned.
DISTRICTS
---
LINKS