RIGMYates
From MasonicGenealogy
ROBERT B. YATES 1944-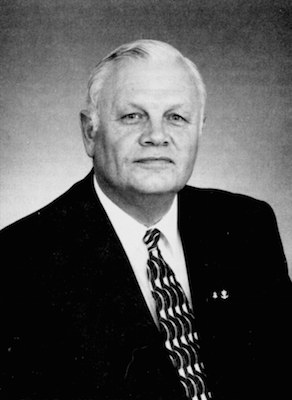 Grand Master 1999-2000
Brother Yates is presently listed as suspended by the Grand Lodge of Rhode Island.
BIOGRAPHY
Robert B. Yates was born in Providence, Rhode Island on January 27, 1944, the son of Harry M. and Marjorie (Briggs) Yates.
He was educated in the Lincoln public schools and graduated from Hope High School, Providence, Rhode Island in 1962. He joined the United States Air Force in September 1962 serving four years, being discharged in 1966. While serving in the Air Force, Brother Yates served two years in the Strategic Air Command (AC) as a crew chief aboard a KC-97 tanker at Pease Air Force Base, New Hampshire and two years in the Military Airlift Command (old MATS) at Hickam Air Force Base, Hawaii. After being discharged, he resumed his education- graduating from Rhode Island Junior College in 1968 with an Associate of Arts Degree. He attended East Coast Aero Technical School in Lexington, Massachusetts graduating as a licensed aircraft mechanic in 1970. Brother Yates continued his education at Rhode Island College graduating with a Bachelor of Science Degree in 1975 and a Masters Degree in Education in 1980.
Brother Yates began working at Lincoln Middle School in 1970 as a technical aid in the woodworking shop. In 1973 he started as a certified automotive and drafting teacher at Lincoln Senior High School. He served in the Rhode Island Air National Guard from 1980 to 1988.
In October 1967, Brother Yates married Candace Patenaude of Lincoln, Rhode Island. They were blessed with two children, Jennifer and Robb.
Brother Yates' Masonic career began while he was stationed at Hickam Air Base in Hawaii. He petitioned Barney Merry Lodge No. 29 located in Pawtucket, Rhode Island and began as a courtesy candidate of Hawaiian Lodge No. 21, Honolulu, Hawaii, being initiated an Entered Apprentice on May 12. 1965, passed to the Degree of Fellowcraft on June 16, 1965 and raised to a Master Mason on July 28, 1965, signed the by-laws of Barney Merry Lodge No. 29 by proxy in August 1965.
Brother Yates joined the Scottish Rite Valley of Providence in 1975 and Palestine Temple A. A. N. O. M. S. in 1976. He affiliated with the former Unity Lodge No. 34 in Lonsdale, Cumberland, Rhode Island serving as Master in 1985 and 1988. Brother Yates served as President of the Lonsdale Masonic Temple Corporation at the time the building was sold and on the merger committee when Unity Lodge merged with Barney Merry Lodge No. 29 located in Pawtucket. Rhode Island.
He is an honorary member of Washington Lodge No. 3 located in Warren, Rhode Island and a member of Pawtucket Royal Arch Chapter No. 4, Pawtucket Council No. 2 R. & S. M., Holy Sepulchre Commandery No. 8, the Tall Cedars of Lebanon, Massasoit Forest No. 91, Gaspee Order No. 99 Swords of Bunker Hill, The Hickam Square and Compass Club of Honolulu, Hawaii, Limerock Chapter Order of Eastern Star. He is a Past Master Councilor of Pawtucket Chapter Order of DeMolay and Past "Dad" of Wilbur Scott Chapter Order of DeMolay in Cumberland. Rhode Island.
Brother Yates was appointed a District Deputy Grand Master by Donald F. Hopkins, Most Worshipful Grand Master in 1991. He served the First, Second, Third, Fourth and Seventh Districts. He was elected Junior Grand Warden in 1996, Senior Grand Warden in 1997 and Deputy Grand Master in 1998.
---