RIGMWebb
From MasonicGenealogy
THOMAS SMITH WEBB 1771-1819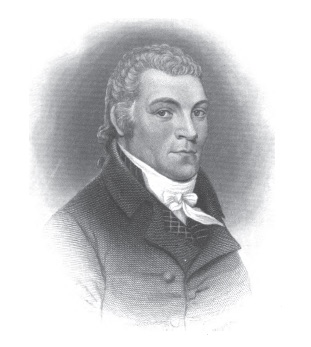 Picture from History of Freemasonry in Rhode Island, 1895, by Henry W. Rugg.
Grand Master 1813-1814
BIOGRAPHY
From History of Freemasonry in Rhode Island, 1895, Page 281:
There can be no question of the fact that Thomas Smith Webb holds foremost place among American Masons. By his acquisitions and abilities, by his gifts of leadership, and by his intense devotedness to Masonic studies and interests, he identified himself with the institution in so close and helpful a way as to secure, while he was living, a large measure of honorable recognition from his fellow Craftsmen, and to merit the meed of grateful remembrance so generally accorded to him by members of the Masonic Fraternity.
Bishop Randall, in his address at the centennial celebration of St. John's Lodge, June 24, 1857, used the following words : "St. John's Lodge, about the beginning of the present century, received an important acquisition in the person of Thomas Smith Webb, to whom, without disparaging the great claims of others, may be assigned a place among the brightest of the constellations of the Masonic firmament.
Whatever difference of opinion there may be as to some things attempted by Webb in the extension of the Masonic ceremonial, and in the formulating and modifying of Masonic rituals, there can be no question that he accomplished a good work in the way of improving the system and providing needed explanations. It must be conceded that he applied himself to such work with rare enthusiasm, having a love for the Masonic Institution which moved him to constant thought and activities in behalf of its interests.
It is a pleasant task to sketch the career of this distinguished Craftsman, and, specially, to notice how he stamped the impress of his thought and influence upon American Masonry. We cannot fail to see what a power Webb was in his day and generation. He formulated constitutions and systems whenever he thought there was need, and he did not hesitate to mark out new lines of procedure when he thought a change was required. To him we are indebted for many of the peculiarities in ritual and government which characterize Masonry in this country. He was never afraid of taking new departures when he felt that the interests of the Craft would be promoted by a change or re-adaptation of former methods—and sometimes he was willing almost to build anew from the foundation. In regard to the first three degrees Webb certainly exhibited a considerable amount of conservatism. He generally followed Preston in the ceremony and lectures of these degrees. In the higher departments, however, he rearranged and shaped matters much according to his own fancy, introducing changes both in ritual and government that have been approved in some quarters and condemned in others. There can be no doubt, however, that Webb wrought honestly, and for the most part intelligently, in the doing of such work, believing that it was called for and would be of advantage to the Fraternity. His special fitness for construction and re-construction, and for the duties of administration as well, cannot be denied.
Thomas Smith Webb was born in Boston, Mass., October 30, 1771. His parents, who belonged to the middle class of English people, had emigrated from England to this country only a few years before the date referred to. They seem to have followed others of their family in seeking a home in New England. The child Thomas was given the name of an uncle, the Rev. Thomas Smith, who resided in Portland, Maine, where he seems to have been regarded with much favor. It appears that Webb's childhood and youth were marked by signs of what his manhood should be in its earnestness of expression. He was noted even as a child for superior mental capacities and an enthusiasm of temperament which gave promise of much activity and usefulness in future days. He was measurably fond of his studies and always manifested a whole heartedness of endeavor in whatever undertaking engaged his attention. At an early age he gave proof of that special amiability of disposition which was one of his ruling characteristics through life. He attended the public schools of Boston, passing through the Latin School at the last, from which he graduated when fifteen years of age. When sixteen years old he began to learn the printer's art, at which he soon became an adept. Removing to Keene, N. H., before he had attained his majority, he there followed the trade he had acquired.
It was while residing at Keene that he received, in Rising Sun Lodge of that town, the first three degrees of Freemasonry. The record of the Lodge shows that he was proposed, elected and initiated, and paid the fee, £3, 6s, December 24, 1790, and that he was passed and raised December 27, 1790. At this time he was but little more than nineteen years old. He withdrew, or, as the record says, " discontinued, July 6, 1791, was admitted again August 13, 1791, and again withdrew March 7, 1792, at which time he presented the Lodge a Bible, bound in morocco leather, nicely gilt and lettered." Webb was not successful in his business at Keene, and, in 1793, removed to Albany, N. Y., where he established a paper staining manufactory which he carried on for some seven years. While a resident of Albany, in the autumn of 1797, he married Miss Martha Hopkins, of his native Boston.
During the closing years of the century he applied himself closely to Masonic reading and pursuits. He obtained all the publications respecting Freemasonry—not a great number—and entered into communication, both by conversation and by the pen, with intelligent Brethren, from whom he sought more light. Thus in a little time he began to exercise a just influence among the Craft, and was soon known as a thoroughly well posted and zealous member of the Fraternity. In 1797, Webb published The Freemason's Monitor, or Illustrations of Masonry, a work which tended to make him widely known, as well as to increase his reputation among those who already had knowledge of his merits. Although but twenty-six years old at the date of its publication he had been Master of Temple Lodge at Albany, and was at the time High Priest of Temple Chapter, in the formation of which he had been largely instrumental. He had received the Ineffable Degrees, and in connection therewith, probably, the Orders of Knighthood, though it is claimed by some that he gained his knowledge of these Orders by his visit to St. Andrew's Chapter, of Boston, in 1796.
The first edition of Webb's Monitor, 1797, shows conclusively that its author had classified and arranged the Capitular Degrees prior to its issue, and that to him belongs the credit of framing the American system of Royal Arch Masonry as it now exists. We find that he was actively engaged at Boston and elsewhere, about that time, in urging his system of Chapter work and organization, and thus he prepared the way for those changes in the ritual and government which were accepted by the General Grand Chapter at the memorable meeting of that body, held in- Providence, January, 1799. The second edition of the Monitor, published at Providence in 1802, gives clear indications of the progress made by the formation of the General Grand Chapter and the acceptance of the author's system of classification, etc.
The precise date of Webb's removal to Providence is uncertain. Probably it was in the latter part of the year 1799. His business at the first was the manufacture of wall paper, in which he employed quite a number of hands. He subsequently disposed of that business, and purchased an interest in the " Hope Manufacturing Company," becoming the responsible agent of the firm. By his active and capable efforts he realized a considerable measure of financial success, while indirectly he contributed efficiently toward the establishment of the cotton manufacturing interests of Rhode Island, whith in these later years have become so important.
With all his business interests, and his devotion to music, in which he was proficient, he yet found time for Masonic study and service. Soon after coming to Providence he was invited by St. John's Lodge in that city to take membership in that body. The record of the Lodge, under date of November 28, 1800, is as follows:
"Voted, That R. W. Master John Carlile, Brother Gersham Jones, and Brother Daniel Stillwell, be a committee to wait on our Worthy Brother Thomas Smith Webb, and inform him that this Lodge, for his very great exertions in the cause of Masonry, wish him to become a member of the same, and sign the By-Laws."
The Committee were successful in their mission, as appears from the following note of reply, which has been preserved:
"Brethren Carlile, Stillwell and Jones, Committee of St. John's Lodge:

Brethren. You will please to present my acknowledgments to the worshipful officers and members of St. John's Lodge, for their polite attention in inviting me to become a member of their respectable body, and inform them I accept their invitation with peculiar pleasure. I am with sentiments of esteem, Brethren,
Your Friend and Brother,
Thomas S. Webb. Providence, Feb. 4, 1801."
Almost immediately after becoming a member of St. John's Lodge, Webb instituted a Lodge of Instruction for the diffusion of Masonic knowledge, taking to himself the office of principal instructor in the matters thus brought under consideration. He was never elected Master of St. John's Lodge, but he had held the office of Master in the Masonic Lodge with which he was affiliated in Albany, N. Y., and this, under the amended constitution of the Grand Lodge of Rhode Island, made him eligible to the highest office in that body.
In June, 1802, Webb was elected Junior Grand Warden of the Grand Lodge. In 1803 he was elected Senior Grand Warden, holding the office by successive elections for three years. He was elected Deputy Grand Master in 1811, holding that place for two years. In 1813 he was elected Grand Master and reelected in 1814. At the expiration of his second term he declined further service as Grand Master.
He was invited to become a member of Providence Royal Arch Chapter, and February, 1801, was elected its High Priest. Previous to this, however, as appears by the records, he had frequently visited the Chapter, illustrated the work, and instructed in the Lectures. In the Grand Chapter, organized in 1798, his influence was felt almost at once. He was elected Grand High Priest in 1803 and was continued in that office until 1815, when he removed from the jurisdiction.
Webb was the founder of the General Grand Chapter, or, at least, the chief promoter of the movement that resulted in the establishment of that body. In 1797 he presided over the Convention held in Boston to effect the desired organization. The first meeting of the General Grand Chapter was held at Middletown, Conn., in September, 1798, an adjournment being taken to Providence, where an important meeting was held in January, 1799. At this last named Convention Webb presented, as Chairman of Committee, a Constitution which was adopted. At the third meeting, 1806, he was elected General Grand King. At the time of his death, 1819, he was holding the office of Deputy Grand High Priest. In the exposition of Templar Masonry Webb took a special delight In some respects he shaped the ritual and ceremonial, making the Orders better adapted for impressive illustration. On the 23d of August St. John's Encampment [now Commandery No. 1, of Providence, was organized, and Webb was placed at the head of the organization. At each annual meeting he was re-elected, until, on December 5, 1814, he declined to longer hold the office. He was largely instrumental in the formation of the Grand Encampment (now Grand Commandery) of Massachusetts and Rhode Island, and was at the head of this body from the date of its organization, 1805, until 1817, when he positively declined to be a candidate for re-election.
The establishment of the Grand Encampment of Knights Templars, of the United States, in 1816, has been declared to be the crowning glory of Webb's Masonic work. It is clearly evident that he was heartily interested in the movement and contributed an essential help to the formation of the General Grand Body. He represented the Grand Encampment of Massachusetts and Rhode Island, in creating such an organization, in accordance with the action taken by the first named body in Boston, May 15, 1816, viz.:
"Resolved, That three delegates be appointed from this Grand Encampment, to meet and confer with any or all other Grand Encampments that are now established within the United States, or with such delegates as may be appointed by any or all of the said Grand Encampments upon the subject of a general union of all the Encampments within the United States, under one supreme head and general form of government; and that the said delegates be and they are hereby invested with full power and authority to enter into such engagements and stipulations, and make such arrangements upon the said subject as they may-deem expedient and proper, to promote the honor and interests of the Orders of Knighthood."
"Resolved, That Most Worshipful and Eminent Sir Thomas Smith Webb, and Worshipful Sir Henry Fowle, of Boston, and Worshipful Sir John Snow, of Providence, Rhode Island, be and they are hereby appointed delegates, for the before-mentioned purposes."
Webb and his associates named in the foregoing resolution, with Thomas Lowndes, a representative of the Grand Encampment of New York, were instrumental in organizing the Grand Encampment, 1816 ; and in the election of officers Webb was chosen to fill the second office, that of Deputy Grand Master. Had he lived until the time of the next meeting his advancement to the first place would have been certain. His name is inseparably linked with the progress of Templary, both as regards the shaping of its ritual and the development of its organic life, first in St. John's Encampment, then through the Grand Encampment assuming larger powers and finally merged into the Grand Encampment of Massachusetts and Rhode Island, and finally in the Grand Encampment of the United States.
In 1815, Webb removed to Boston, where he already had a large number of friends, Masonic and otherwise. About this time he helped organize the Handel and Haydn Society, and was elected President of the same. One of his eulogists says : "To the other endowments of nature, the munificent Author of good added the gift and taste of music. His whole soul was attuned to harmony, every chord of which vibrated at the slightest touch, and gave the softest tones of music's power. To vocal and instrumental music he was alike inclined; and the fife and flute were among the choicest companions of his childhood." It may be added that Webb was especially fond of sacred music, and while he resided in Providence he was a leading member of one of the church choirs in that city.
Webb died suddenly at Cleveland, Ohio, July 6, 1819. He was in the full vigor of manhood, and seemingly had promise of many years of usefulness and honor. Leaving home in the spring of the year above named for an extended journey in the West—a journey undertaken for the promotion of certain Masonic and musical interests—he was stricken by disease while tarrying at Cleveland, and in a few days his spirit had passed from earth to the immortal land. Kind and loving Brethren ministered to his needs and watched by his side until the final hour. Then they took charge of his remains and gave them Masonic burial. As he had expressed a desire that his body might be laid away to rest in Providence, his remains were removed to that city and re-interred with the solemn rites of the Order, the Grand Lodge of Rhode Island having direction of the services. An.appropriate marble monument, provided by a Masonic Association formed for that purpose, now stands above the spot where the body of the distinguished Craftsman reposes.
Nearly three-quarters of a century have elapsed since the death of this remarkable man, whose zeal for Freemasonry was most intense, and whose efficient efforts for the promotion of the interests of the Masonic institution lasted through the whole period of his adult life. During fifteen years of the most active period of his life he was a resident of Providence and identified with Rhode Island Freemasonry in all its departments. He is deserving of an honored remembrance because of what he represented in a genuine and generous manhood, and specially for his words and works in behalf of the Institution which he loved so well and in whose communions he derived so much of sweet and helpful satisfaction.
As already stated, Webb married, in 1797, Mrs. Martha Hopkins of Boston. Five children were born to them, three of whom died when quite young and were buried in Providence. The other two survived him. His wife died in 1808, and a year later he married her sister, by whom he had four children, and two of these with their mother survived him. Of his nine children, therefore, only one son and three daughters were living at the time of his death. One of the daughters married a man named Graves; the others were never married. The son, Thomas Hopkins Webb, graduated at Brown University in 1821, and was located in Providence for a number of years, where he practiced medicine. At a later period he removed to Boston, where he united with the Masonic Fraternity. He died at Quincy, Mass., Aug. 2, 1866. His wife survived him, but no children. His sisters had died before his decease. The great Masonic Ritualist, therefore, Thomas Smith Webb, has no descendants on the earth. All have gone forward to the land of the immortals. But the labors of Webb in promoting the interests of Freemasonry ensure him an abiding remembrance in the hearts of all who love the Institution.
---