RIGMWasserman
From MasonicGenealogy
ARNOLD BRIAN WASSERMAN 1944-2005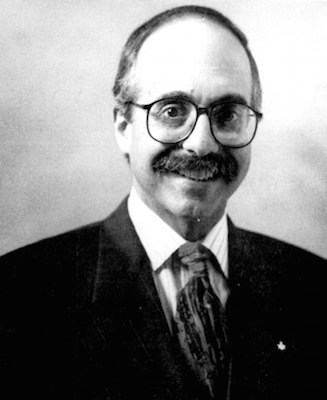 Grand Master 1996-1997
BIOGRAPHY
Arnold B. Wasserman, a member of Redwood Lodge No. 35, A. F. & A. M. and Manchester Lodge No. 12, F. & A. M., was elected and installed the 141st Most Worshipful Grand Master of the Grand Lodge of the Most Ancient and Honorable Society of Free and Accepted Masons for the State of Rhode Island and Providence Plantations al the 205th Annual Communications held at Freemasons' Hall, East Providence, Rhode Island on May 20, 1996.
Most Worshipful Brother Wasserman was born in Providence, Rhode Island on September 5, 1944. The son of the late Herman and Esther (Kotlen) Wasserman. He is a graduate of Hanover College in Hanover, Indiana and upon graduation he returned to Rhode Island to enter the family business while fulfilling his military obligation with the 455th General Hospital of the United States Army Reserve. In 1995 he changed his direction and is now pursuing a new career as an independent sales representative selling the western wear that has been his trademark for so many years. He is the proud father of Adam Harry, 23, Lindsay Helen, 20 and Tori Emma, 19.
Most Worshipful Brother Wasserman is a member of the Fall Class of 1967 of Redwood Lodge. He served his lodge as Chaplain from 1971 until he was appointed in line by Worshipful Lawrence D. Konick in 1977. On May 14, 1984 he was elected and installed Worshipful Master of Redwood Lodge. In 1987 he was appointed as District Deputy Grand Master of the Seventh Masonic District by Most Worshipful William H. Abbey and was elected to the Grand Council as Junior Grand Warden in 1993.
Most Worshipful Brother Wasserman is a member of the Scottish Rite, Valley of Providence; Providence Chapter and Council, York Rite Bodies; Palestine Temple A. A. O. N. M. S.; Massasoit Forest, Tall Cedars of Lebanon; Sword of Bunker Hill; Royal Order of Jesters Brother.
Wasserman is an honorary member of Charity Lodge No. 23, F. & A. M., Franklin Lodge No. 20, F. & A. M., Washington Lodge No. 5, F. & A. M., Warwick Lodge No. 16, F. & A. M. and Shawmut Lodge of Newtonville, Massachusetts. Most Worshipful Brother Wasserman is also a Past President of Cross State Trailride, Inc. and a Past President of the Montessori School in East Providence.
---