RIGMPothier
From MasonicGenealogy
DENNIS WALTER POTHIER 1946-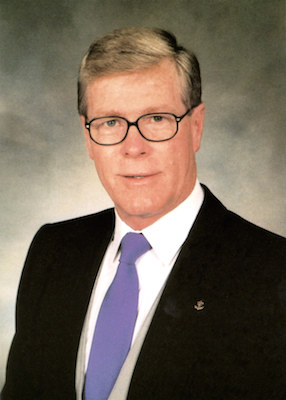 Grand Master 2001-2002
BIOGRAPHY
Brother Dennis W. Pothier, of Roger Williams Lodge No. 32, A. F. & A. M. of Centredale, Rhode Island, was elected the One Hundred and Forty Sixth Most Worshipful Grand Master of the Grand Lodge of the Most Ancient and Honorable Society of Free and Accepted Masons for the State of Rhode Island and Providence Plantations at the Two Hundred Ninth Semi-Annual Communication and was installed at the Two Hundredth Tenth Annual Communication held at Freemasons' Hall, East Providence, Rhode Island.
Brother Pothier was born in Providence, Rhode Island on September 28, 1946, the son of Ruth (Brindle) and Emile Pothier. He has one younger sister, Deborah Dumont of Cranston, Rhode Island.
He was educated in the Pawtucket and Cumberland school systems and graduated from Pawtucket West High School in 1964. After graduation he joined the U.S. Navy and served on the U.S.S. Compton, a destroyer based out of Boston. He served with the U.S. Naval Reserve for two additional years. Completing his naval obligations, he attended and graduated from the Rhode Island School of Broadcasting in 1968 and was employed with WPRO-FM in Providence for three years. Serving as a traffic manager for several New England based companies, he entered the sales force in 1988 and is presently employed with Cooper-Lewis, Inc., a specialist in the auto body industry.
In May of 1970, Brother Pothier married Patricia E. Fox of Providence. This marriage of 31 years has blessed them with three children: Shane 23, Sarah 20, and Geoffrey 19.
Brother Pothier began his Masonic career by signing the By-Laws of Roger Williams Lodge No. 32 in Centredale, Rhode Island on February 12, 1983. He was elected Master in May of 1987 and served his lodge as Treasurer from 1988 to 1990. He served his Grand Lodge as Grand Pursuivant in 1988, Forum Master in 1989 and Senior Grand Deacon in 1991.
Brother Donald F. Hopkins, Most Worshipful Past Grand Master, appointed Brother Pothier District Deputy Grand Master in March of 1991 to serve the remaining term of Brother Albert Remington, III, Right Worshipful District Deputy Grand Master for the Second District. He then serve the Fifth, Fourth, Third, Second and First Districts. He was elected to the Grand Council as Junior Grand Warden in 1998, Senior Grand Warden in 1999, Deputy Grand Master in 2000 and, under our new election process, Grand Master in 2000. He is also the Grand Representative to the Grand Lodge of Connecticut near the Grand Lodge of Rhode Island.
Brother Pothier holds additional membership in Saint John's Lodge No. 1 Providence and honorary memberships in Morning Star Lodge No. 13 and Pawtucket Assembly No. 3, Order of Rainbow for Girls. In addition, he is a member of Scituate Chapter No. 8, Royal Arch Masons; Providence Council No. 1, Knights Templar. He is a Past Thrice Potent Master, Solomon's Lodge of Perfection, Ancient and Accepted Scottish Rite, Valley of Providence and received his 33° in Pittsburgh, Pennsylvania in September 2000. He is also a member of Palestine Temple A.A.O.N.M.S., Cranston, Rhode Island, Southern California Research Lodge No. 1005 F. & A.M., and is also a member of the Swords of Bunker Hill, Gaspee Order No. 99.
---