RIGMHutchinson
From MasonicGenealogy
JAMES HUTCHINSON 1799-1887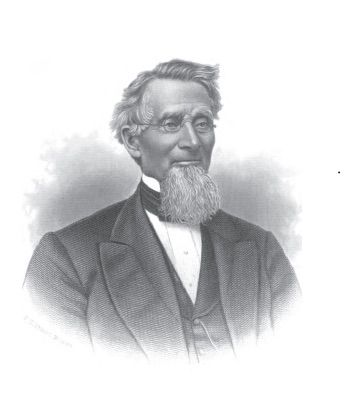 Picture from History of Freemasonry in Rhode Island, 1895, by Henry W. Rugg.
Grand Master 1857-1858
BIOGRAPHY
From History of Freemasonry in Rhode Island, 1895, Page 270:
James Hutchison, Deputy Grand Master at the time Oliver Johnson was Grand Master, and his successor, 1857, in the highest office, lived long and well on the earth. It is pleasant to trace the line of his fourscore and eight years, and note the lessons presented by his character and career.
Hs was born in Scotland, the parish of Borque, Stewarty of Kirkenbright, March 23, 1799. He died in Pawtucket, R. I., September 8, 1887. Coming to the United States when about twenty years of age he was practically a citizen of the United States ; and, though never naturalized, he had hearty respect for the general spirit of constitutional liberty, and was by no means indifferent to political movements and issues. For the greater part of his life his residence was in Pawtucket or Providence, where he fulfilled all secular duties as well as those of fraternity and good citizenship in such a way as to secure for himself general esteem.
His connection with Freemasonry began Jan. 26, 1821, for on that date he was initiated into Union Lodge, No. 10, Pawtucket, R. I. He made rapid progress, taking all the steps in Lodge, Chapter, Council and Encampment, (now Commandery,) in a little more than one year from the time of his becoming a Mason. He was made a Knight Templar in St. John's Commandery, No. 1, of Providence. He soon became an instructor and leader in all Masonic departments, and in due time he was placed at the head of the several bodies with which he was connected. His devotedness to Freemasonry was conspicuous during that period, nearly half a century ago, when our Institution was under the ban of popular feeling, and it was not altogether pleasant for one to declare himself a member of the Order. He remained stedfast, while so many fell away from their allegiance and turned their backs on the Craft. As soon as opportunity offered he engaged heartily in the work of re-organization, accepting positions in both Grand and Subordinate Bodies, which called for labor and often sacrifice ; and thus he rendered important services in reviving Masonic interest and bringing in a new era of prosperity for the Craft. In 1842 he was elected Grand Secretary of the Grand Lodge of Rhode Island, an office which he held for eleven years. In 1855 he was elected Grand Master and served two years. He was Grand High Priest of the Grand Chapter of Rhode Island during the years of 1852-3, having previously held nearly all the subordinate positions. He was Grand Commander of the Grand Encampment of Massachusetts and Rhode Island for three years, beginning with 1851. Before this time he had served as Eminent Commander of Holy Sepulchre Encampment at Pawtucket, having transferred his membership from St. John's to that Body a few years previously. At a later period he again resumed membership in St. John's Commandery, filling acceptably various offices therein, as from time to time the members made earnest request for his services.
Bro. Hutchison's zeal in Freemasonry showed no abatement after his attainment of an honorable preferment, and following a period when he had borne the burden and heat of the day. He was still a regular attendant upon Masonic meetings, always ready to take an active part in conferring the degrees or orders, or in communicating the lessons and transacting the business required. In the Grand Bodies his presence and influence might always be counted upon. Well informed, and holding views which he was never disposed to conceal, his brethren looked to him as an authority in most matters, and generally were disposed to accept his leadership. Sometimes, however, his positiveness of thought and peculiar ideas placed him in the minority and brought him in opposition for the time to those whom he held in much esteem.
He excelled as a ritualist, and was impressive, as well as correct, in rendering almost every part of the work. He excelled also in the administration of Masonic affairs. No matter where he might be placed, or what might be the exigency, he was always equal to the occasion. Quick to interpret the law and make decisions, he was never found lacking in resolution to enforce the conclusions that he believed to be lawful and equitable. He never forgot what were the prerogatives and responsibilities of the high offices he held, and in a firm and dignified manner, yet courteous withal, he attended to all the details of a wise and comprehensive administration and direction.
His Masonic record stands fair and attractive to view, and the unfolding of his individual life and character discloses abundant graces and virtues. That he had some peculiarities of nature and disposition none who knew him will doubt. His was the strongly marked Scottish temperament witnessed in manifold ways. He had his likes and dislikes, and he did not attempt to conceal them. He had some fancies and prejudices perhaps ; but he was a true man and Mason, quick, outspoken and fearless, always seeking to discern the truth and to walk in the way of light.
His religious nature was well developed. He had an earnest and intelligent faith, an abiding love for Christianity and its institutions, and a stedfast purpose to obey the law of Him whose disciple he sought to be. He was from early manhood a devout and consistent member of the Episcopal Church, and he died in its communion, having great trust in God's abundant mercies and a strong hope of a blessed resurrection.
His funeral was solemnized in St. Stephen's Church, Providence, on September 10, 1887, the Grand Lodge being convened in an Emergent Communication to pay Masonic honors to the venerable Craftsman. The burial, in accordance with Masonic usage, was at Swan Point Cemetery. His best memorial is in the hearts of his brethren who, recalling what he was and what he wrought, will be moved to say of him : "He was a worthy man and a perfect Master Builder."
---