RIGMGay
From MasonicGenealogy
JAMES BACON GAY 1846-1911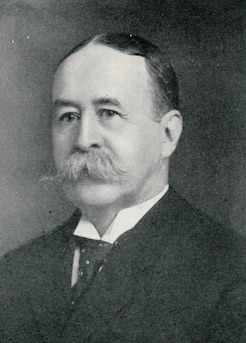 Grand Master 1911
BIOGRAPHY
From New England Craftsman, Vol. VI, No. 11, August 1911, Page 345:
James Bacon Gay, Most Worshipful Grand Master of Masons in Rhode Island, is wholly and essentially a Rhode Islander and the product of her institutions, being a native of the city of Providence, receiving his education and, without interruption, making his home in the city of his birth. He was born in Providence in 1846 of Abner Gay and Susan Adeline (Smith) Gay, and can trace, through both father and mother, an unbroken ancestral line back to the landing of the Mayflower, and embracing many families whose names are bright on the pages of both modern and colonial history.
While a boy, he secured employment in the office of the Atlantic Delaine Co., and remained with that company until its affairs were finally closed. During that term of employment the late Grand Master, Thomas A. Doyle, became the head of the Atlantic Delaine Co., and a strong attachment was formed between the man and the boy, that lasted through the life of Brother Doyle. As the man is but the boy grown up, we who know James B. Gay as he is, can all see how a man of the characteristics of Thomas A. Doyle would be instantly attracted by the modesty and sterling integrity of a boy such as Brother Gay must have been; and we can see, too, how attractive such a man as Thomas A. Doyle was, must have been, to such a boy. This attraction for each other was but the natural workings of the two natures, each attractive to the other.
For many years Brother Gay has been associated with the Providence Journal Company, and for the last few years has held the office of Assistant Treasurer of that Corporation. His business associates are, and ever have been, as strongly attracted to him as have his Masonic associates. Prompt, diligent, faithful, modest and depend able as he is, how could he be other wise than thoroughly likeable? Who ever heard Brother Gay say an ill considered or unkind word about any man, in or out of the fraternity? He has earned his success in the business world, and by his thoughts and effort in behalf of Masonry in this jurisdiction, he has merited the unanimous election to the office of Grand Master of Masons in Rhode Island. Brother Gay is also an honored member of the Sons of the American Revolution.
Brother Gay was made a Mason in Adelphoi Lodge No. 33 on March 3, 1891, and upon the fourth day of January, 1898, was elected Master, serving one year. Upon entering Grand Lodge his talents were promptly recognized and after seeing service in many minor positions he was elected Grand Master at the Annual meeting on May 15 last. He also holds membership in the higher bodies, being a member of Providence R. A. Chapter, No. 1, Providence Council, R. & S. M., St. John's Commandery, No. 1 (of which he is a Past Commander), and of the Scottish Rite bodies, and at the meeting of the Supreme Council, A. A. S. Rite held in Boston September 15. 1906, was admitted to the 33rd and last degree. We congratulate Brother Gay upon his success and preferment, and the Brethren of Rhode Island upon their success in securing such an estimable Grand Master.
MEMORIAL
From New England Craftsman, Vol. VII, No. 3, December 1911, Page 92:
James B. Gay, Grand Master of Masons of Rhode Island, died November 27th. He had been in failing health several months but his death was no less a shock to his many friends throughout the State. He was Assistant Treasurer of the Providence Journal Company. His connection with the Journal dates from 1885 when the company was organized as a corporation. Brother Gay's Masonic record is as follows: He became a member of Adelphoi Lodge No. 33, A. F. and A. M., in 1891, and seven years later was chosen Master of the lodge. He was appointed to the Grand Lodge in May, 1899, holding the office of Grand Pursuivant.
On the death of Rev. Dr. Henry W. Rugg, Grand Master, in July, 1910, Mr. Gay became acting Grand
 Master, serving as such until May 15, 1911, when he was elected Grand
Master of Masons in Rhode Island,
 which office he held at the time of his 
death.
Mr. Gay was also a member of Royal Arch Chapter No. 1 and of St. John's Commandery, No. 1, Knights Templar, of which body he was elected Eminent Commander in October, 1908.
He was a member of the Scottish Rite bodies of the Valley of Providence, and was Master of Solomon's Lodge of Perfection in 1906 and 1907.
He received the honorary 33° in the Supreme Council for the Northern Masonic Jurisdiction in September, 1906.
Mr. Gay is the third Grand Master who has died in office since the formation of the Grand Lodge in 1791. From the formation of the lodge until 1905 not a single Grand Master died in office.
In January of that year, however, Grand Master James E. Tillinghast died, and in July, 1910, Dr. Henry W. Rugg also passed away while in office. Mr. Gay's death makes the third occasion in less than seven years on which the Grand Lodge has been deprived by death of the services of its chief officer
---