RIGMCutler
From MasonicGenealogy
CHARLES R. CUTLER 1822-1889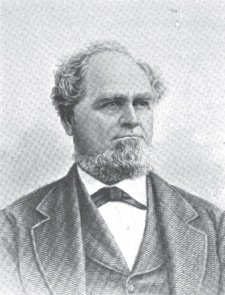 Picture from History of Freemasonry in Rhode Island, 1895, by Henry W. Rugg.
Grand Master 1877-1878
BIOGRAPHY
From History of Freemasonry in Rhode Island, 1895, Page 335:
This brother was born in Ballston, Saratoga Co., New York, December 10, 1822. He died at his home in Warren, R. I., March 26, 1889. His parents were Eli and Mary (Darlan) Cutler. He was of English descent on his father's side and French on the side of his mother. In his boyhood he had but few helps and privileges in the way of education. He attended the schools in his native town for a little time and afterwards was favored with two or three terms in an academy in Chicago : but he was only seventeen years of age when he began going to sea as a sailor, having just before that period removed to Warren, R. I., the place in which afterwards he became alike honored and influential. Young Cutler was rapidly advanced as a sailor and soon became master of a ship, going on long voyages and sailing around the globe on two or three occasions.
Captain Cutler retired from a seafaring life in 1858 and entered upon a manufacturing business. Ten years later the business had become so successful that a stock company was incorporated under the name of "The Cutler Manufacturing Company," the subject of this sketch being appointed as the treasurer and manager of the thriving industry thus established. The manufacturing interests with which he was identified were of important character, and they claimed much of his time and attention ; but he could not restrict himself to matters of merely personal and pecuniary engagement. He still gave thought to the concerns of related life. Public affairs enlisted his attention, and from time to time he answered the calls of his fellow-citizens, who desired that he should serve them in important trusts and duties. For many years he was a member of the Town Council of Warren, and often the President of the Board. He held other positions of responsibility, where he rendered good service in behalf of educational and material needs. In 1872 he was elected Lieutenant-Governor of Rhode Island. It may be said of him that in all these varying relations by which he was identified with the public interest, he made a clear expression of those qualities of character which belong to the expression of a high-minded and generous hearted man such as he was. It is but a just tribute to his resolute, active personality to affirm that he made his life useful to the community among whom he dwelt, and by whom he was deservedly esteemed.
He was initiated in Washington Lodge, Warren, R. I., November 3, 1863, being passed and raised in the same Lodge one week later, November 10th. Entering the organization in his-forty-first year, after his judgment was fully matured, he became actively interested in the work of the Lodge and the good of Masonry. He acceptably filled various offices in Washington Lodge, and was elected its Wor. Master in 1867.
He was exalted to the degree of Royal Arch Mason, in Temple Chapter, Warren, Jan. 25, 1865. He was elected High Priest of the Chapter in 1869, and retained the office several years. He served the Grand Chapter of Rhode Island as Grand Scribe during the years of 1869-70.
He received the Cryptic Degrees in Webb Council of Warren, May 2, 1865. He was elected Master of the Council in 1869, and in the same year was called to the head of the Grand Council of Rhode Island.
He was made a Knight Templar in St. John's Commandery, Providence, April 30, 1866. He held no official positions in this branch of the Masonic organization.
Bro. Cutler's first appearance as an officer of the Grand Lodge of Rhode Island was in 1867, he having been appointed Grand Pursuivant in that year. He afterwards held the office of Grand Sword Bearer for several years. At the annual communication in 1872 he was elected Junior Grand Warden, and held that position for two years, when he was appointed Deputy Grand Master, serving for one year. On the 21st of May, 1877, he was elected Grand Master, and the year following was reelected with great unanimity. His administration as Grand Master was exceedingly popular. Notwithstanding the engrossing cares of his business, he found ample time to attend to the duties of the exalted office he had been called to fill. He ever counseled his brethren to harmony and good works; and in his government of the Craft he made a clear showing of his own high appreciation of the principles and privileges of Freemasonry.
The funeral of this zealous and honored Craftsman, solemnized at Warren, March 30, 1889, was attended by a large con
course of people, including many members of the Fraternity.
St. John's Commandery, No. 1, of Providence, was present, and
performed, at the house, the Templar burial service over the
body of the deceased. Rev. W. N. Ackley, Grand Master, con
ducted the final Masonic service at the cemetery, in the presence
of the family and a large number of spectators, besides Tem
plars and Craftsmen. Thus all that was mortal of a zealous
and true Mason, a noble and generous man, was laid away in the
grave, the prayer of faith, as it was chanted by the Masonic
choir and participated in by all hearts, being
.

"Eternal rest grant unto him, O Lord;
And let light perpetual shine upon him."
The eulogist of Bro. Cutler in Grand Lodge, Past Grand Master Lyman Klapp, in summing up the character of the deceased said of him, most truthfully, that he was "a type of the ideal American citizen." In home and social life he revealed the excellent traits of a virtuous heart and pure affections; and his intercourse with the world was marked by sterling and uncompromising honesty, which made him a valuable friend, and enabled him to sturdily defend himself against imposition or attempted oppression. Having been taught by adversity the true uses of worldly prosperity, he was ever ready to contribute to the relief of others. He was actuated by the essential principles of Freemasonry in his every day conduct, and he deserves to be remembered as a worthy exponent of precepts and truths which are fundamental in the Institution.
---