RIGMClark
From MasonicGenealogy
JOHN FRANCIS CLARK 1854-1939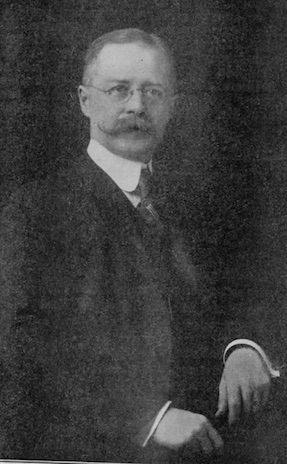 Grand Master 1913-1914
BIOGRAPHY
From New England Craftsman, Vol. VIII, No. 12, September 1913, Page 404:
John Francis Clark, elected Most Worshipful Grand Master at the annual Communication of the Grand Lodge, May 19, 1913, is a native of Rhode Island, and was born in the town of Cumberland, February 7, 1854, the son of John L. and Cordelia H. (Titus) Clark.
After graduating from the public schools he fitted for college at the University Grammar School, Providence, and then entered Brown University, graduating therefrom with the class of 1875, with the degree of Bachelor of Arts.
His business life since leaving college has been connected with the affairs of his native town and state. He has been Town Treasurer, Tax Assessor, member of the School Committee and for sixteen years he held the office of Town Clerk. From 1878 to 1884 he represented his town in the lower house of the General Assembly. For the past four years he has held a position in the office of the Secretary of State.
He received the degrees of Free-pnasonry in Union Lodge No. 10, Pawtucket, and was admitted to membership therein July 18, 1888. Soon afterwards he became a member of the Chapter, Council and Commandery in Pawtucket, and in 1896 he received the degrees of the Ancient Accepted Scottish Rite in the bodies meeting in Providence.
In these bodies he has at all times shown an active interest, which has resulted in his being called upon by each to serve in its most responsible positions. He was elected Worshipful Master of Union Lodge No. 10, Nov. 6, 1895, and served one year. On Nov. 17, 1900, he was elected Secretary, which position he still continues to hold.
He was H. P. of Pawtucket R. A. Chapter in 1905, T. I. Master of Pawtucket Council in 1900, Commander of Holy Sepulchre Commandery in 1898, and in the Grand Council, R. & S. M., he was Grand Master in 1906.
In 1901 and 1902 Bro. Clark presided over Rhode Island Council, Princes of Jerusalem, and in 1911 and 1912 he was Master of Solomon's Lodge of Perfection.
He received the thirty-third and last degree September 19, 1911, and is an Honorary Member of the Supreme Council, Northern Masonic Jurisdiction.
Brother Clark married Miss Carrie E. Jencks. They have five children, three daughters and two sons.
---