RIGMBruns
From MasonicGenealogy
KENNETH N. BRUNS 1949-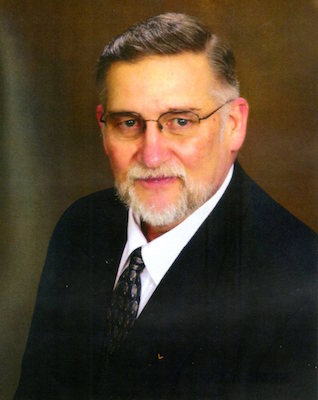 Grand Master 2010–2011
Brother Bruns was born on December 2, 1949 in Manhattan, Kansas. The son of Elaine Bruns and the late Calvin Edward Bruns. Brother, Bruns graduated from Browning County High School in 1967. After graduation, he enlisted in the United States Navy and served as an AWW Warfare Technician on the 6th Fleet. While stationed in Quonset Point, Rhode Island he met his future wife Sandra Colleen Charpentier. They were married on May 15, 1971. They were blessed with two sons, Joshua Michael in 1977 and Jacob Matthew in 1981.
Upon separation from the military, Ken went to school at Manhattan University and received his Associates Degree in Machine Design. In 1981, Ken, Sandy and the boys moved to Rhode Island and he went to work at Texas Instruments in Attleboro, MA in machine design. He also worked nights at Sears Automotive in Warwick as a service manager. He continued his education and received his Bachelor's and Master's Degree in Business Administration from Glendale College. During this time he was employed by Stanley Bostitch in East Greenwich as supervisor. He is currently employed by Kopin Corporation in Taunton, MA where he was hired to set up a third shift production assembly crew.
When Ken's boys became interested in sports Ken also became involved and coached Little League Baseball in Coventry for 13 years where he served as Treasurer for 4 years and as President for 4 years. He was one of the founders of the Central Rhode Island Friendship Tournament and received a National Youth Sports Association Coach of the Year Award.
Brother Bruns's Masonic career started in 1974 when he petioned Ashlar Lodge No. 344 in Riley, Kansas where he received his Entered Apprentice Degree. With work and a young family, Ken did not finish his degrees until he moved to Rhode Island. He met Worshipful Brother Herman Matteson who encouraged Ken to finish his Degrees in Freemasonry. He then partitioned King Solomon's Lodge No. 11 in East Greenwich, RI where he received his Fellow Craft degree in 1982 and was raised to the Sublime Degree of a Master Mason in May, 1982. He served King Solomon's Lodge No. 11 as a Worshipful Master in 1988. After Joshua and Jacob became involved in DeMolay, Ken joined them and served as Dad of Byron A. Northup Chapter Order of DeMolay in Coventry, Rhode Island. He coached Byron A. Northup teams to several basketball and softball championships in New England and the Nationals.
During this time Ken became a member of Manchester Lodge No. 12, the sponsor of Byron A. Northup, and served there as Worshipful Master in 1997. Ken is still active in Manchester Fraternal Associates. The Fellow Craft Club is one of the founding fathers of the Rough Ashlars Masonic motorcycle riding club.
Ken was appointed by Most Worshipful Robert J. Allen as the District Deputy Grand Master for the Southern Masonic District in 2003. He also served in the Central, Northern, East Bay and Metro Masonic Districts. In 2006, Ken was elected to Junior Grand Warden by this Most Worshipful Grand Lodge, Senior Grand Warden in 2007, Deputy Grand Master in 2008 and in November, 2009 was elected to become the 155th Grand Master of this Most Worshipful Grand Lodge for the State of Rhode Island and Providence Plantations.
Brother Bruns is also a member of the Friendship Lodge No.7 and holds honorary membership in Charity Lodge No. 23 and Daylight Lodge No. 48.
He is a member of the Scituate Royal Arch Chapter No. 8, Narragansett Council No. 6, St. John's Commandery No. 1, Ancient and Accepted Scottish Rite Valley of Providence, The Rhode Island Shrine-Legion of Honor and he is Shrine Road Runner, Gaspee Order of the Swords of Bunker Hill and the International Police Square Club, Inc. Rhode Island Chapter.
---