RIGMRAllen
From MasonicGenealogy
ROBERT JAMES ALLEN 1933-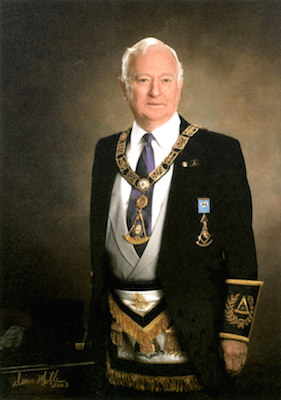 Grand Master 2002-2003
BIOGRAPHY
Brother Robert James Allen was born in Providence, Rhode Island on April 19, 1933, the second child and son of the late William T. and Annie D. (Erickson) Allen. He is a life-long resident of Rhode Island and currently lives in Barrington. He was educated in the East Providence Public Schools and continued his education at the Rhode Island School of Design.
He served in the United States Navy during the Korean War from 1952-1956. On October 20, 1956 he was married to Jean Elizabeth Scarbrough in Westwood, New Jersey. They have two daughters and one son as well as two granddaughters and one grandson. Brother Allen is retired from the International Association of Bridge, Structural and Ornamental Ironworkers of America and is a member of Local No. 37. During his career he was the foreman or superintendent of many major construction projects in Rhode Island and New England.
Brother Allen has been a member of the Evangelical Covenant Church of Riverside, Rhode Island most of his life and has served as Sunday School teacher, basketball coach, youth leader, Trustee, and as Chairman of the Properties Commission. Currently, he is attending the Barrington Baptist Church.
In April 1963, Brother Allen petitioned St. Andrew's Lodge No. 39 and was initiated as an Entered Apprentice on June 14, 1963, passed to the Degree of Fellow Craft on September 14, 1963, and raised a Master Mason on November 15, 1963 and signed the By-Laws on November 30, 1963. He served as Master of St. Andrews Lodge No. 39 from 1969-1970. He is also a member of St. Johns Lodge No. 1 Providence.
Brother Allen was appointed District Deputy Grand Master for the Sixth Masonic District in 1992 by Most Worshipful Brother Joseph W. Thibodeau. He served this District from 1992 to 1994. He also served the Fifth, Fourth, Third, Second, and the Metro Masonic Districts. He was elected Junior Grand Warden in 1999, Senior Grand Warden in 2000, Deputy Grand Master in November 2000, and was installed as Grand Master in May 2001.
He is a member of Providence Chapter No. 1 Royal Arch Masons and served as High Priest in 1975. He is a Past Grand Priest of the Grand Royal Arch Masons for the State of Rhode Island and Providence Plantations from 1986-1987. He is the Grand Representative for the State of New Jersey. He is a Past President of the Grand Council of Anointed High Priests.
In Cryptic Masonry, Brother Allen is a member of Providence Council No. 1 of Royal and Select Masters serving as Thrice Illustrious Grand Master of the Grand Council of Royal and Select Master Masons for the State of Rhode Island and Providence Plantations in 1982-1983. He is the Grand Representative for the State of Connecticut. He served as the Northeast Regional Deputy General Grand Master of the General Grand Council of Cryptic Masons International from September 1987 through August 1990. He is a member of the Order of the Silver Trowel Council of Anointed Kings and served as President in 1984.
In Chivalric Masonry, he was knighted in Calvary Commandery No. 13 in 1970 and served as Commander in 1977-1978. He was elected and installed as Right Eminent Grand Commander of the Grand Commandery of Knights Templar and the Appendant Orders of Massachusetts and Rhode Island for the 1988-1989 Templar year. He is the Grand Representative for the State of Pennsylvania. He received the Knight Commander of the Temple on December 15, 1992. He is also a member of St. Johns Commandery No. 1.
In the Ancient and Accepted Scottish Rite, he is a member of the Valley of Providence and served as Sovereign Prince of the Council of the Princes of Jerusalem in 1989-1991. He was crowned Grand Inspector General 33° in Boston, Massachusetts on August 31, 1993.
He is a member of Palestine Temple Shrine, Ancient Arabic Order, Nobles of the Mystic Shrine and has served many years on the Degree Team.
Other Masonic service includes Plantations Conclave No. 30, Red Cross of Constantine and served as Puissant Sovereign in 1990-1991. He is a member of Roger Williams Priory No. 48, Knights of the York Cross of Honor and served as Eminent Prior in 1987. He is a member of What Cheer York Rite College No. 43 and was made an Associate Regent, Order of the Purple Cross on July 29, 1995 in Nashville, Tennessee. He is the proud holder of the DeMolay Legion of Honor which he received in 1995. He is a member of Gaspee Order No. 99, Swords of Bunker Hill; Narragansett Bay Chapter No. 14, National Sojourners; Heroes of '76; Massasoit Forest No. 91, Tall Cedars of Lebanon; Masonic Veterans Association of Rhode Island, The Forty-Fivers; the 1721 Society, Martha Washington Chapter No. 18, Order of the Eastern Star; the Order of Zanzibar; Colonial Council No. 19, Knight Masons; Sovereign Order of Knight Preceptors, Massachusetts and Rhode Island Chapter; Royal Order of Jesters, Providence Court No. 71; Damascus Tabernacle No. 26, Holy Royal Arch Knight Templar Priests and served as Very Eminent Preceptor in 2001-2002. He is a member of the Royal Order of Scotland. He holds many honorary memberships in many bodies throughout the country.
---