RIGMABallou
From MasonicGenealogy
ARIEL BALLOU 1805-1887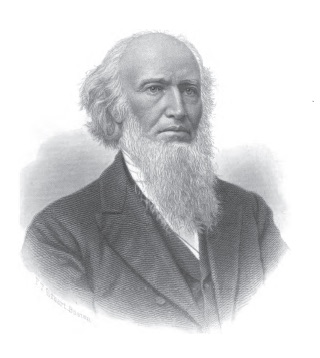 Picture from History of Freemasonry in Rhode Island, 1895, by Henry W. Rugg.
Grand Master 1861-1864
BIOGRAPHY
From History of Freemasonry in Rhode Island, 1895, Page 270:
This man, of strong and attractive personality, was the intimate friend and long time Masonic associate of Oliver Johnson and James Hutchison, and shared with them many of the privileges and blessings of fraternal intercourse.
He was born in Cumberland, R. I., October 25, 1805. He died in Providence, July 15, 1887. His ancestors, on his father's side, were among the earliest settlers in northern Rhode Island, having located there about the middle of the seventeenth century. His father and grandfather were both named Ariel. His brother Adin, a distinguished clergyman of somewhat peculiar views, was the founder of the Hopedale community in Massachusetts.
The early years of the subject of this sketch were passed in a pleasant home, and in hard work on his father's farm. He was a thoughtful, studious boy, who profited by all available opportunities of instruction. He taught a "district school" when he was only nineteen years of age; and a year later assumed the charge of a select school on Cumberland Hill. While thus occupied he began the study of medicine, in which pursuit, at a later period, he received instruction from Dr. Daniel Thurber, of Mendon, and Prof. Usher Parsons, of Providence. After passing a term or two at the Berkshire Medical Institute, Pittsfield, Mass., he entered the medical department of Bowdoin College, Brunswick, Me., and in this institution he graduated with honor, September, 1830.
Immediately following his graduation he began the practice of his profession in Woonsocket, where he resided for more than a hajf century, doing such a work, and making expression of such characteristics of his strong individuality, that the community came to hold him in great respect. As a skillful physician he became well known in the adjoining towns, and his advice was often sought in critical cases. He was elected President of the Rhode Island Medical Society in 1855, holding the office until he declined to retain it longer. In matters of social and moral progress, and of civic interest as well, Dr. Ballou always made his influence felt. Having definite ideas in regard to movements for the public welfare, he sought to impress his ideas upon other minds and to work for their advancement. He was not a politician, yet he was both active and influential in the party to which he was attached, and was often called to fill offices of honor and responsibility. For seventeen years he was a member of the school board of his native town. For a period nearly as long he occupied a seat in the lower or upper branch of the General Assembly of Rhode Island. As an intelligent and high minded legislator he won the respect of men of all parties.
Dr. Ballou became a member of the Masonic Fraternity almost as soon as he had reached the required age. The record of his Masonic career, briefly stated, is as follows : He was initiated and passed to the degree of Fellow Craft in Morning Star Lodge, No. 13, Cumberland, R. I., November 13, 1826, and was raised to the sublime degree of Master Mason on the 25th of the same month and year.
He was elected Secretary of the Lodge, October 29, 1827, serving one year. In November, 1832, he was again elected Secretary, continuing in that office during the working and suspension of the Lodge, caused by Anti-Masonic strife and legislation, preserving its records and papers until December 12, 1848. In November, 1848, Morning Star Lodge was removed from Cumberland Hill to the village of Woonsocket, and its Masonic Charter restored. He was elected W. Master, December 12, 1848, and held that office until January. 1853. On leaving the chair he was elected Treasurer of the Lodge, and continued in that office until elected Grand Master of Masons. In the Grand Lodge of Rhode Island he held important official positions, being chosen Junior Grand Warden in May, 1849, and re-elected to the same office for a number of years, and then advanced to the place of Senior Grand Warden. In i860 he was elected Deputy Grand Master, and in May, 1861, he was chosen to fill the high office of Grand Master, holding the position for a term of four years, during which time he gave witness of his characteristic energy and ability in the performance of the duties thus imposed. His administration was conducive to the progress of the fraternity.
He was exalted to the degree of Royal Arch Mason in Union Chapter, No. 5, Woonsocket, February 11, 1858; was elected Scribe in Union Chapter, No. 5, May 24, 1858 ; elected King in i860; elected High Priest, January 21, 1861, serving as such until January 18, 1864. He was again elected High Priest in Union Chapter, No. 5, January, 1868.
He was elected Most Excellent Grand High Priest of the Grand Chapter of Rhode Island, in March, 1861.
He received the Royal and Select Master's degrees in Pawtucket Council of Royal and Select Masters, and the degrees of Knighthood in Woonsocket Encampment, during the year 1867.
While it*nay justly be said of Dr. Ballou that he took interest in all the departments of Freemasonry, it may truly be said that he had special fondness for the Blue Lodge — the symbolic degrees. He was well versed in the ritual and ceremonies pertaining to these degrees, and his manner of conferring the same was dignified and impressive. The interest which Dr. Ballou had in Freemasonry was not measured, however, by its merely technical features, but went out along all the lines of its social, moral, and benevolent manifestations, disposing him to promote its efficiency in these directions.
For a period of more than sixty years Dr. Ballou was prominently identified with Masonic work and interests ; and during this time he came to be justly regarded as a tried, true and capable member of the fraternity, ever ready and ever anxious to promote the prosperity of the institution which he held in high regard.
He was spared to a ripe old age. Like the shades of departing day, softly and sweetly the light of his mortal being went out. He died in the full confidence of a strong Christian faith. His funeral, under the direction of the Grand Lodge of Rhode Island, was solemnized July 19, 1887, Grand Master Rev. W. N. Ackley officiating at the house in Providence, where the deceased had lived with one of his daughters during the last three or four years, and at the cemetery in Woonsocket, where the body of our venerable Brother was laid away to rest. Many friends and associates gathered there about the open grave, and, as the sprig of acacia was deposited and the appropriate sign made by the Craftsmen, all felt that a good man had passed on to his reward.
---