MAWinchendon
From MasonicGenealogy
WINCHENDON
LODGES
BUILDINGS
BRIEF HISTORY OF THE MASONIC TEMPLE IN WINCHENDON, SEPTEMBER 1980
Presented at the hall dedication; from Proceedings, Page 180-138:
Meetings were held in the Baptist Church until January 25, 1867, when newer and more spacious rooms were acquired in the First National Bank Building. These facilities were utilized until 1921 when, on September 20, new rooms were secured in the former Bart Block, a building on Central Street, just then purchased by Artisan Realty, Inc.
Incorporation papers were taken out in May 1976 (approved March 2, 1978) for the establishment of the Winchendon Masonic Charitable and Educational Society. The first meeting of the Incorporators was held on March 14, 1978, with all subscribers present. Right Worshipful Raymond J. McLean was elected Chairman and Worshipful John A. Davis, Clerk. The primary purpose for which the corporation was formed was to accept the very generous gift by Brother Edwin H. Merrill often acres of land upon which to erect a suitable building to serve as a Masonic Temple in the Town of Winchendon. In addition to the aforementioned, incorporators included Duncan H. Burns, Duncan H Burns, Jr., Henry L. Doody, Ernest P. Fletcher, Jr., Richard A Godfrey, Edward M. King, F. Richard Ladeau, William P. Lawrence, Bruce C. Lemire, Arthur E. Marsh, Raymond J McConnell, Edwin H. Merrill, Kenneth L. Norcross, Sherman S. Paris, Ottmar Rau, Frank J. Rota, Burton K. Sawtelle, John A. Squitiero and Francis Wing.
In March 1979, Brother Duncan H. Burns was elected President of the Board of Trustees of the corporation. Brothers J. Albert Gauthier and Richard A. Godfrey were selected as Secretary-Clerk and Treasurer respectively. Worshipful Ottmar Rau, Worshipful Burton Sawtelle and Brother J. Thomas Engle were appointed as a committee to raise funds for the erection of the new Temple. Under the leadership of Brother Burns and through the generosity and help of many - members, wives, family and friends alike, the Temple in which we sit this evening was raised.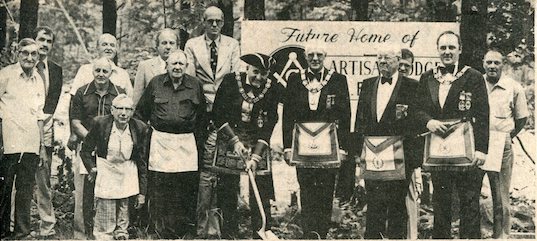 Groundbreaking Ceremony, June 11, 1979:
Altieri Forinoll, Martin Leonard, Frank Rota, Albert Lemire, Edwin H. Merrill, Ottmar Rau, Earl Priest,
M. W. Arthur H. Melanson, Raymond J. McLean, Burton K. Sawtelle, Duncan Burns, Albert T. Ames, Stewart Priest.
Formal groundbreaking exercises were held on June 11, 1979, with Most Worshipful Arthur H. Melanson, Grand Master of Masons in Massachusetts presiding. Under the guiding hands of Worshipful Frank J. Rota, the building rose rapidly. The foundation walls were poured on June 6, 1979; main support beam, joists and flooring completed on July 8, exterior and interior walls were framed by July 16, and the roof completed by August 20. Landscaping and interior work on the main floor was just as rapidly completed in time for the installation of officers on September 15, 1980. More significant than the rapidity with which the Temple was completed, is that it was all done without the benefit of a mortgage. This magnificent edifice is representative of the highest honor we can bestow upon those who contributed so generously of their time, their labor, and their love for Freemasonry.
The organization of the Board of Trustees of the Winchendon Masonic Charitable and Educational Society, Inc for 1979-1980 includes J. Thomas Engle, President; Warren A. Harris, Vice-President; Raymond McConnell, Secretary; Arnold E. Anderson, Treasurer, and Trustees Celian H. Abbott, Duncan H. Burns, Jr. J. Albert Gauthier, Morris A. Gibbons, 3rd, Arthur A. Marsh, Burton K. Sawtelle; Edwin H. Merrill, Honorary and Ottmar Rau, Ex-officio.
The Brothers of Artisan Lodge are deeply gratified to have Most Worshipful Arthur H. Melanson, Grand Master of Masons in Massachusetts and his suite join us in dedication of our new Temple on this 19th day of September 1980. This auspicious occasion will lay the groundwork for another 115 years of prosperity for Masonry in the Town of Winchendon, Massachusetts. of this project is to photograph every article in the Museum collection for catalog identification and insurance purposes. Mr. Stewart Currie, a member of Columbian Lodge, and an excellent photographer, has donated his time and talents to photograph over 100 of the aprons in our collection of nearly 800. Due to circumstances beyond our control, Mr. Currie and I have not been able to continue this project and probably will not be able to do so until next summer.
In the archival collection stored in the Grand Secretary's vault, the documents of Paul Revere and Henry Price have been deacidified, cleaned, encapsulated and catalogued.
Kathleen Y. Ruland
Curator
LINKS