MAGLWWRichardson
From MasonicGenealogy
W. WARREN RICHARDSON, JR.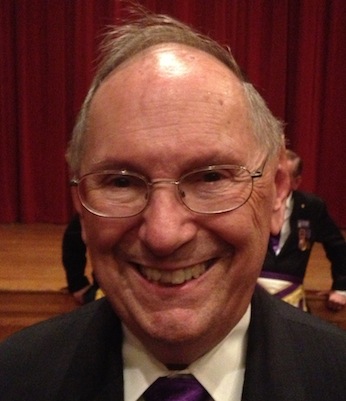 Deputy Grand Master, 2003
BIOGRAPHY
From TROWEL, Winter 2002, Page 10: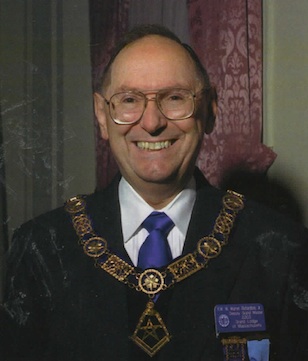 W. Warren Richardson, Jr. of Dracut, a Past Master of Winslow Lewis Lodge of Boston where he is a Trustee and Proxy, was Grand Master Donald G. Hicks Jr.'s choice as the Deputy Grand Master for 2003. Raised in William North Lodge of Lowell in 1960, he affiliated with Winslow Lewis Lodge in 1982.
He is a native of Dracut and a 1957 graduate of Dracut High School. He attended the Lowell Technological Institute, and in 1964 received honorable discharge from the United States Army as Sp-4 (E4). He is retired from NYNEX, now Verizon, where he was an Area Operations Manager for the Equipment Installation Department for the State of New Hampshire.
Rt. Wor. Richardson has been married to Mary E. (Dailey) Richardson since 1972. They are the parents of Jennifer (Richardson) Kopcinski, and grandparents of Gerren R. Kopcinski, Jr.
Bro. Richardson has served one term on the vestry of St. Anne's Episcopal Church in Lowell. He served on the Dracut Planning Board for ten years, and was a member of the Dracut Volunteer Fire Department. He is a member of the Leo C. Roth Post, American Legion of Dracut, and has been a member of the Massachusetts Charitable Mechanic Association since 1990.
He is a member of the Grand Lodge Committee on Records. A member and worker in the Lowell Scottish Rite bodies, he received the 33° in 2002. He is also a member of Massachusetts Consistory, where he has been Chancellor since 1999. He is a member of St. Andrews Royal Arch Chapter of Boston, Boston Council of Royal and Select Masters, and in 1998 was the Eminent Commander of St. Bernard Commandery No. 12 of Boston. He is an Honorary Member of Pilgrim Commandery No. 9; a member of Massachusetts College, Societas Rosicruciana in Civitatibus Foederatis; Bay State Conclave, Red Cross of Constantine; Damascus Tabernacle No. 26, Holy Royal Arch Knight Templar Priests; Knight Commander of the Temple KCT; and the Royal Order of Scotland.
Brother Richardson is a Past Potentate of Aleppo Shrine, and was President of the Merrimack Valley Shrine Club in 1985.
Fraternal life began for Brother Richardson in 1954 with Lowell Chapter, Order of DeMolay, where he was the Master Councilor in 1958. He holds the Blue Honor Key, the Degree of Chevalier, and is an Active Member of the Legion of Honor. He has been a Trustee of Massachusetts DeMolay Foundation since 2000. He is a past chairman of the advisory board of Lowell Assembly No. 42, International Order of Rainbow for Girls, and was awarded their Grand Cross of Color. He was President of the Dracut Square and Compass Club in 1973-74.
SPEECHES
FEAST OF ST. JOHN, DECEMBER 2002
From Proceedings, Page 2002-201:
Most Worshipful Grand Master, Distinguished Guests, and Brethren:
Many of us been very active with other bodies in Freemasonry, but we can never forget that the Blue Lodge is the mother of us all. We should never forget that we owe all our Masonry to it; from it we all have sprung; to it we must look for our guidance and our inspiration. I regard the honor, which has been conferred on me today, to be the highlight of my Masonic career.
But I have not come here to talk about myself.
While choosing a theme for tonight's address, I researched several addresses by prominent Masons. I came across the address of Right Worshipful Frederick W. Hamilton, the Deputy Grand Master in 1914. Considering the circumstances in the world today, I have used many of his thoughts tonight. His look at Masonry and the tensions of his day have, in my mind, a profound significance. Much of what I will say is taken directly from his address.
I would like to quote from the Book of Matthew, 5th Chapter verses 15 and 16: "NO ONE AFTER LIGHTING A LAMP PUTS IT UNDER A BUSHEL BASKET - IN THE SAME WAY, LET YOUR LIGHT SHINE BEFORE OTHERS."
We are here today observing the Feast of Saint John the Evangelist. We are here to renew our commitment to the deeper and more serious aspects of Freemasonry, to help ourselves and each other to take our Masonry more seriously.
I want to use those words as an inspiration and a call to a renewal and higher service. We are here today as the workers in the trenches of a great Order, with a very serious purpose and very important reason for existence. We find joy in the fellowship of an hour like this. At a Masonic banquet we renew our fraternal associations, and we come nearer to each other on the human side of life; the doors, if we use them correctly, that we enter into the more serious aspects and the more solemn duties of our lives as Freemasons.
But these social meetings are not the purpose of the Order; they are only the useful adjuncts of that purpose. And that purpose is nothing more or less than the uplifting of society, the improvement of human institutions, and the bettering of human life. Masonry is not selfish. It has not merely in view the welfare of its members, selfishly seeking some profit or pleasure for themselves at the expense of others, but it seeks the larger aims, which benefit the many as well as the few.
There are organizations of all sorts - some of them merely confederacies of vice or more or less harmless societies organized for pleasure. There are some, which are very excellent in their own way, which have for their purposes merely material aims, such as insurance and other benefits. And there are others, which, not forgetting those material aspects of life, have in view the higher, moral and spiritual aspects of life; and this is Masonry. In its attempts to uplift the level of mankind and improve the character and relations of human life, it proceeds upon a fundamental principle laid down in the Rose Croix Degree in Scottish Rite. It recognizes that in the deepest thinkers of mankind in all ages is imbedded the very foundation of our institution, that is, the principle that the elevation of society and the improvement of mankind proceeds from within outward, and not from without inward. We too often forget that. We also too often think we can accomplish all the things, which our hearts can wish for, if only we have the perfect law, a flawless constitution, a better framework for society, or a better organization of human affairs.
Never was there a greater mistake than that in all the thinking of mankind.
This is the problem of all ages. Society thinks that the improvement of human affairs, society, and laws is the way to the improvement of human life. Masonry forbids the discussion of politics, of creeds, of things which men dispute and sometimes come to blows. It believes that it has something more important to do than that, and that the more important thing is the creation of the type of character, which will naturally, spontaneously and inevitably manifest itself in a better social order.
We try to impress upon the initiate the great, fundamental, simple facts of life and try to deepen that impression during all the years of his Masonic career. We try to remind him of the presence of his God and of God's dominance in human affairs. That is required for a strong life, for meaningful relations with and a renewal from that source of all life. What we call Him and how we worship Him is a matter of personal choice. The question is not how a man worships; the question is whether a man worships.
No man can rise to his full potential until he realizes he is an immortal, spiritual being, a child of God.
To realize immortality means a commitment to duty. The story of the martyred Grand Master in the temple is only a dramatic teaching of the dominance of duty in human life - the duty for which sometimes a man must die, but no man can learn the lessons of Masonry without being deeply impressed with the importance of duty. The meeting of our responsibility every hour of every day brings us to the completion of our responsibilities. That is the meaning of duty - not waiting for a great crisis to come, when we shall rise and see ourselves as heroes - for if we wait for that without having done all the duties of life every hour and every minute, we shall fail when it comes to the great crisis.
We are all bound together by the golden chain of love. If we can only apply love, it is the solution of all our problems and the resolution of all our difficulties. If we only knew how to love each other we would not have wars, and we would not have to talk about whether we have to build stealth bombers or cruise missiles.
Did you ever stop to think what a world this would be if all the love were banished from it over night? Suppose tonight by some process of magic, a demon could succeed to cast all love out of the hearts of the people of this nation, so that they would wake up tomorrow morning with nothing but selfishness and self-seeking in their hearts. What would become of our civilization? It would vanish as the shadows of night vanish before the rising sun. Government would fall to pieces and civilization would revert to absolute chaos. With all the self-seeking, the evil and the hatred there is in the world today, there is still enough love to keep life safe and sane. Think how much better life would be if the perfect love that is the ideal of Masonry could cast out the hate from human lives and reign supreme in the hearts of men.
When we talk about Masonry we also think about equality. It is not the fact that some men give directions and some men take them that makes human life hard and bitter. It is not the fact that some men occupy big positions and many more occupy small ones, or that some are rich and some are poor. It is the selfishness, the lack of love in the hearts of rich and poor alike that bring into our lives this bitterness, the struggle and the evil that we foolishly believe come from the fact that we are not all on the same level of equality. It is the equality of heart and love, that equality that makes the supervisor see the subordinate as a friend, which makes the subordinate see the supervisor as a friend, and which makes each see in the other a brother - that is the true foundation of real equality and the foundation of free institutions.
Brethren, it is because Masonry teaches these things, because it stands for these things and has meant these things in the lives of men that I believe in it and love it and try to serve it, and as you who are here believe in it and love it and are serving, have served it in the past and will serve it in the future. It is out of such stuff that citizens of a free country are made.
This Grand Lodge is embarking on a quest to show that Free Masonry is a beacon of light, that Free Masonry is the light that can help ease the problems facing society today. There will be a one-day class in November. To get qualified candidates we have to take our light from under the bushel and let it shine before others.
Every new Mason will be a good citizen and these times require good citizens. I regard Masonry not only as an organization for making good men, or for making men that will help each other, but as an organization for making good men in whose hearts and lives are so deeply imbedded the teachings of Masonry that they will furnish the motive and inspiration of those qualities to their friends and neighbors. These are basic to citizens in any free country. These are the supports of society and the guarantees of liberty.
If this great country of ours can be filled with an increasing number of men of that sort, I have no fear that the future of our Nation will continue to light the way for the world. If men fear God and love Him, if they recognize their own spiritual manhood, if they are devoted to their duty and love their fellow men, then we shall have no reason to complain of the quality of our laws or the framework of our society. That Brethren, is what we have to tell the world.
Thank you. God Bless Free Masonry and God Bless America.
---