MAGLWSoule
From MasonicGenealogy
WILLIAM H. H. SOULE 1840-1916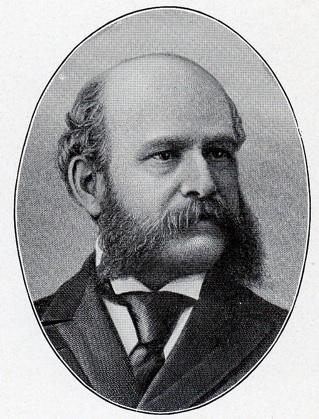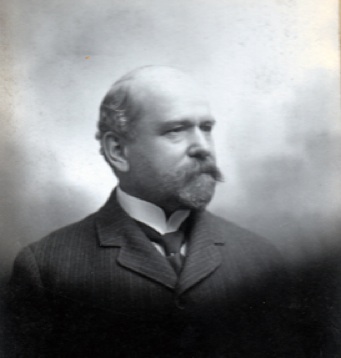 From the collection of the Grand Lodge of Masons in Massachusetts
Junior Grand Warden, 1884
MEMORIAL
NEW ENGLAND CRAFTSMAN, 1916
From New England Craftsman, Vol. XII, No. 2, November 1916, Page 67: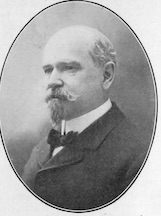 William Henry Harrison Soule, one of the best known and beloved Masons of Massachusetts, died after a short illness, Tuesday, November 7th- He resided in Brookline, but his presence was familiar in every Masonic society in very many towns throughout the state.
Brother Soule was born in Wareham, Mass., February 21, 1840. He attended the schools at Wareham. Coming- to Boston in his twentieth year, he entered the dry goods business, in which he continued all his life, the latter part as a dry goods commission merchant.
Mr. Soule was made a Mason in St. Paul's Lodge, Feb. 6, 1866, and was worshipful master in 1872-73. He received the capitular degrees in St. Matthew's R. A. Chapter, South Boston, in February, 1875, serving as High Priest in 1881-82. He was knighted in St. Omer Commandery, South Boston, March, 1875, and was elected Eminent Commander for 1879-80. He received the degrees of the Cryptic Rite in Roxbury Council in 1875. In the Grand Commandery of Massachusetts and Rhode Island he received his first official appointment, Grand Captain of the Guard, in 188G, and prompt and excellent service opened the way for his rapid advancement in the grand commandery. He served in the various offices, and elected Grand Commander in 1893. In 1884 he was chosen Junior Grand Warden of the Grand Lodge of Massachusetts. He was also past Grand Scribe of the Grand R. A. Chapter.
The honors extended to him have passed the bounds of those branches with which he became identified and in those over which he presided he held life membership. He was on the honorary roll of Friendship Lodge of Wilmington and Social Harmony Lodge of Wareham, the Royal Arch Chapters located in Chelsea, Winthrop and Wareham, besides these K. T. Commanderies: Worcester County of Worcester, St. Bernard of Boston, De Molay of Boston, Holy Sepulchre of Pawtucket, St. George of Beverly, Cambridge of Cambridge, South Shore of East Weymouth, Gethsemane of Newton, Orange of Orange and Quincy of Quincy.
Feb. 21, 1915, several hundred of Mr. Soule's friends, in recognition of his 75th birthday, tendered him a testimonial in the Copley Plaza. Their esteem was manifested in many ways, including the giving of $500 in gold, which was supplemented later by several hundred dollars. Past Grand Master Everett C. Benton was at the head of the committee and Past Grand Master Charles T. Gallagher was the spokesman in the bestowal of the gift.
Harry Soule, as he was familiarly addressed by a host of friends, was a genial and lovable companion. His presence always meant good cheer, his words were hopeful and kind. He saw the good in his associates and forgot their failings. He gave his time generously to Masonic service and was rewarded by the sincere regard of a host of friends. He will be greatly missed. His last appearance in an official capacity was to install the officers of Gethsemane Commandery in Newton, a f-weeks ago and later to introduce Grand Master Smith at a reception to the latter there just two weeks before the day he passed beyond.
The funeral of Brother Soule was held Friday, November 10th, in the Swedenborgian Church of which he had been a life-long member. The exercises were conducted by Rev. James Reed and Rev. Mr. Hays of the Church and Rev. E. A. Horton. There were many beautiful floral tributes. The church was filled with friends and associates of the departed.
PROCEEDINGS, 1916
From Proceedings, Page 1916-574, in Grand Master's Address:
"The news of the decease of our R.W. Brother William Henry Soule, November 7, 1916, struck a chill into thousands of Masonic hearts. Well known as a zealous, painstaking and active Mason, he has laid aside the many honors his Brethren bestowed and has joined the great company of our dead. We shall fail to see his genial face at our meetings, we shall not again receive his hearty greetings nor hear his cheering voice, but we shall cherish the memory of his activity in and loyalty to the Masonic Brotherhood."
From Proceedings, Page 1916-681:
R;W. Brother Soule was born in Wareham, Massachusetts,: February 21, 1840; the son of Silas T. and Nancy Pierce Macomber Soule. He was a direct descendant in the eighth generation from George Soule who came to this country in the Mayflower in 1620. His boyhood was spent in his native town and there he received his early education.
In his twentieth year he sought employment in Boston and entered the service of George W. Warren, on Hanover Street, who at that time was one of the leading dry goods merchants of Boston. After serving a long apprenticeship with Mr. Warren and gaining a thorough knowledge of the business, he, with others, formed the firm of D. C. Griswold and Company, locating in Winthrop Square and dealing in dry goods and smallwares. In the great Boston fire, November 9, 1872, this firm lost nearly all their possessions, but, nothing daunted, a new firm was formed under the style of Champney Brothers, with which he was connected for many years. Severing his connection with this firm he established himself as a dry goods commission merchant, which business he conducted until his death.
Of a genial, lov-ing disposition, he made friends wherever he appeared and probably no Mason in our jurisdiction was better known, more highly respected, or more loyally welcomed than Harry Soule, as he was.affectionately known and greeted.
His Masonic career was one which has few parallels in the records of our beloved Order. Imbued at an early age with the spirit of devotion to principle and having formed a favorable opinion of the Masonic Institution, he presented his application to St. Paul's Lodge, Ancient Free and Accepted Masons of South Boston, and was Initiated February 6, 1866, Crafted March 18, 1966, Raised April 10, 1866; and received membership May 1, 1966. From the moment he first crossed the threshold of the Lodge it is apparent from his course through life that he strictly obeyed the injunction received upon his first admission into the Order, To dedicate and devote his life to the service of God and his fellow,man. Soon after receiving membership he was,appointed to office and with that zeal and enthusiasm which characterized all his Masonic efforts he rapidly advanced through the several grades and in 1872, six years after his admission into the Lodge; he was elected Worshipful Master, which office he filled during 1872 and 1873. He received life membership in 1878. He was appointed Right: Worshipful District Deputy Grand Master of the Third Masonic District in 1881 and served two years. In 1884 he was elected Junior Grand Warden of the Most Worshipful Grand Lodge.
Right Worshipful Brother Soule's interest in the Institution was not confined to Blue Lodge Masonry. He received the Capitular Degrees in Saint Matthew's Royal Arch Chapter in 1875; life membership in 1877, and served as its Most Excellent High Priest in 1881 and 1882. He received the Degrees of the Cryptic Rite in Roxbury Council Royal and Select Masters in 1875, dimitted in 1880, was again admitted to membership in 1900 and again demitted in 1905. Right Worshipful Brother Soule early became interested in the Order of Knights Templars and was admitted into Saint Omer Cornmandery, Knights Templars, March 15, 1875; at which time he received the degree of Red Cross. He was Knighted April 19, 1875; received the degree of Malta April 19, 18?5, and membership May 17, 1875. His earnest and active interest soon brought him into prominence and he was made Warder in 1875, Junior Warden in 1876, Generalissimo in 1877, and in 1878, 1879, and 1880 he served as Eminent Commander. His faithfulness and marked ability soon won him recognition in the Grand Commandery of Knights Templars of Massachusetts and Rhode Island and from his appointment as Grand Captain of the Guard. in 1885 through aII successive appointed and elective offices to that of Right Eminent Grand Commander in 1892 he brought to each office a thorough knowledge of its duties and rare executive ability.
Right Worshipful Brother Soule gave generously of his time to Masonic service and the esteem and regard in which he was held is attested by the great honors conferred upon him by his Brethren. He was an honorary member of Friendship Lodge of Wilmington, Mass;, and Social Harmony Lodge of Wareham, Mass., the Royal Arch Chapters of Chelsea, Winthrop, and Wareham, and the Commanderies of Knights Templars of Worcester County, of Worcester; Saint Bernard and De Molay, of Boston; Holy Sepulchre, of Pawtucket, R. I.; Saint George, of Beverly; South Shore, of East Weymouth; Cambridge, of Cambridge; Orange, of Orange; Gethsemane, of Newton, and Quincy, of Quincy. The great esteem in which he was held by the whole Fraternity was manifested in the loving testimonial tendered him on his seventy-fifth birthday, February 21, 1915, at the Copley Plaza, on which occasion he was presented with a substantial purse of gold, M.W. Charles T. Gallagher, in bestowing the gift, paid a glowing and well deserved tribute to the worth and virtues of our late Right Worshipful Brother.
His acquaintance was a pleasure to be highly esteemed; his friendship something to be valued beyond expression. His passing away has left a great void in the ranks of the older members of this Grand Lodge. Constant in attendance, faithful to every duty to which he was called, his absence from our gatherings will be sincerely and sadly regretted.
Of a quiet, unobtrusive nature, his influence for all that was sweet, pure, and good was ever manifest in word and deed. Well may we say with the immortal poet, His Life was gentle and the elements so mixed in him that Nature might stand up and say to all the World ,This was a Man.
Right Worshipful Brother Soule was married in early life to Helen Mason, daughter of Seth Paul Mason. To the widow, sons, and daughter who survive him this Grand Lodge tenders its most heartfelt sympathy in this time of their great bereavement.
Right Worshipful,Brother Soule was called to the Great Beyond November 7, 1916, after an illness of a few days. The funeral services were held November 10, in the Swedenborgian Church of which he had been a lifelong member, and were conducted, by Reverend James Reed and Reverend Clarence Hay of the Church, assisted by our Grand ChapIain, Reverend Edward A. Horton, Those present will fully attest to the, beautiful tribute paid to the life and character of our late Right Worshipful Brother Soule by Brother Horton. The very large gathering of friends was an evidence of the love and. esteem in which Harry Soule was held by the community.
Fraternally and respectfully submitted,
Charles S. Robertson
William G. Irwin
Frank T. Taylor
Committee.
---