MAGLWRDavis
From MasonicGenealogy
WARREN ROY DAVIS 1933-2018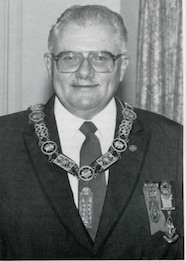 MM 1955, WM 1971, Bethlehem
Member 1977, Golden Fleece
DDGM, Lynn 8, 1984-1985
Junior Grand Warden 1991
Member 1991, Columbian
Member 1992, Winslow Lewis
Member 1996, Norumbega & Brookline
Member 1996, The Masters
Member 2001, Norumbega Fraternity
Member 2014, Morning Star #17, Wolfeboro, NH
Necrology 12/12/2018, 2018-xx
BIOGRAPHY
From TROWEL, Spring 1991, Page 3:
Bro. Davis, a Senior DeMolay of Maiden Chapter, where he earned the Cross of Honor, is an Active DeMolay Legionnaire of Honor. Three of four sons, Frederick W.. William A., and J. Scott are Past Master Councilors of Saugus Chapter, those three and a fourth son, Bruce, have been Raised in Bethlehem Lodge, Lynn, where their father was Raised in 1955 and served as Master in 1970. Warren has been Treasurer for 20 years and is an affiliate with Mt. Carmel and Golden Fleece Lodges of Lynn, The DeMolay Lodge of Boston, and Ossipee Valley Lodge No. 24, Ossipee, NH.
Married to Lois E. (Dorman) Davis, who is the head cook at Saugus High School where some 200 senior citizens gather each day for a meal, they are also parents of daughters Susan, and Karen, both Rainbow Girls with Saugus Assembly. Susan is a Past Worthy Advisor. The family is affiliated with the First Lutheran Church of Maiden. Warren had been Sunday School Superintendent of the Linden Congregational Church of Maiden. A retired Manager of Contract Administration at the General Electric plant in Lynn, he is a graduate of the GE Apprentice Course and the Lowell Institute. He is a member of the GE Trowel Club and the GE Elfun Society that works for charity. He now has a consulting and sales firm known as Davis Associates.
Davis served the Lynn 8th District as District Deputy Grand Master in 1984-85, is a member of the York and Scottish Rite Bodies, and is the organist for many Masonic Bodies. He has also worked on several Grand Master's Fair committees. Although he did not receive the necessary two-thirds majority vote on the first ballot, R. W. Raymond W. Williamson conceded the election to Davis.
---