MAGLWMLunt
From MasonicGenealogy
W. MALCOLM LUNT 1909-1993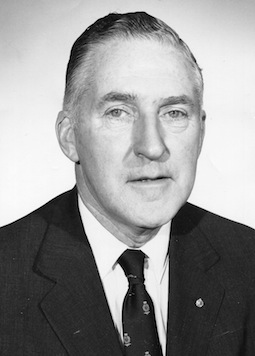 MEMORIAL
From Proceedings, Page 1993-67:
Right Worshipful William Malcolm "Mac" Lunt was born in Newburyport on July 14, 1909, the son of William F. and Emma (Quinlan) Lunt. He was educated in the public schools of Newburyport. He resided in Newbury most of his life.
Brother Lunt was a partner in the Lunt and Kelly Hardware Store of Newburyport, retiring in 1960.
Brother Lunt received his Entered Apprentice Degree on October 5, 1944, was Crafted on November 2,1944, and was Raised to the Sublime Degree of Master Mason on December 7, 1944 in St. John's Lodge of Newburyport. He served in all the stations in that Lodge from 1945, serving as its Master in 1956 and 1957. He was appointed District Deputy Grand Master for the Newburyport 10th District in 1964 and 1965. He also served as Master of the 33rd Lodge of Instruction in 1960 and 1961, and was the Representative to the Grand Lodge Education committee for many years.
Brother Lunt was a Grand Pursuivant in the Grand Lodge in 1971, and served on the Grand Lodge Education Committee and the Grand Lodge Service Committee for several years. He received the Joseph warren Distinguished service Medal on February 5, 1970. Right Worshipful William Malcolm Lunt was elected Senior Grand Warden of the Grand Lodge of Massachusetts for the year 1973, and in March of that year he received the Henry Price Medal.
He received his Royal Arch Degree in King Cyrus Chapter and Order of the Temple in Newburyport Commandery #3. Brother Lunt was also a member of the Scottish Rite Bodies in Haverhill; the Mount Calvary chapter, order of the Rose Croix at Lowell; Massachusetts Consistory; Aleppo Temple, A.A.O.N.M.S.; and the Past District Deputy Grand Masters' Association.
He was a life member of Central Congregational Church of Newburyport and for many years served as its moderator. He was also active in town government in Newbury, serving as Town Moderator.
Right Worshipful William Malcolm "Mac" Lunt was called to the Celestial Lodge Above on June 4, 1993 and is survived by his wife Elizabeth (Magowen) Lunt; son W. Robert Lunt; three grandchildren; and two great-grandchildren. He was predeceased by son Richard M. Lunt. A memorial service was held at the Central Congregational Church in Newburyport, and the Sanctuary was filled to capacity with Brethren and friends.
A Masonic Service was held by St. John's Lodge at the Elliott, Woodworth and Rogers Funeral Home in Newburyport. All who came in contact with him will remember his warm and friendly manner. Always available to help his fellow man. We shall truly miss him. No one sees the door that opens. No one hears the voice that calls like the leaves of roses one by one our loved ones fall.
A Fraternal Remembrance by,
Henry D. Ramm
Charles D. Batchelder, Jr.
Bruce M. Bear, Jr.
Committee
---