MAGLCBatchelder
From MasonicGenealogy
CHARLES D. BATCHELDER, JR. 1933-2000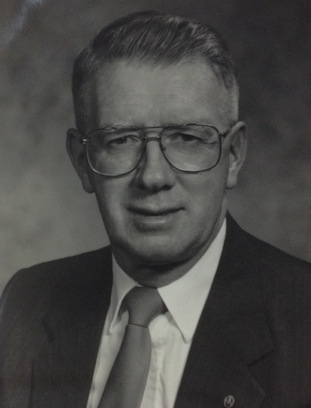 BIOGRAPHY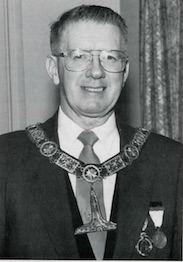 From TROWEL, Spring 1991, Page 2:
Bro. Batchelder, the new Lodge News Editor for TROWEL, is a Past Master and present Secretary of Merrimack Lodge, Haverhill, where he was Raised in 1965. He had been District Deputy Grand Master of the Newburyport 10th in 1989-90.
He is a teacher of graphic communications at the Whittier Regional Vocational-Technical High School in Haverhill and is a registered and licensed funeral director. The husband of Helen A. (Diehard) Batchelder, they are the parents of two sons and four daughters. Charlie is the former Treasurer of the Grace United Methodist Church of Haverhill, represents the 33rd Lodge of Instruction for the Education Department, is a member of the York and Scottish Rite Bodies, Aleppo Temple, Shrine, and a Past Patron of Fidelity Chapter. Order of the Eastern Star. He is the holder of the Joseph Warren Distinguished Service Medal and the Meritorious Service Award. In contesting R.W. Dimitrios J. Merageas for the office, Bro. Batchelder received more than the necessary two-thirds vote for election on the first ballot.
MEMORIAL
From Proceedings, Page 2000-105:
Right Worshipful Charles Dana Batchelder, Jr. was born in Stoneham, Massachusetts on March 14, 1933. He leaves his wife of forty-seven years, Helen A. (Dichard) Batchelder, sons and daughters-in-law Charles D. III and Patricia of Plaistow, New Hampshire, and Gregory O. and Frances of Haverhill; daughters Cheryl A. and husband Stanley Ward, Jane Asadorian and Laurie J. Groves all of Haverhill; step-brother Alvin McQuarrie of Chelmsford; 12 grandchildren and several nieces and nephews. He was also father of the late Dianne M. Batchelder.
Brother Batchelder worked in the Composition Department at the Haverhill Gazette for several years. He was also a self-employed bookkeeper and tax preparer. He also was a licensed funeral director at H.L. Farmer & Sons Funeral Home for several years. He ran his own printing company and was a Certified Public Accountant.
For the past twenty years, Brother Batchelder was a graphics art teacher at Whittier Vocational Technical High School. Students and faculty were saddened by his death. "He was really courageous," said Idalia Ovando, a junior in graphics. "I admired him for that." Two weeks after his operation he was back doing everything. Brother Batchelder suffered from brain cancer and was not able to return to school last fall. He was a popular teacher. The students and faculty loved him. He was a real driving force. He was there early in the morning and late in the day. He was a gentleman of the old school. He will be remembered for his keen mind and great sense of humor. The school has lost a true leader.
Brother Charlie was educated in Haverhill and graduated from Haverhill Trade School in 1951. He also attended Northem Essex Community College and the New England Institute of Anatomy, Embalming and Funeral Directing. Brother Batchelder served as a Staff Sergeant in the U.S. Air Force from 1951 to 1961.
Brother Batchelder was a 33rd Degree Mason, Past Senior Grand Warden of the Grand Lodge of Masons, and Past District Deputy Grand Master of the Newburyport 10th Masonic District.
Raised in Merrimack Lodge on June 16, 1965
Secretary of Merrimack Lodge
Secretary of Saggahew Lodge
Secretary of Scottish Rite Valley of Haverhill
Secretary of FreeMasons Hall Association in Haverhill
Worshipful Master of Merrimack Lodge 1972
Master of the 33rd Lodge of Instruction 1980-1981
Received the Joseph Warren Medal on May 10, 1988
Awarded the Henry Price Medal on January 1, 1991
Member of Haverhill Commandery
Whittier Chapter Order of DeMolay
Past Patron of Fidelity Chapter No. 90 O.E.S.
Member and former Treasurer of Haverhill Kiwanis Club
Education Committee Representative 1982
Lodge News Editior for the Trowel Magazine 1991
Charlie was the man to whom everyone turned to for answers and assistance. A dedicated Mason who worked tirelessly for our fraternity. Brother, counselor, friend and mentor to all that knew him. He will be sorely missed. Calling hours were at the Farmer and Sons Funeral Home. Funeral Services were at Grace United Methodist Church in Haverhill. Burial was at the Elmwood Cemetery, Methuen.
Respectfully submitted,
Charles A. Lukas, Jr.
Amold M. Marookian
W. Terence Stephens,
Committee
---