MAGLWGrammer
From MasonicGenealogy
WILLIAM T. GRAMMER 1822-1908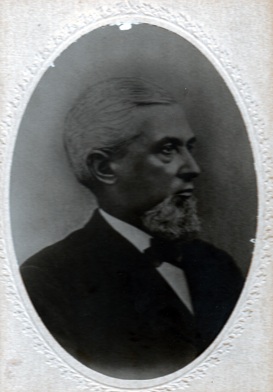 Senior Grand Warden, 1874
MEMORIAL
From Proceedings, Page 1908-221, in Grand Master's Address at the Stated Communication:
R.W. William Thomas Grammer, the oldest Past Grand Warden in this Grand Lodge, was born at the North End, in Boston, Jan. 12, 1822, and died at his home in Woburn, Dec. 28, 1908.
In his long and useful life he was prominent in local and public affairs.
Brother Grammer was a charter member of Mount Horeb Lodge, of Woburn, also Grand Marshal, District Deputy Grand Master and Senior Grand Warden of this Grand Lodge.
During the years of his activity in business life he was a zealous and prominent Freemason and was every way worthy of the official honors bestowed upon him.
From Proceedings, Page 1909-12:
Right Worshipful William Thomas Grammer was born in Boston, Mass., Jan. 12, 1822, and died at Woburn, Dec. 18, 1908. He was the son of Captain William and Nancy Bartlett White Grammer. On the maternal side, he was a descendant of Resolved White, a brother of Peregrine, the first white child born in New England.
Right Worshipful Brother Gramrher acquired the elements of knowledge in the public schools and Warren Academy of Woburn, Mass., the family having taken up their residence in that town soon after his birth. His mother bcing left in somewhat destitute circumstances at her husband's death in 1833, Brother Grammer, although only ten years of age, entered the employ of S. S. Richardson, a pioneer shoe manufacturer of Woburn. Subsequently, at the age of twelve years, he was apprenticed to another firm, to learn the trade of shoemaking, continuing in that business as apprentice, journeyman and manufacturer until 1875.
In 1840 he connected himself with the Woburn Mechanic Phalanx; in 1849 was commissioned as Lieutenant, and was afterwards advanced to the rank of Captain.
In 1862 he entcred tbe service of the United States Government as Captain of Company G, 5th Regiment, and was attached to the l8th Army Corps. While in the Army he attained the rank of Major, serving thus until 1864, when his term of enlistment expired. In 1866 he was commissioned Colonel of the 5th Regiment, Massachusetts Volunteer Militia, and served in that capacity until 1868 when he resigned. For many years he was connected with the Ancient and Honorable Artillery Company of Boston.
Right Worshipful Brother Grammer was originally a Whig in politics, later became a Free Soiler, and afterwards a Republican. Of the latter party he was a member from its inception to his death.
He served the town of Woburn as Representative to the Legislature in 1855, 1857, 1869 and 1870. He was appointed a member of the Massachusetts Board of Harbor Commissioners by Governor Claflin in 1872, and was reappointed by Governor Gaston in 1874, serving six years in all. He was appointed Postmaster of Woburn by President Arthur, Dec. 20, 1882, serving five years. For many years he served the town aud city of Woburn in various capacities, notably as selectman, overseer of the poor, and moderator of its town meetings, his service in the latter capacity extending over a period of folty years. When Woburn became a city in 1888, he was appointed Chairman of the Board of Assessors, continuing in that capacity until 1901, when, owing to the infirmities of age, he resigned.
Right Worshipful Brother Grammer was initiated in Columbian Lodge, Boston, May 11, 1855; passed to the degree of Fellow Craft May 30, 1855; raised to the Sublime Degree of Master Mason June 7, 1855; and admitted to membership Sept. 6, 1855. He was a charter member of Mount Horeb Lodge, of Woburn, and was its Worshipful Master in 1861 and 1862. He received the chapter degrees in Mystic Royal Arch Chapter, of Medford, and the Council degrees in Medford Council of Royal and Select Masters, the latter Nov. 1?, 1870. He was a charter member of Woburn Royal Arch Chapter, and served as its first High Priest during the years 1871 and 1872. In 1865 and 1866 he received the Knights Templars degrees in Hugh de Payens Encampment of Melrose. In 1869, 1870 and 1871 he was Grand Marshal of this Grand Lodge; District Deputy Grand Master of the 17th Masonic District in 1872, and Senior Grand Warden in 1874. As Grand Marshal, he officiated at the laying of the corner-stone of the Boston Postoffice.
Of Right Worshipful Brother Grammer it uay be truly said that he made the most of his opportunities. His example is an encouragement to all who find themselves handicapped by circumstances. Next to his love for his family, his love for Masonry was paramount. But a few weeks before his death, he declared in the presence of the Grand Master and Grand Secretary that he valued the friendships formed in Masonry above all others. During the last years of his life his visits to Boston were made for the purpose of attending meetings of this Grand Lodge almost solely.
So passes a unique figure, and one that was an ornament to the Craft. In spite of his limitations, he rose to the occasion in every position that he was called upon to occupy. His example is worthy of emulation.
Respectfully submitted,
William F. Davis,
Thomas W. Davis,
George W. Buchanan,
Committee.
BIOGRAPHICAL SKETCH
From History of the 5th Regiment of Massachusetts Volunteer Militia, Page 85: (Note: Samuel Crocker Lawrence was also Colonel of this Regiment during the Civil War.)
"Colonel William T. Grammer.
"4th Colonel of the Fifth Regiment, M. V. M. Colonel William T. Grammer was born in Boston, in 1822, and, with his parents in the same year, moved to Woburn, where he has resided ever since. He received his early education in the common schools, and later in life attended the Warren Academy in Woburn. He inherited a taste for military life from his father, who was connected with the militia, in various capacities during his life. At the age of 18 years, 1840, Col. Grammer joined the Woburn Mechanics' Phalanx, and the following is his military record: His first commission bears the date of August 3d, 1849, when he was elected to fill 1st Lieutenant's position in Company G, Woburn Phalanx, 4th Regiment, 3d Brigade, 2d Division, M. V. M.; promoted Captain, March 8th, 1851, resigned Dec. 11th, 1852; commissioned 2d Lieutenant Company G, 5th Regiment, March 19th, 1855, resigned March 24th, 1857; commissioned 1st Lieutenant, April 11th, 1859, resigned May 10th, 1860; recommissioned May 2d, 1861, and resigned July 6th, 1861. At this time the Company was transferred to the 16th Regiment, M. V. M., and he was commissioned Captain of the new Company G, Aug. 27th, 1862, and served in the nine months' troops; promoted July 22d, 1864, to Major, and served in this capacity in the one hundred-days' troops; resigned March 10th, 1865, and was re-commissioned Major May 30th, 1866; promoted Colonel Sept. 5th, 1866, serving in this position until Jan. 4th, 1868, making a period of service of 28 years, and at the time of his discharge, was the oldest commissioned officer then in the State Militia. Col. Grammer has always been highly esteemed by his fellow townsmen, having filled the various town offices many years, and has been chosen four terms to the Massachusetts Legislature, and has held the Chairmanship of the Committee on Military and Prisons. He has often been appointed by the Court, on the board of Referees, to settle important matters, and for six years was a member of the Harbor Commissioners.
"For many, years Col. Grammer has successfully followed the shoe manufacturing interests, and by his honorable method in the transaction of his business, he has won many, life-long friends.
"In all the circles of life in which he has moved, be it social, political or military, he has made many friends, and by. his fair, candid treatment of his fellow men, has won a well-deserved and lasting popularity.
"Col. Grammer was almost perfect in discipline, and he ordered frequent. company drills and inspections, in which latter duty he was quite thorough."
A history of this Regiment is presented in full here.
---