MAGLWChase
From MasonicGenealogy
WALTER BURTON CHASE 1879-1970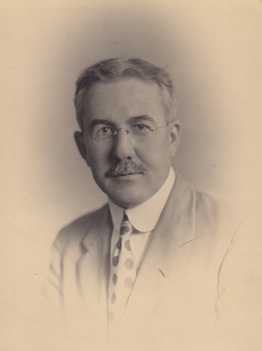 MEMORIAL
From Proceedings, Page 1970-386:
"Walter Burton Chase shared the sunlight ninety-one years. Not just the sunlight which fell upon him, but more significantly the sunlight of his genial and generous spirit. There is no commemoration except in emulation. While we can and should take note of his remarkable record as a Mason, we should give even more emphasis to the rare combination of qualities which brought about his Masonic advancement and from which we can each draw fresh inspiration and renewed determination to improve our own Masonic practice.
"Walter Burton Chase was born on March 12, lB79 in the house on Main Street, Hyannis in which he spent his entire life. He was the son of Clarence Chase and Henrietta E. (Baker) Chase. His father died before he started school and he became self-supporting at the age of ten. He was educated in the Hyannis schools and attended Barnstable High School, graduating in June 1896 and starting to work the following day for his uncle, Edward L. Chase in the H. B. Chase and Sons Coal and Grain Store. On April l, 1904 he entered the employ of the First National Bank of Hyannis, now known as the Cape Cod Bank and Trust Company. From this date until his death he was associated with this institution, starting as a clerk and rising to the ofrce of President. He was named President in 1938 and retired from this post in 1954 but continued to serve as a Director.
"On June 12, 1907, he married Grace H. Hinckley of Barnstable, a former High School classmate. She passed away in 1955. They were the parents of three daughters. He had five grandchildren and five great grandchildren.
"Brother Chase's financial abilities did not go unnoticed in the community. He was Treasurer of the First Universalist Society for many years. On the formation of the Hyannis Federated Church, he became a Charter member and served as its Treasurer from 1914 ustil 1921. He was the first Treasurer of the Cape Cod Real Estate Board. He was a Director of the Hyannis Co-operative Bank and of the Massachusetts Bankers Association. He was the oldest member of the Hyannis Board of Trade, a Director of the Cape Cod Chamber of Commerce and a member of the Barnstable Republican Town Committee, a Charter and active member of the Hyannis Rotary Club, Treasurer of the Cape Cod Community Concerts and Treasurer of the Hyannis Normal Students Fund Loan Committee. He was a member of the Retired Men's Club of Hyannis. He was one of the founders of Cape Cod Hospital in 1919 and was to lend his support to it the rest of his life, and in fact, participated in a new building cornerstone laying ceremony only about a month before his passing.
"During the years he acquired two affectionate titles, one being 'Uncle Walter' and the other 'Mr. Mason of Cape Cod', the latter he cherished during his lifetime. Walter Burton Chase was initiated in Fraternal Lodge, Hyannis on May 14, 1900, passed on June 11, 1900 and raised to the sublime degree of Master Mason on July 9, 1900. He served as Worshipful Master of Fraternal Lodge in 1907 and 1908 and as District Deputy Grand Master of District No. 32 in 1920-1921. He was Junior Grand Warden of the Grand Lodge in 1926 and was awarded the Henry Price Medal for Distinguished Service in 1926 and the Fifty-year Veteran's Medal in 1950. He was a member of Orient Royal Arch Chapter of Hyannis and was its Excellent High Priest in 1911-1912. He was anointed in the Order of High Priesthood in 1912 and served as District Deputy Grand High Priest in 1914-1915. He was awarded the fifty-year emblem of the Grand Chapter in February 1953 and the Benjamin Hurd Jr. Distinguished Service Medal on November 17, 1955. He was a member of New Bedford Council Royal and Select Masters and Sutton Commandery No. 16 Knights Templar. He lvas a member of all Scottish Rite Bodies in the Valley of Boston, Aleppo Temple (Shrine) of Boston and the Cape Cod Consistory and Cape Cod Shrine Clubs. But with all the honors bestowed on him over his illustrious career, he found more satisfaction by just going to his Blue Lodge and sitting on the sidelines; listening to the degree work and visiting with the brethren before and after the meeting. The impression he made on Fraternal Lodge by his genuine interest in its future and prosperity was a lasting one.
"Probably the outstanding event in his memory in recent years was the occasion of his 90th birthday when, sitting in Grand Lodge, he was called to the East by the Grand Master and the entire assembly sang 'Happy Birthday'.
"Right Worshipful Walter Burton Chase was perhaps the most outstanding Mason in the history of Cape Cod Masonry and his absence will not go unnoticed. He passed away quietly on June 8, 1970. Funeral services were held at the Federated Church of Hyannis. The service was conducted by Worshipful and Reverend Brother Carl F. Schulz, Grand Chaplain, on June 11, 1970. Over two hundred brethren and friends attended the service.
"A recital of the positions he filled gives no hint of the diligence with which he filled them. Walter Chase was a continuous and constructive contributor to life. The life of the Masonic Order, the life of the Church and to the life of the community through a broad spectrum of endeavors designed to benefit and improve his fellow man. He was steadfast in regular attendance to his many obligations and prolific in purposeful activity until the day of his death. He indeed knew how to lay out and divide his time so that he had a part for the service of God and a distressed worthy Brother, a part for his usual vocation, and a part for refreshment and sleep. He loved inspiring poetry and carried many poems in his pocket as well as in his memory. The concluding lines of one of his favorites by Henry Van Dyke epitomizes his attitude:
"My, heart wiil keep the courage of the quest
and hope the road's last turn will be the best."
"As he approached this 'last turn' he attended a meeting of the Past Masters of Cape Cod on the evening of Saturday, June sixth, less than forty-eight hours before his passing. Speaking to this group of old friends, he said: 'I do not remember what I said to the Lodges when I was Deputy, but I still remember the poem with which I left each Lodge:
"It is my joy of life to find
At every turning of the road
The friendship of a comrade kind
_ To help me onward with my load.
"And so, Brethren, our departed Brother through the con- templation of his many qualities and achievements, challenges we who would commemorate him, to develop and express more meaningfully the great potential within each of us.
Respectfully submitted,
Thomas A. Booth
William M. Babbitt
Randall S. Everson
Committee
---