MAGLTWalters
From MasonicGenealogy
THOMAS GUY WALTERS 1901-1978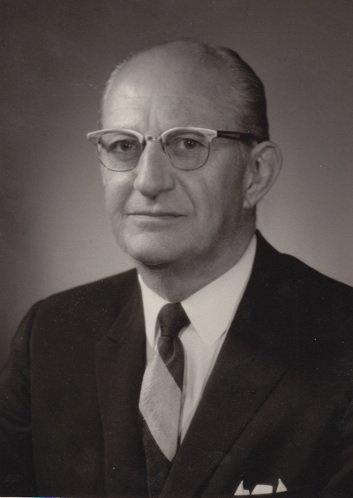 Grand Sword Bearer, 1944-1945
Deputy Grand Master, 1969
MEMORIAL
From Proceedings, Page 1978-36:
"Right Worshipful Thomas Guy Walters was born in Lunenburg, Nova Scotia on January 14, 1901, the son of William Thomas and Mary Elizabeth (Smith) Walters. He died in Newton, Massachusetts on Christmas Day, 1977 after a long illness.
"Following his graduation from Lunenburg Academy, he attended King's University, Halifax, Nova Scotia, graduating in 1923 with the Degrees of Bachelor of Science, and Harvard University, Cambridge, Massachusetts in 1934 having been awarded the Degree of Education Master.
"In 1929, he married Audrey Aline Davis of Contoocook, New Hampshire. Mrs. Walters died suddenly in 1955. They had one child, a son, Donald Wayne Walters, presently living in Dayton, Ohio.
"Brother Walters was a teacher of Mathematics in Newton High School for twenty-six years until he retired in 1955. Subsequently, he taught in Chauncey Hall School in Boston and Belmont Hill School in Belmont. He was truly a "Mr. Chipps" of whom his former pupils were apt to say, "he was more appreciated after, rather than during, the year's work". Far more than we shall ever know, many of his students blessed him for his unheralded financial and moral support as they sought to continue their education.
"Brother Walters received his symbolic Lodge degrees in June, September and October of 1933 in Norumbega Lodge, Newton, of which he became Worshipful Master in 1941. In 1954 and 1955 he was the Worshipful Master of Garden City Lodge, U.D., and continued as such in its second year under constitution. His early Grand Lodge offices were those of Grand Sword Bearer in 1944 and 1945, and District Deputy Grand Master of the Brighton Fifth Masonic District in 1946 and 1947. He was appointed Deputy Grand Master in 1969, serving the Grand Lodge of Massachusetts with distinction and friendliness, and early in that year he was awarded the Henry Price Medal.
"His Scottish Rire career began in April 1938 when he became a member of the Valley of Boston. He was elected Most Wise Master of Mount Olivet Chapter of Rose Croix in 1951 and continued in that office to 1954. He was created a Sovereign Grand Inspector General, 33°, Honorary Member of the Supreme Council in September, 1953 in Chicago.
"Brother Walters was a member of the york Rite Bodies, having been exalted in Newron Royal Arch Chapter in 1934 (High Priest in 1940 and District Deputy Grand High priest in 1943), greeted in Cryptic Council of Newton in 1937 and knighted in Saint Bernard Commandery No. 12 in 1945 (Commander in 1950-1951 ). Other Bodies, in which membership is contingent on a Masonic tie and with which he was affiliated, are: Aleppo Temple, A.A.O.N.M.S.; Massachusetts College, Societas Rosicruciana in Civitatibus Foederatis; Saint Matthew's and Saint Andrew's Conclaves, Red Cross of Constantine (Puissant Sovereign of Saint Matthew's in 1959); and Damascus Tabernacle No. XXVI, Holy Royal Arch Knight Templar Priests.
"After cremation, a private service of committal was held at the family lot in Newton Cemetery, Newton, Massachusetts, and a memorial service was held on January 4, l978, in Saini John's Episcopal Church, Newton. He is survived by his son, Donald Wayne Walters, and two grandchildren.
And so we salute Right Worshipful Thomas Guy Walters. He believed profoundly that the spiritual center of Freemasonry was in the heart of man; its attributes, Faith, Fellowship and Service. These qualities were apparent throughout his life, in all the paths he trod. May they earn him eternal peace.
Respectfully submitted,
Herbert H. Jaynes
John A. Musserian
Robert E. Dustin
Committee
SPEECHES
FEAST OF ST. JOHN, DECEMBER 1968
From Proceedings, Page 1968-362:
Most Worshipful Grand Master, and Distinguished Guests and Brethren all:
I want first of all to say to the Grand Master that I very, very much appreciate the appointment to this office and I promise that I shall do my utmost in the coming year to perform all the tasks that go with this office to the very best of my ability, so that I may really merit the trust he has placed in me.
Now I have been told that I must be very brief and perhaps that merits a little story, a very corny one as my son would tell me. This chap was about to make a speech to a mixed audience and his wife sent up a little note just as he was about to speak with the word "KISS" on it. Anyone who didn't know would think it was very sweet, but those who know, know it means, "Keep it short, Stupid."
Now Masonry has for many years been one of my major interests and like all of you, no doubt, I am concerned and somewhat troubled about its position in today's world, its image, as the Grand Master expressed it. It is very trite to say that we are living in a changing world, we are always living in a changing world, but things are happening today that are of a very special nature that are disturbing to you and to me, I think.
Of course we all recognize that the right of reasonable protest is inherent in any democratic society, but reasonable protest has changed to license — license to disrupt, to destroy property, schools, colleges, businesses, business houses, to the extent of hundreds of thousands of dollars in this country. It is fantastic the damage that is caused by the small groups of people who take it upon themselves to just take the license to do these things.
Now these student groups, hippies, yippies and all the rest, who demand privileges and shun responsibility, who reject society, but accept all its benefits, I maintain that these small groups, if they could obtain sufficiently strong leadership, could be a tremendous menace in this country.
We sometimes forget the power of a militant minority. In Russia, as you may know, only 22 per cent of all the population are Communists and yet they have complete and absolute control of the entire country. In the city of Dubrovnik in Yugoslavia, where I visited a few years ago, they have a Communist group which is very small but the heads of all the hotels, the police chief and all the people in high positions belong in that Communist cell and have complete control of the entire city. We must remember this, my friends. We must remember the power of a militant minority, and when properly led they can do terrific damage in this country.
What can we do about it? You men in your own communities are highly respected. You hold important positions. When you speak, people will listen. Now I don't mean speak as Masons but I do say we ought to speak as individuals with our Masonic background. We ought to speak out, take a position, and not be afraid to stand up and be counted. If we don't approve of these things, let's speak out against them and people will listen because you are respected. Your opinion is important to them. That is one way that Masonry can find its place in today's world.
Another way I would like to suggest very briefly. Something that occurs to me as I visit around different Lodges is the enormous difference in Lodges in the same jurisdiction. Working under the same ritual and all the rest, how can two Lodges in the same jurisdiction be so entirely different?
Let me talk about two Lodges. I will call them A and B. I hope that nobody will recognize these and I don't think they will. Lodge A is a going concern. They do excellent ritualistic work and they demonstrate an unusual degree of friendliness and brotherhood in their Lodge. The members of that Lodge are the most enthusiastic group I have ever seen. They go to their Lodge meetings because they love their Lodge meetings, and they ought to, because they are terrific and worthwhile.
They hate to miss a meeting. They will boast about their Lodge at the drop of a hat. They are a good Masonic advertisement, I can tell you. One other thing. In that Lodge they are doing a social service project which I won't go into because you would recognize it. This social service is available not only to Masons and their families, but to anybody in the Community who can demonstrate a need — Catholic, Protestant, Jewish. Anybody who can demonstrate a need gets that service, and don't think that doesn't do something for the image of Masonry in that community. It definitely does. What they do, why can't we all do? Naturally there is no lack of applications for the degrees in that Lodge. They have plenty of candidates.
Now let's talk about Lodge B. Lodge B is in a district of eight or nine Lodges. In those nine Lodges in that entire district there is not one candidate for the degrees. Not one of the Lodges has one candidate. Many of the offices are filled by Past Masters. At every meeting there is naturally a dummy candidate if they want to fill in the evening, with the result that the work naturally is not going to be up to par. If you have a dummy candidate the ritual very soon becomes shoddy, sloppy, and you are not careful about it.
One other thing that always bothers me a bit. The notices in that district are inclined to exhort the members to come out to the meetings. I say, come out to what? To watch a poor performance? To see a certain group of heads of the body grouped together and get their heads together and have a social time while the general membership is passed by? I don't think that is the way to run a railroad at all.
There is one thing that should be said in favor of that Lodge, however. It is in a highly industrialized section of the country and they complain, and maybe rightfully so, that small businesses are being merged and bought out by great conglomerates and soon the young executives are being transferred to different points and the Lodge thereby loses potential candidates and potential officer material. But I submit that if it were possible by some miracle to change the leadership of Lodge B to Lodge A, well, the answer is obvious, isn't it? That leadership of Lodge A wouldn't be in there two months before the situation would be entirely changed. It is a question of somebody putting his shoulder to the wheel and giving adequate leadership if Masonry is to continue to find its place in today's world and maintain the image I sincerely believe it merits. Thank you very much.
---