MAGLSJareo
From MasonicGenealogy
SCOTT THOMAS JAREO 1969-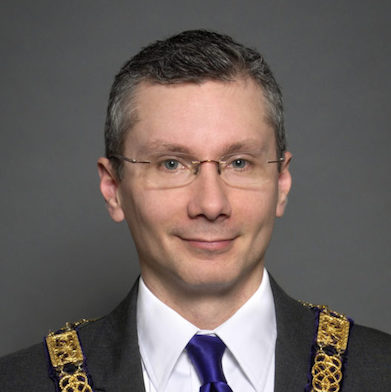 MM 2005, WM 2010, Golden Rule
DDGM, District 13, 2012, 2013
Grand Standard Bearer 2011
Deputy Grand Master 2018
BIOGRAPHY
From Grand Lodge web site, December 2017:
Scott Thomas Jareo of Dracut is the Deputy Grand Master of Masons for 2018. Paul F. Gleason, Grand Master of Masons in Massachusetts and the presiding officer in the state, handpicked Jareo to serve as Deputy Grand Master. He will assist the Grand Master and preside over the Grand Lodge during his absence for the next year. Jareo is originally from Lorraine, NY and graduated from South Jefferson Central School. He was a music performance major at Berklee College of Music from 1987 to 1989, and completed an Associate of Science in Business Administration at Massachusetts Bay Community College in 2000. He is a product manager and technical education consultant for Symantec Corporation, a company he has worked for since 2008. Scott and his wife, Shelley, live in Dracut with their daughter Emily.
Brother Jareo began his Masonic career in 2005 when he joined Golden Rule Lodge in Wakefield. He served as the Worshipful Master from June of 2009 to June of 2010. He began his service to the Grand Lodge as a member of the Grand Lodge Membership Committee in 2008. He was appointed Grand Standard Bearer in 2011. He was then appointed to serve as the District Deputy Grand Master for the 13th Masonic District in 2012 and 2013. Jareo received the Joseph Warren Distinguished Service Medal, the highest honor a lodge can award one of its members, in 2014. In addition to serving as Deputy Grand Master for 2018, he was also elected to a three year term as a member of the Grand Lodge Board of Directors.
Active in several Masonic organizations, Jareo is a 32° Mason in the Ancient Accepted Scottish Rite – Valley of Boston. He is a member of Mount Horeb Royal Arch Chapter, Ahasuerus Council of Royal & Select Master Masons, Pilgrim Commandery No. 9 and St. Bernard's Commandery No. 12. He is also a member of the Aleppo Shrine Temple in Wilmington.
---