MAGLRLearned
From MasonicGenealogy
ROSCOE EMERY LEARNED 1867-1928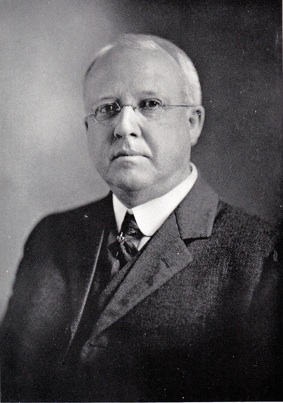 Junior Grand Warden, 1916
MEMORIAL
From Proceedings, Page 1928-197:
R.W. Brother Learned was born in Industry, Maine, Nov. 3, 1867, and died at his home in Medford June 24, 1928. Brother Learned's early years were passed in the West. He was a graduate of the University of Kansas, and later of Boston University Law School of which at one time he was Secretary. Brother Learned had practised law in Boston for something over thirty years. He was an eminently sane, wise, and safe counselor, and had acquired for himself an enviable reputation as a practitioner at the Bar.
Brother Learned was a very valuable member of the Masonic Fraternity. IIe became a member of The Lodge of Eleusis in 1897, and was its Worshipful Master in 1908 and 1909. He served. as District Deputy Grand Master for the Second Masonic District in 1912 and 1913 by appointment of M.W. Everett C. Benton. He was Junior Grand Warden of this Grand Lodge in 1916. His service as Warden and a Permanent Member was able and distinguished. R.W. Brother Learned was a member of the other Masonic bodies, but his chief interest continued in the Lodge and the Grand Lodge.
In all the relations of life Brother lLearned manifested those high qualities of manhood which are the ideals of Freemasonry. We mourn the loss of a valued associate and much loved friend.
From Proceedings, Page 1928-251:
Right Worshipful Roscoe Emery Learned, a permanent Member of this Grand Lodge since 1916, died at his home in Wellington, (Medford) Massachusetts, on June 24, 1926, in his sixty-first year.
He had been Worshipful Master of the The Lodge of Eleusis for two yqars, District Deputy Grand. Master for the [Second Masonic District Second Masonic District] in 1912 and 1913, and Junior Grand Warden in 1916; he had been Treasurer of his Lodge for several years; and he had served, on important Committees in this Grand Lodge: he filled all his offices and assignments ably and with fidelity.
He had been long actively interested in the administration of the First Worshipful Masters' Association, serving on the Board of Trustees since its incorporation under Massachusetts law. He held membership in several allied orders of Masons, and these, with his membership in Odd Fellowship, taken and retained in Kansas, comprised his social afiiliations.
Born on a farm in Industry, Maine, the son of Benjamin and Ann Judson (Emery) Learned,, he went in early youth with his mother, after the death of his father, to join an elder brother in Kansas. Graduated from the public schools, he entered the University of Kansas, where he studied for a period, working meanwhile for the Southern Kansas Railway, and later becoming Chief Clerk in the Auditor's office of the Topeka, Kansas City, and Santa Fe Railway, and thence came to Massachusetts to enter Boston University Law School, graduating in 1893.
While at the University he was active in student societies and assemblies, like the Sumner Club, the Webster Chapter of a Greek Letter Society, and Clerk of the Law School Court. He served as first librarian of the School and its first full time Secretary. Here he served until 1898, and during this time he established an office where he began the practice of law, at times tutoring students (Harvard and Boston University men included) for the Bar, lecturing now and then on call at the Law School, and laying the foundations for a successful professional career. His practice was of a general and varied nature, and required the solid foundation which he had acquired at the Law School.
He seems to have had no aspirations for political positions; his talents were, rather, of a legal and judicial kind, and with his probity and good judgment he was a safe and conservative adviser. He placed his time and ability unreservedly at the service of the Grand Master and the heads of departments of this Grand Lodge, and was held in high esteem by all who had relations with him. His Masonry was to him a rule of conduct, and imbued with it he sought to spread its gospel by his life and conduct. The building and moulding of character was to him of absorbing interest. In his Lodge he was most highly regarded for breadth of opinion and clearness of vision.
By his comparatively early death our Institution has met with more than a passing loss. Modest and unassuming, not ambitious for himself, he was tireless in his devotion to the The Lodge of Eleusis and to this Grand Lodge. It is needless to say that we shall miss him or that his chair will long be vacant, as all who knew him would so affirm: his influence has been felt in his associations, and we may well pause for a few moments to express clearly and indelibly on the record. our appreciation of his estimable qualities and our sorrow that he will not meet with us in social converse, in conference, or in Lodge work. He was cut down in the midst of his usefulness, and it well might have been said of Learned, in his busy lifetime, as was said by Horace, the Roman Poet, in his ode of eulogy of a Roman Citizen.
"May your recall to lleaven be long deferred."
Fraternally submitted,
Eugene C. Upton,
Samuel Usher, 2nd,
James Young, Jr.,
Committee.
---