MAGLRJolly
From MasonicGenealogy
ROBERT V. JOLLY, JR. 1957-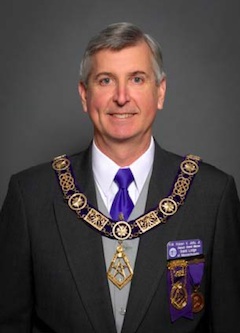 MM 1999, WM 2006, 2007, Mount Lebanon
DDGM, District 1, 2009, 2010
Junior Grand Deacon 2008
Deputy Grand Master, 2012
BIOGRAPHY
RECEPTION PROGRAM, 2012
From the Reception Program, January 21, 2012:
Right Worshipful Robert Vincent. Jolly Jr. grew up on the North Shore of Massachusetts within the communities of Lynn, Swampscott, and Marblehead. He is currently employed by the Marblehead Municipal Light Department where he has worked for more than 33 years, the last 17 as its General Manager.
Brother Jolly attended Northeastern University where he graduated magna cum laude with a Bachelor of Science degree in electrical engineering technology. He currently serves on the board of directors of the Massachusetts Municipal Wholesale Electric Company, the Board of Directors and executive committee of the Northeast Public Power Association, as well as the Board of Directors and executive committee of the American Public Power Association. Brother Jolly is also a past president of the Municipal Electric Association of Massachusetts and previously served 6 years on the town of Swampscott Finance Committee. Bob is a member of Saint Mary's parish in Lynn and resides in Swampscott with his lovely wife Lynda and their two daughters Amanda and Danielle.
TROWEL, 2012
From TROWEL, Spring 2012, Page 12:
Brother Jolly was raised in 1999 in Mount Lebanon Lodge and served as master in 2006 and 2007. He is also a member of The Masters' Lodge. He began his service to Grand Lodge in 2008 as junior grand deacon and was appointed district deputy grand master for the First Masonic District in 2009. He is the grand representative to the Grand Lodge of Senegal and has served on the charter and bylaws committee since 2011. He has been a director of Overlook Communities in Charlton, a division of Overlook Masonic Health Center, since 2010 and became chairman in 2012. He also became a director of the Grand Lodge Board of Directors in 2012.
Rt. Wor. Bro. Jolly has been active in several Masonic organizations including the Ancient and Accepted Scottish Rite, in the Valley of Boston, where he is a member of all four bodies. He belongs to the York Rite's Saint Andrew's Royal Arch Chapter, Boston Council of Royal and Select Master Masons, and St. Bernard Commandery. He is a member of the Massachusetts College, Societas Rosicruciana in Civitatibus Foederatis (S. R. I. C. F.); Aleppo Shrine; and the Past District Deputy Grand Masters Association.
Deputy Grand Master Brother Jolly serves as general
 manager for the Marblehead Municipal Light Department,
is a member of Saint Mary's Parish in Lynn and resides in
S wampscott with his wife Lynda and daughters Amanda and
 Danielle.
SPEECHES
FEAST OF ST. JOHN, DECEMBER 2011
From Proceedings, Page 2011-235:
Most Worshipful Grand Master, Most Worshipful Past Grand Masters, Distinguished guests, my Brethren all; It is certainly an honor and a privilege to be addressing you this evening and I want to thank you, Grand Master, for the honor you have bestowed upon me and for your trust and confidence in appointing me to the office of Deputy Grand Master. I pledge to continue to work for the benefit of the Craft and promise to promote the tenets of our profession as Masons.
I have to say, Brethren, that this is one of my favorite times of year. The holiday season is a joyous time when families get together and celebrate the gift of life and the gifts of God. It's a time which represents new beginnings, a new year with new opportunities, a time when we reflect on our past accomplishments and focus once again on our future goals. On a personal note, my birthday is in December and given the events of this day, I can honestly say, tis the season to be Jolly! However this is also the season to be thankful - thankful for God, our families, our friends, and for the opportunities this great fraternity has provided for us. There may be no better time than during this season of gift giving to reflect on the glorious principles of Brotherly Love, Relief and Truth and to be thankful for the gift of Freemasonry.
Men knock on the door of Freemasonry for a variety of reasons. Whether it is an interest in history, philosophy, charity or fraternity, Freemasonry has so many aspects and attractions that each individual has sought to join the Craft for reasons personal to himself. Just as there are millions of Masons worldwide, if you could poll each Brother, they would give you equally individual reasons why they sought membership in this fraternity.
Nevertheless, while it may be meaningful to ask ourselves why we became Master Masons, it is equally if not more meaningful to ask ourselves why we remain Master Masons. We often ask the question, what induced you to become such? The question we should be asking is what compels you to remain such? What is it that keeps you coming back? Answering that question will help to articulate the true gift of Freemasonry. It is often said that the purpose of Freemasonry is to take a good man and help him to become a better man. We do this by offering a man who becomes a Mason many opportunities to improve himself. The value of these opportunities can generally be classified as both tangible and intangible.
Freemasonry provides men with many practical opportunities for growth and development. There aren't many other places in the world where you can get the training which Freemasonry offers. Opportunities are afforded to develop one's memory, to learn how to organize projects, to work with others, and to develop speaking and leadership abilities. This is a fraternity where men are offered the opportunity to develop talents, skills, and insights not always taught in a traditional educational setting.
Other less tangible benefits of membership come from the rewards and sense of satisfaction gained from serving others in our local communities, from continuing to learn more about ourselves and our place in society, as well as from contributing to the life of the lodge through its customs and ceremonies. However, I believe the greatest value that is realized by being a Freemason is the unlimited opportunity to meet and interact with men of good quality, the opportunity to make deep and lasting friendships.
Bro. George Washington once said "Associate with men of good quality if you esteem your own reputation; for it is better to be alone than in bad company." With all the mediocrity found in the world today I find it is especially refreshing to come to Lodge and associate with men of good quality. Men who are interested in providing a better way of life for themselves and for those around them; Men who aren't satisfied with the status quo; Men who give freely of themselves and ask nothing in return.
While I believe that the privilege of becoming a Mason is in fact priceless, and one of the best and most rewarding decisions that I have ever made, the true value of Freemasonry can only be determined by the individual Brother and through his own personal experiences.
I would like to share with you all a light hearted story involving a Brother who unfortunately is no longer with us, but made a positive and lasting impression on me. Many of you may have known Paul Walker through his Blue Lodge activities or possibly through his York Rite activities. Worshipful Brother Walker was a Past Master of Mount Lebanon Lodge as well as a Past Commander of Boston Commandery. Although at the time of this story Paul was in his late seventies, he was always active, upbeat, and one of the nicest men you would ever want to meet. I often said if you looked up the word "gentleman" in the dictionary you would find a picture of Paul Walker.
On one particular evening we were preparing to confer the Third Degree on two candidates. I was Senior Deacon of my Lodge and Brother Walker was Chaplain. It was building up to be a pretty big night because not only was it going to be the first time that many of us would be working the Third Degree together, but also Most Worshipful Donald Gardner Hicks, Jr., Grand Master of Masons in Massachusetts, would be in attendance, so I was rather nervous.
I had brought my garment bag to the building and planned to change up in our Lodge room. When I opened it, much to my surprise, I realized my tuxedo pants were not in the bag. I thought to myself, what the heck am I going to do now? I am in downtown Boston, the Lodge is opening in less than an hour, and I don't have my tuxedo pants!
So Paul being the gracious man that he was, upon seeing my plight, said that I could wear his pants. Since Brother Walker was Chaplain of the Lodge he would normally be in tuxedo as well, but he said he had a pair of black suit pants that he could wear and no one would notice.
Now Paul was a tall man, towering over me by probably six inches. He said his pants might be a little long but the waist should fit. So we rounded up as many safety pins as we could find and hemmed his pants on the fly.
The Degree went off without a hitch and no one was the wiser. Although Paul's kind act may seem trivial in the overall scheme of life, it made a strong and lasting impression on me and has always reminded me of the story from the Book of Ruth when Boaz plucked off his shoe and gave it to his neighbor. As Masons we have adopted this custom to demonstrate the sincerity of our intentions in the business in which we are engaged.
Paul was very sincere in the business of Freemasonry. Not only in what the theory says Freemasonry is, or what Freemasons should do, but what real flesh and blood Masons do and have done in real life.
Paul did not live long enough to see me installed as Master of the Lodge as he passed to the Celestial Lodge above a few months prior to our installation. Later on when I was presented with a Past Master's Jewel, it was the Jewel worn by Brother Walker, and I believe in some peculiar way that it was once again Brother Walker making sure that I was properly attired.
The value of the opportunity to meet and experience the character of a man such as Brother Paul Walker cannot be underestimated, and to me is indeed priceless. People will come and go in your life. Jobs will change, life will change. However the Lodge offers a sense of stability and solidarity. It's a place of safety where we can leave behind the uninitiated. The feeling of being one of a group, combined with the harmony typically found within the Lodge provides a satisfaction and pleasure impossible to describe as it is clearly to be felt.
In a Masonic Lodge men of good quality meet as equals without regard to class distinction, economic status, educational background, profession, trade, race or creed. The opportunity to meet many men of various walks of life and always with the same feeling of equality is particularly rewarding. The high and low, rich and poor, the executive and the tradesman, the banker and the teller, the police chief and the patrolman, all meet on the level. It is especially gratifying to know that when you meet another Brother outside of your own Lodge there is immediately established a close sense of friendship resulting from a common experience and philosophy of life.
Although Freemasonry has long outlived the original purpose for which it was formed, that of a guild of operative stonemasons from the Middle Ages, the everlasting values upon which our Craft was founded are as relevant today as they were in the days of the building of King Solomon's Temple. The demand for builders of physical edifices has subsided, but Freemasons have transitioned their efforts to constructing a spiritual building in the hearts and minds of men. Because of this strong foundation, our fraternity has provided men the opportunity to develop uncompromising moral values and principles. By using these beliefs as our guide we will continue to improve ourselves and have a positive impact on society.
As we look forward to yet another promising year, let us be thankful for all that freemasonry has given us, our experiences, our brotherhood, our shared experiences with our families, and the scores of opportunities to be with one another as we participate in the various organizations within our Masonic Family.
The tenets of our profession as Masons are Brotherly Love, Relief and Truth, but foremost among them is Brotherly Love, for sincere fraternal affection is the cement that binds us together. So when asked what compels me to remain such my answer is quite simple, it is you, my Brother Master Masons. For the real gift of our beloved fraternity is not found in the principles and theories of Freemasonry, but rather in the essence and character of the Freemason.
Ralph Waldo Emerson put it this way: "What lies behind us and what lies before us are small matters to what lies within us." It is that spirit of Brotherhood that lies within us that bring forth the highest aspirations of man, and when good men get together great things will happen.
Most Worshipful Grand Master, I want to thank you once again for the confidence you have placed in me, and I look forward to working with you to help make some great things happen.
Thank you Brethren, and remember when you leave here tonight, don't check Freemasonry at the door.
---