MAGLRGolledge
From MasonicGenealogy
ROBERT W. GOLLEDGE 1933-2005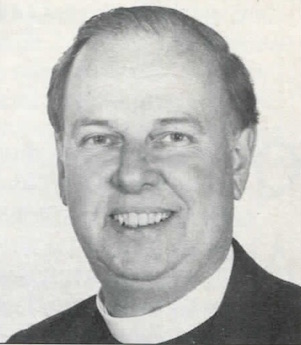 NOTES
RAISING, APRIL 1983
From TROWEL, Summer 1983, Page 17: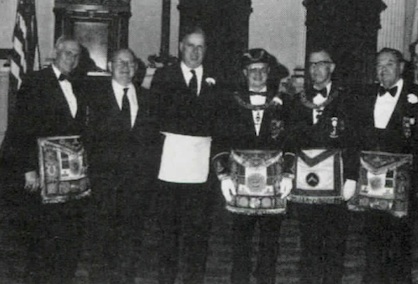 The Vicar of Old North Church in Boston, the Reverend Robert Golledge, was raised to the Sublime Degree of Master Mason in Columbian Lodge, A. F. & A. M., meeting in the Masonic Temple, Boston, Massachusetts.
This auspicious occasion occurred on Thursday, April 7, 1983, with a fine turnout of Masonic friends and dignitaries present, and with the Grand Lodge officers participating in the actual raising of the candidate. Acting as Master for the raising was Most Worshipful J. Philip Berquist, Grand Master of Masons in Massachusetts, with Most Worshipful Stanley F. Maxwell, Sovereign Grand Commander of the Supreme Council of Sovereign Grand Inspectors General for the 33rd degree, Ancient Accepted Scottish Rite of Freemasonry for the Northern Masonic Jurisdiction of the United States of America, completing the 3rd section of the work. Most Worshipful Donald W. Vose, Past Grand Master and Grand Commander of the Grand Commandery of Knights Templar of Mass. and Rhode Island, gave an inspiring charge to our newly raised brother.
The photo accompanying this photo pictures from left to right: M. W. Arthur H. Melanson, Past Grand Master; Bro. "Bud" Millet, curator of the Old North Church; the newly raised Mason Brother Golledge; the Grand Master; Worshipful Russell P. Mead, Master of Columbian Lodge; and M. W. Donald W. Vose.
Also in attendance (but leaving before the picture-taking were M. W. Whitfield W. Johnson, Past Grand Master and M. W. Laurence E. Eaton, Past Grand Master, along with the Reverend and Worshipful Oscar A. Guinn, Jr., Grand Chaplain.
BIOGRAPHY
FROM TROWEL, 1991
From TROWEL, Fall 1991, Page 8:
We all know the historic importance of the Old North Church in Boston. On the night of April 18, 1775, Robert Newman hung two lanterns in its belfry to signal that the British were coming by sea. That is what set Paul Revere off on his famous ride to warn the colonists. But very few of us know that Rev. Dr. Timothy Cutler was the first Vicar of the Old North Church, or. for that matter, not many of us know who is the present Vicar. Let us introduce you to him: Rev. Dr. Robert W. Golledge, a member of Columbian Lodge, Boston, and former Grand Chaplain for more than three years. How did he become Vicar of the Old North Church and Chaplain to Grand Lodge?
The story begins in May 1933, in Worcester, MA, when a son was born to Walter and Hazel (Anderson Hathaway) Golledge. On his father's side, the family roots are in the Somerville section of England. His Mother's are in County Tyrone in northern Ireland. Since Walter's work involved much travel throughout Massachusetts, Rev. Golledge likes to say that he attended five different elementary schools before completing grade two. The family finally settled down in Springfield, and, while growing up, Robert worked at many odd jobs: in a grocery store: an ice cream company where he put sticks in popsicles; as an ice cream salesman with his own white truck; at a tedious assembly line job timing diesel fuel pumps at American Bosch; and as a shopping mall Santa Claus for the West Hartford Chamber of Commerce. As Santa he learned a lesson he has never forgotten - listen carefully to what a child says and don't assume the verb tense is accurate. When he asked a child to write to him (Santa) he understood the tot to reply that he had already done so. Santa replied, "Oh, yes. I remember getting your letter." The child looked surprised and said, "but I haven't mailed it yet!"
After graduating from Classical High in Springfield, he entered Trinity College in Hartford. CT. He earned his way through school by working at a bank putting debits and credits on microfilm. Although he later declined the bank's offer of a full-time position, he did have thoughts about banking as a career and has sometimes wondered what he would have accomplished if he had gone into the banking business.
While in college, he met and married Roberta Smith, a student at the Hartford School of Nursing. He, with pride, credits her with being the breadwinner while he finished school. Eventually, they became the parents of Susan, Robert, Jr., and Stephen, who, in turn, have presented them with two grandchildren, Abigail and Samuel.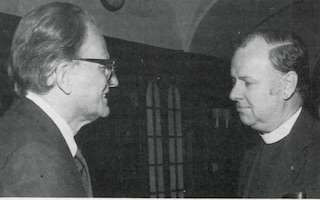 Rev. Robert Golledge greeting Rev. Billy Graham
After graduating from Trinity in 1955, Rev. Golledge entered the Episcopal Theological School in Cambridge. Rev. Golledge's calling to the ministry was gradual and influenced by many persons with differing views, both positive and negative. During this period he was involved with youth groups, was elected to office in the diocese in Ludlow, and represented New England on National Youth Commissions. He had the opportunity to work in churches, seminaries, and had a two-year assistantship in the Church of the Atonement. He was also in contact with people in various towns near Westfield, MA, where there were no Episcopal Churches.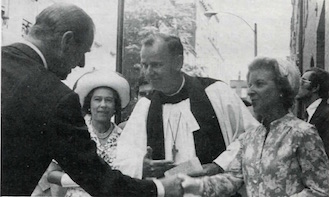 Mrs. Roberta Golledge greeting HRH Prince Philip of England
In June 1960, he was appointed by the Episcopal Bishop of Massachusetts to the Church of the Messiah in Auburndale, MA. Although he loved the western part of the Commonwealth and had trepidations about how a "country parson" would do in the "big city" environs, he need not have worried. He served his community well for 11 years.
In early 1971, when he was Chairman of the Liturgical Commission of the diocese, he met with the Bishop one day. The Bishop mentioned that the Vicar of the Old North Church, the Rev. Howard P. Kellett, had just retired and that a replacement would have to be appointed. In a somewhat off-the-cuff manner, the Bishop asked, "Is this the sort of thing you might be interested in?" Looking the Bishop straight in the eye. Rev. Golledge asked, "Bishop, sir, where is the Old North Church?" The Bishop decided that Rev. Golledge's education was incomplete, gave him the address of the Church, and said, "Go find it and take a look." Rev. Golledge did so, and when he returned he told the Bishop he would be most interested in the position.
As Vicar for the past 20 years. Rev. Golledge has served the surrounding area of the Church known as Boston's North End. He has met and entertained some of the great personalities of the world - church leaders, presidents, royalty, foreign dignitaries, and sports figures. He speaks with warmth of President Ford's visit in 1975 at the beginning of the Bicentennial year, and in 1976, of the visit of Her Majesty, Queen Elizabeth of England. How these visits came about are interesting stories in themselves.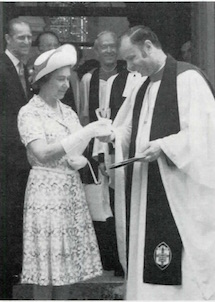 Queen Elizabeth receiving a silver cup from Rev. Robert W. Golledge
to commemorate her visit to Boston in 1976
Since April 18, 1975, was the date set to inaugurate the country's Bicentennial celebration, Rev. Golledge wrote to President Ford in early 1974 inviting him to the Old North Church ceremonies. When he received no reply, he wrote again after Christmas, and that time he was successful. A January phone call informed him that the President would indeed attend, but no announcement could be made. However, extensive planning began and the Secret Service seemed to be everywhere as the "big" day approached. Everyone attending the service had to be in his place before the President arrived. Rev. Golledge waited outside the Church and after greeting the President, took him to the museum next door, introduced him to his staff, and the ceremonies got underway. After the traditional annual hanging of the two lanterns. Rev. Golledge spoke briefly about the progress the nation had made in 200 years and said that if this progress was to continue - every day for everyone everywhere-a new signal to inspire us was appropriate. He then picked up a silver replica of the original lanterns, asked the President to light it, and they carried the lamp together down the center aisle of the Church. This lantern still burns today in the Old North Church belfry. President Ford later remarked that it was one of the most moving events in his first year in office and included it in his biography.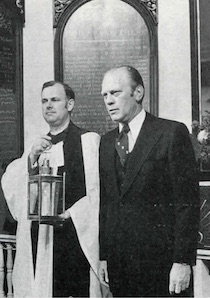 Rev. Robert Golledge and President Gerald Ford
with the lantern commemorating our third century
Later in 1975, a newspaper article about a forthcoming visit to the United States by the Queen of England caught Rev. Golledge's eye. Since it mentioned that a visit to Boston was a possibility, Rev. Golledge decided to write to President Ford to remind him of his successful visit and to indicate that he would be happy to entertain the Queen. President Ford replied that the royal itinerary was in the hands of the British ambassador, and that he had forwarded Rev. Golledge's letter to him with a recommendation. Also, when Rev. Golledge visited England that year to address two church groups, he contacted Bro. Elliot Richardson, U.S. Ambassador to England, who happened to be from Boston, and the Bishop of Norwich, England, who was well-acquainted with the Queen's private secretary. They did "put in a good word" regarding his invitation and in January 1976. the British Consul General called to say that the Queen would visit Boston and attend the 11 o'clock Sunday service. Prince Philip had also agreed to read the Scripture lesson for the day. A few months after the visit. Rev. Golledge was paid a wonderful compliment when the British Consulate informed him that the Queen in her Christmas message to her subjects, had included-almost word for word-the text of his sermon.
Rev. Golledge became a Mason on the 250th anniversary of the Grand Lodge of Massachusetts. He was inspired to Masonry by M.W. J. Philip Berquist, a member of his parish in Auburndale; M.W. Donald W. Vose, a fellow-member of Rotary; and a member of his staff who belonged to the fraternity; and, of course, the ghost of Paul Revere!
The preservation of the Old North Church is one of Rev. Golledge's most arduous tasks. Since its beginning in 1723. the Church has consistently just eked-out a "living." There is no assistance from the Government and there is no charge to enter the Church (which is always open), or for the daily tours. Support comes from contributions by benefactors, the congregation, and visitors - a half million annually.
Two other projects are high on Rev. Golledge's list of priorities. The first is the construction of a columbarium. Some 1100 remains of famous and not-so-famous persons of all races and nationalities are buried in the basement and there is no more space. Interred there are Commander Nicholson, the first Captain of the ship the U.S.S. Constitution, and Major Pitcarne, the British Commander killed in the Battle of Bunker Hill. The columbarium would accept cinerary urns, and would allow many more remains to be included at this historical site.
The second project is the establishment of an Old North Church Foundation. Rev. Golledge's goal is to make it easier for concerned patriots and businesses as well, to donate to an historical fund rather than to a church.
The preservation of the Old North Church should concern all we Masons and all other Americans because we all share in this historical monument to our freedom.
FROM TROWEL, 1996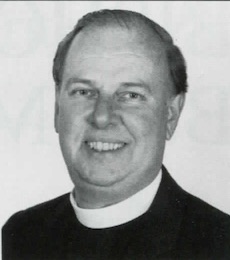 From TROWEL, Winter 1996, Page 5:
Old North Church? Where's that?" Was a young Robert W. Golledge's answer to his Episcopal Bishop who suggested Old North Christ Church might be a good place for Rev. Golledge to occupy the pulpit. Now, 25 years later as he heads into retirement, Brother Golledge could probably recite Longfellow's poem, The Midnight Ride of Paul Revere, verbatim.
Rev. and Right Worshipful Bro. Golledge has without any doubt been caught up in the pages of American history during his 25 years at the Church on Salem Street in Boston's north end. Robert Newman, John Pulling, Paul Revere and others played major roles on the 18th of April in 1775.
He served our Grand Lodge as Grand Chaplain for a few years. Grand Lodge has also a vested interest in the belfry from where Robert Newman hung the two lanterns to warn Paul Revere, William Prescott and William Dawes that it was time to saddle their horses to help get a new nation off and running. We have financially helped to rebuild the belfry first when hurricane Carol blew into town in 1954 and later when the bells needed more secure anchoring.
Old North was a participant when America celebrated its 200th birthday in 1976. Rev. Golledge hosted visits by President Gerald R. Ford and Queen Elizabeth II and Prince Philip. In December of 1984, Grand Master David B. Richardson joined the Mayor of the city of Revere, the French Consul and Brother Golledge to celebrate the 250th birthday of Past Grand Master Paul Revere (1795-97).
Old North had planned to make a gift to Rev. Golledge when he retired but their kind expression of gratitude has been turned into The Robert Golledge Fund to be used to foster ministries which he has nurtured during his time at Old North. Investments and distribution of the fund will be the responsibility of the officers of the corporation of the Old North Church and reported at its annual meeting.
MEMORIAL
Obituary from Union-Tribune, San Diego, June 5, 2005:
The Rev. Robert W. Golledge, the retired vicar of Old North Church in Boston, who welcomed hundreds of thousands of the curious and devout to his house of worship each year, died Monday at his home in Hampton, N.H. He was 72.
Christ Church in Boston, commonly known as Old North Church, is the site where the lanterns were hung that set Paul Revere galloping off on his famous ride. It is not only a house of worship, but a stop on the Freedom Trail visited each year by tourists from around the world. This presented unique demands and opportunities for Rev. Golledge. "I like to say Paul Revere was my original PR man," he said in a 1991 Globe article.
In addition to its religious services, the Episcopal church conducts tours for visitors, has a gift shop and has hosted a number of special observances, including memorial ceremonies for those who died on the original Patriots Day.
"We are the most visited tourist site in Boston – about half a million a year – and Bob was a very nice, warm guy who set the tone for the place and opened the doors to everyone," said the Rev. Stephen T. Ayres, who succeeded him as vicar.
"He considered Old North Church a house of prayer for all people," said his son Robert W. Golledge Jr. "One minute he'd be talking to school kids about the meaning of freedom; the next he'd be talking to foreign visitors about freedom of religion. He loved it."
During the country's bicentennial year of 1976, Rev. Golledge played host to separate events at which President Ford and Queen Elizabeth II were guests of honor at the church. "He was willing to take a chance," his son said. "He invited the queen and invited the president and then he said, 'Oh, no, what am I going to do?' "
Rev. Golledge received visitors warmly, but he never forgot he was in the business of saving souls.
"This place was 52 years old when the lanterns were placed in the steeple," he said in 1991, "and I'm proud that it's still in its original business – the business of being a church."
Rev. Golledge presided over many weddings and funerals. Many people seek to have candlelight wedding ceremonies in the 18th-century church.
He spoke out against racial discrimination and was particularly outspoken during the turmoil over court-ordered desegregation in Boston, when he was a member of a special biracial committee on hostility and violence.
Rev. Golledge addressed discrimination in 1976 when he was commencement speaker at Mount Ida College in Newton, Mass. "It will take you and me and everyone else to solve these problems through friendship," he said.
The son of a machinist, Rev. Golledge was raised in Springfield. He graduated from Trinity College in Hartford, Conn., and the Episcopal Theological School in Cambridge, Mass.
He was rector of the Church of Atonement in Westfield, Mass., and at the Church of the Messiah in Newton before spending 25 years as vicar of Christ Church. He retired in 1996.
Last fall, Rev. Golledge fulfilled a lifelong dream of visiting Egypt. "I told him maybe it wasn't the best of times to be visiting Egypt," his son said. "But he said: 'If I'm afraid, the terrorists win. I have hope. I don't have fear.' "
In addition to his son, Rev. Golledge is survived by his wife; daughter; another son; and seven grandchildren.
---