MAGLRGesualdo
From MasonicGenealogy
RICHARD A. GESUALDO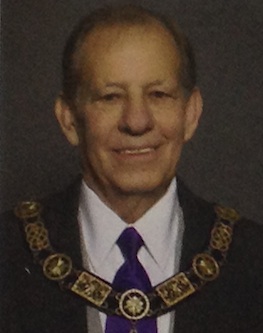 Senior Grand Warden, 2012
BIOGRAPHY
TROWEL, 2012
From TROWEL, Spring 2012, Page 12:
Rt. Wor. Richard Anthony Gesualdo was installed during the stated communication of the Grand Lodge on December 27, 2011. The senior grand warden is the second highest ranking, elected Mason in the state. Bro. Gesualdo will serve for one year.
In 1975 he began his Masonic career by joining North Reading Lodge. He served as the master in 1987, and is a member of the lodge's blood committee and CHIP committee. He is also a member of The Masters' Lodge, where he joined the line in 2007 and is currently the junior warden. The newly elected senior grand warden is a 32° Mason in the Ancient and Accepted Scottish Rite in the Valley of Boston, where he is a member of Boston Lafayette Lodge of Perfection; Giles F. Yates Council, Princes of Jerusalem; Mt. Olivet Chapter of Rose Croix; and Massachusetts Consistory.
Bro. Gesualdo began serving the Grand Lodge in 1998 when he was appointed senior grand deacon. The following year he was named a grand lecturer, a position he held until he was installed senior grand warden. In 2001 he was appointed grand representative to the Grand Lodge of Michigan and continues in that capacity.
Rt. Wor. Bro. Gesualdo is now retired and lives in North
Reading with his wife Pamela and their son Bryan. He is a
member of Union Congregational Church.
---