MAGLNLitvin
From MasonicGenealogy
NATHANIEL LITVIN 1913-1983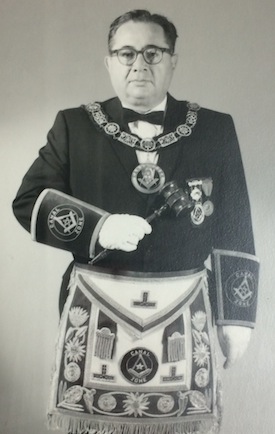 District Grand Master (Canal Zone), 1969-1971
MEMORIAL
From Proceedings, Page 1980-208:
Right Worshipful Nathaniel Litvin was born October 19, 1913, in the Bronx, New York, the son of Harry M. and Lillian Becker Litvin. He was educated in the New York City Public Schools and graduated from New York University with a degree in Mechanical Engineering. He was also a Heating and Air Conditioning Engineer and a registered Professional Engineer in New Jersey, Arizona, Texas and the Canal Zone. He was a member of the Canal Zone Board of Registration for Architects and Professional Engineers; Chairman, Examining Board of Plumbers for the Canal Zone.
He married Marie Kosik (Litvin) of Fall River, Massachusetts on December 22, 1940 and from that union had two daughters, Naomi Gertrude, born November 8, 1942, and Ruth Gladys, born May 14, 1946.
Right Worshipful Litvin began his Masonic career in Perfect Ashlar Lodge No. 604 in New York city having entered May 11, 1939, passed June 8, 1939 and raised on June 22, 1939. After going to the Canal Zone he affiliated as a dual member with Darien Lodge (now part of Balboa Lodge) on November 16, 1944. He served as its Worshipful Master in 1951 and as Secretary from 1958 to 1969. While Master he was also District Grand Tyler and then became District Junior Grand Deacon in 1959 and 1960. Right Worshipful Howard W. Osborn, District Grand Master, appointed him Deputy District Grand Master in 1964 and Most Worshipful Herbert H. Jaynes appointed him District Grand Master in 1969, 1970 and 1971.
Brother Litvin did not confine his Masonic activities to the Blue Lodge, but went on to the York Rite where he received the Royal Arch Degree in Canal Zone Chapter No. 1 on April 30, 1964, and Royal and Select Master Degree on Canal Zone Council No. 1 on November 11, 1964.
He worked for many years in Scottish Rite activities, received the Rank and Decoration of Knight Commander, Court of Honor from the Supreme Council, Southern Jurisdiction, on October 21, 1947, and was coronated a 33rd Degree lnspector General Honorary, on January 28, 1968. He worked with the stage crew and was a member of several degree teams, as well as Assistant Treasurer of the Panama Canal Bodies.
Brother Litvin was also a member of the Abou Saad Temple, A.A.O.N.M.S. and maintained an interest in the Order of Rainbow for Girls and the order of DeMolay. He was an active member of the Congregation Kol Sheareth Israel and acted as lay-Rabbi.
Upon his retirement from the Panama Canal, he settled in Seattle, Washington where he passed away on September 9, 1983. His body was shipped to New York and a Masonic service was performed for him on September 15, 1983 by Pelham Lodge No. 712.
Fraternally submitted,
Howard W. Osborn
---