MAGLHOsborn
From MasonicGenealogy
HOWARD WILLIAM OSBORN 1913-2002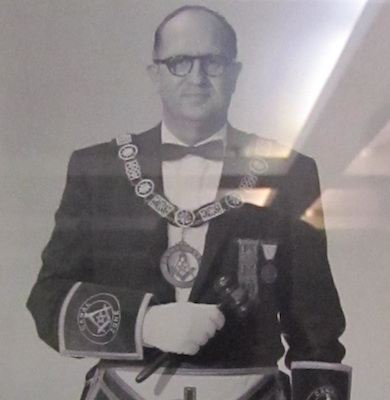 District Grand Master (Panama), 1957, 1963-1965
MEMORIAL
From Proceedings, Page 2002-76:
"If you want a job done right, ask a busy man." This saying was never truer than the life of R.W. Howard William Osborn. He participated in enough activities to stagger an average man.
R.W. Osborn was born on August 13, 1913, in Dana, Massachusetts, to the Reverend William and Alfreda Osborn. His father was an ordained Methodist minister. Little is known about Howard's early life or many of his activities due to his natural humility and retiring disposition. We know his early life was spent traveling from one church assignment to another. He received his early education in many different schools but graduated from Easthampton High School in Easthampton, Massachusetts. He attended Worcester Polytechnic Institute in Worcester, Massachusetts, and graduated in 1937 with a Bachelor of Science degree in Civil Engineering.
On July 27, 1937, the Panama Canal Company employed him in the capacity of Student Engineer for the Panama Railroad, a division of the Canal organization. In 1939, he transferred to the Municipal Division (later renamed the Maintenance Division) where he served with distinction. In 1944, Brother Osborn answered the call of service to his country. He was commissioned a 2nd Lieutenant in the U.S. Marine Corps and assigned to the South Pacific Theater. He was released from service as a 1st Lieutenant and entered the Marine Corps Reserve where he rose to the rank of Major. Upon his return to the Canal Zone, he was made Planning and Operations Engineer for the Maintenance Division. During this period, vehicular traffic in the Canal Zone was increasing. Recognizing the need for more adequate control, the problem was turned over to Brother Osborn who was named head of the Traffic Engineering Section where he remained for two years. During this time, he headed a committee that completely rewrote the Canal Zone Traffic Code.
In 1962, Brother Osborn was promoted to Chief, Water & Laboratories Branch, where he supervised two water purification plants and two water distribution systems. He supervised a laboratory for testing all types of construction materials and was charged with passing on the safety of certain work processes. He was then promoted to Chief, Maintenance Division, a position he held until his retirement in 1971.
Brother Osborn was a registered Professional Engineer and a member of the American Society of Civil Engineers and the National Society of Professional Engineers.
Brother Osborn's interest in church work was probably the natural result of having a Methodist minister for a father. From his arrival on the Isthmus of Panama, he took an active interest in the Balboa Union Church until his retirement and departure from the Canal Zone. He served on the Board of Trustees, Board of Elders and was the Superintendent of the Sunday School. On occasion, he occupied the pulpit with distinction to himself.
Other activities of Brother Osborn included membership in the Panama Canal Society of Florida, Inc., Panama and Canal Zone Volkswagen Club, Assistant Instructor of the Junior Division of the Balboa Gun Club, Past President of the Canal Zone Camera Club and an active "caller" for Star-in-a-Circle Square Dance Club. Howard and his wife, Arleen, derived a great deal of pleasure as square dancers.
Soon after he arrived in the Canal Zone, Brother Osborn became a Mason in Canal Zone Lodge and took an active interest. The war years interrupted this activity but immediately upon his return, he took up from where he had left. He served the Masonic Fraternity with dignity and strength. He presided as Master of Canal Zone Lodge in 1953. He was a member of both the Canal Zone York Rite Bodies and the Canal Zone Scottish Rite Bodies and served with distinction as Commander of the Canal Zone Commandery, Knights Templar in 1954. He was a Noble of Abou Saad Temple, A.A.O.N.M.S. and Past Patron of Fern Leaf Chapter, Order of the Eastern Star.
In the R.W. District Grand Lodge of the Canal Zone under the jurisdiction of the M.W. Grand Lodge of Massachusetts, he served as District Junior Grand Steward in 1954, District Grand Secretary 1955-1957, District Senior Grand Warden in 1958, and Deputy District Grand Master in 1966. R.W. Osborn was appointed as R.W. District Grand Master by M.W. A. Neill Osgood for 1963-1964-1965. After his term as District Grand Master, he served as District Grand Treasurer for six years. He was awarded the Joseph Warren Medal for Distinguished Service by the Grand Master in 1958 and the coveted Henry Price Medal in 1965.
After retirement in 1971, Brother Osborn and his wife, Arleen, settled in Nashua, New Hampshire. In 1998, they moved to Sebring, Florida. R.W. Osborn passed away on April 15, 2002, in Sebring. He is survived by his wife, Arleen, and two sons, James and Richard, and several grandchildren.
And so we salute R.W. Howard William Osborn. He believed profoundly in the Brotherhood of Man and the Fatherhood of God. We mourn the loss of a good man who believed and lived as a good Mason.
Respectfully submitted,
M.W. Albert T. Ames
M.W. David B. Richardson
M.W. David W. Lovering
R.W. Thomas C. Peterson, Chairman
---