MAGLMRussell
From MasonicGenealogy
MASON W. RUSSELL 1956-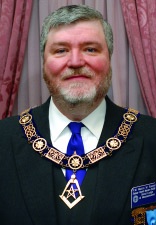 Deputy Grand Master, 2008
BIOGRAPHY
FROM TROWEL, SPRING 2008
From TROWEL, Spring 2008, Page 4:
The Deputy Grand Master for 2008 is truly a "Mason's Mason." Rt. Wor. Mason W. Russell brings years of experience in economics, finance and management— not to mention Masonry — to his Grand Lodge leadership position.
Bro. Russell is a Vice President of Abt Associates Inc., one of the world's leading health and social policy consultancies, where he oversees clinical and economic research studies for pharmaceutical, biotechnology and medical device clients.
A graduate of Salem State College, he completed his masters and doctoral studies in economics at Boston University. His experience as a not-for-profit healthcare administrator comes in handy in his role as a Director of the Overlook VNA and Hospice. His community service includes leadership positions in several civic and philanthropic organizations, including Rotary, Scouting and the United Way.
A member of the Grand Lodge Membership Committee since 2006 and chairman of the Retention Subcommittee, Bro. Russell has been active throughout Freemasonry. He previously served as a district officer for four years, Grand Steward in 2003, a member of the Grand Lodge Development Committee in 2004–2006, and District Deputy Grand Master of the 10th District in 2006-2007. He is a graduate of the Masonic Leadership Institute, where he has served as a Team Advisor.
Bro. Russell was raised in New Meadows Lodge, Topsfield, where he served as Master in 1999 and 2000. That lodge merged with Budleigh Lodge, Beverly, where he served as Master in 2004 and 2005. He also is a member of Mount Carmel, St. John's (Newburyport), Liberty and Columbian Lodges, the York and Scottish Rite Bodies in Salem (serving as Orator in Emmanuel Chapter of Rose Croix), the Kilwinning Club and Aleppo Shrine.
The Deputy Grand Master and his wife, Sue Nadeau, live in Methuen.
SPEECHES
FEAST OF ST. JOHN, DECEMBER 2007
From Proceedings, Page 2007-256:
Most Worshipful Grand Master, Most Worshipful Past Grand Masters, distinguished guests, my Brethren all. How wonderful it is to be here today. How good and how pleasant it is for brethren to dwell together in unity. It is a lovely day for Masonry in Massachusetts and Most Worshipful Grand Master, Brother, my Masonic Dad, I thank you so much, Grand Master, for the honor that you have bestowed on me and the confidence that you have shown in appointing me to this high and noble office. Brethren, we have heard many times over the last few years about how so many of us would never have known one another had it not been for Masonry. And I can stand here today, Brethren, and say to you, that of the 750 fine men, in attendance today, only one, my friend, Right Worshipful Don Moran, whom I met when we were both in college, I knew before I became a Mason. Then again, I've known a lot of people as a Mason.
Looking back over the archives of the Grand Lodge, I believe that I'm the only Deputy or Grand Warden who has ever carried the first name of Mason. That's interesting. And as many of you who have known me over the years know, I have often gone by a number of names, such as Mason the Mason, or he's a true Mason. He's been a Mason through and through. You don't get born with a name like Mason without Masonry having played an important role in your heritage, and that certainly is true in my case too.
The theme of my speech tonight is What It Means to Be Named Mason, and for the benefit of our out of state guests, for many years our Masonic Awareness Committee produced a series of brochures and videos titled, What It Means to Be a Mason. It has meant a great deal to me over the years, in my 50-plus years on earth, to be named Mason. Just one quick story. When I attended District Deputy Grand Master training two years ago in Westborough, Most Worshipful Brother Hodgdon came out to speak to us, and when he came over and shook everyone's hand, I said to him, "Most Worshipful Brother Hodgdon, I'm looking forward to receiving my 50 year veteran's medal next year." And he looked at me and he said, "You can't possibly be 50 years a Mason." And I said, "What's my first name, Grand Master? I turn 50 next year and I'm looking forward to that medal." And in his inimitable way, just said, "Get out of here." Fortunately, I escaped that day keeping my dues card, which was an important thing.
But seriously brethren, you don't get the name of Mason without Masonry having been a very important part of life. I was named for my grandfather, Mason Webster, who was named Mason because of many prominent Masons on his side of the family, my mother's side of the family, down in the great state of Texas. So I have to admit to you, brethren, that I stand here today the product of a mixed marriage. On my father's side, the Russells and the Peabodys have played a very important role in Masonry in Massachusetts over the last 275 years, and I'm very proud of that heritage. But on my mother's side of the family, the Websters and the Knights played a very prominent role in Masonry in Tennessee, and then in the great state of Texas, where the Websters settled in the 1820's. And so it came to me naturally. But as a child, you don't really understand what Masonry is all about, particularly because my father and my paternal grandfather both worked evenings, and so they never were able to take advantage of becoming Masons, to their regret.
I've only been a Mason for thirteen years, in terms of being part of this great fraternity. It's hard to believe, thirteen years, but I've felt, when I decided to take that step, that it was the right thing for a number of reasons. When I chose to become a Mason, I was at perhaps the lowest point in my life that I could ever hope to be in. I had lived with my wife Sue in Northern New Hampshire. We decided to strike out, and I went into the consulting business, where I had worked for many years. We moved down to Virginia, and I went into partnership with a man who I thought was a friend, but who turned out to be not a friend at all, and I was left, after about eighteen months, virtually broke, with my business career in tatters and feeling hopeless. And one day I spoke to my father, who was still living in Boxford, MA, where I grew up, and he said to me something that rings in my ears to this day. He said, "Your brother recently decided to become a Mason, and I'm so proud of him. Now that you're thinking about moving back up here, you should give serious thought to doing the same thing." And what he then said will stick with me forever, "Don't make the same mistake that I did." You see my father did work nights, but there were Lodges that met in the daytime. There were nights that he could have probably come home early. He chose not to. He had been approached many times. The local banker, would be after my father all the time saying, "Come on Gordon, come on into the Lodge, we have a great time." And my father would say no all the time. I'm proud to wear the District Deputy Grand Masters jewel of that banker, Right Worshipful Les B. Fales. He was the first District Deputy Grand Master to come out of my home Lodge, the New Meadows Lodge in Topsfield, which sadly no longer exists.
So many other men from all over the North Shore that my father met through his work, or through civil defense activity, and some of the things that he was involved with in town government, would talk to him all the time, "Come on, Gordon, you'd have so much fun. How about your dad? Your dad's retired now. We'd love to have him, too." For some reason they both said no, but it still rings in my ear this day, "Don't make the same mistake that I made." Very often sons don't listen to their fathers. I know it's hard to believe, but I listened this time, and aside from marrying my wife, it was the best decision that I ever made, because if I hadn't made that decision, not only would I not be standing here today, but I would have missed out, in all likelihood, on meeting so many of you fine men. Masonry truly is an organization that takes good men and makes them better. I have gained so much in my life from the days that I walked into New Meadows Lodge. I just finished talking about how there were so many men in this room that I wouldn't know had it not been for Masonry. How many of you, brethren, have had the experience when you walk into a Masonic hall for the first time and have that blindfold taken off of you, and suddenly you see, as I did, my teachers, the man who was superintendent of schools when I was in grade school, who used to speak to me, when I was in second grade, knowing my name. I seemed to be the only student whose name he knew, and I always wondered why it was that he knew my name.
I remember one time I got into trouble in class and the principal was not around, but the superintendent was in that day, so I was sent to see the superintendent. And he sat me down and talked to me, and said, "You know something, Mason," he said, "You just can't behave that way. We expect so much of you." And I didn't understand what he meant, but I think now, particularly since this man served me four terms as my Masonic Home Representative, in my lodge when I was Master, I think I know now why he said that to me: because he knew what it meant to be named Mason. We all come from different experiences; we all come from different backgrounds. Some of us have gone to college, some of us haven't. Some of us work with our minds, some of us work with our hands, but we all meet upon the level.
That's what's so great about this fraternity. We live, in our lives every day, what it means to be a Mason, and we live — not just people like me who are named Mason, but each and every one of you, we know what it means to be named Mason. A lot is expected of us, and that's a good thing, because that's how you make positive change in the world. When people expect a lot, great things can happen. If you don't set an ambitious goal to raise thousands of Masons in a three year time period, it doesn't happen. You have to draw a line in the sand and say, "This is what I stand for, this is what we stand for."
Brethren, by becoming Masons, we all have done that, and you don't have to be named Mason to be that way. That is the wonderful thing about the message of Masonry in this great state and in this world that we live, because anyone who makes the same choice that I made, that you made, has the chance to really make a difference.
Most Worshipful Grand Master, thank you once again for the honor that you have bestowed upon me, and we are all looking forward to working with you during your term in office. Thank you Brethren.
---