MAGLMMott
From MasonicGenealogy
MARSHALL EVERETT MOTT 1866-1947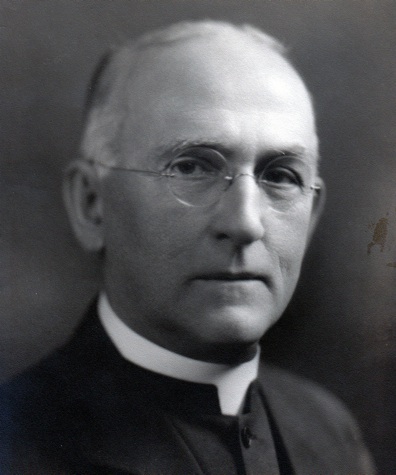 From the collection of the Grand Lodge of Masons in Massachusetts
MM 1932, Longmeadow
Grand Chaplain 1933-1947 (picture taken 1934)
MEMORIAL
Brother Mott was born in Waterboro, New Brunswick, on March 9, 1866, and died at his home in Longmeadow, Massachusetts, on June 2, 1947.
He was educated in the public schools of Waterboro, New Brunswick, Fredericton High School, Provincial Normal School, University of New Brunswick, and the Episcopal Theological School of Cambridge, Massachusetts. Before attending the latter school, he taught for four years in public and private schools in New Brunswick. Upon graduation from the Episcopal Theological School in 1894, he was ordained a Deacon by Bishop William Lawrence, and in 1895, a Priest.
At the time of his death, he was Canon of Christ Church Cathedral of Springfield, having previously served as Rector of churches in Leominster, Webster and North Adams, Massachusetts. ln 1920 he was appointed Archdeacon for the Diocese of Western Massachusetts and served as such until his retirement a few years ago.
He was raised in Longmeadow Lodge on January 14, 1932, and served that Lodge as Chaplain from 1933 until his death, becoming Chaplain Emeritus in 1946. In 1933 he was appointed Grand Chaplaln by Most Worshipful Curtis Chipman, Grand Master, and thus continued until his passing.
The following words used in the necrology of his long time associate in the Ministry and Masonry, Worshipful Very Reverend Percy Tom Edrop, apply as well to Brother Mott:
"His sympathetic and understanding nature made him the confidant and counsellor of hosts of people in all walks of life. He never spared himself or refused a call for service. Warmhearted, generous, democratic, he literally gave his life for mankind. He will be widely and sincerely missed, but his engaging and genial personality, his lofty vision and his earnest devotion will live on in the lives of those with whom he came in contact."
Funeral services were held in Christ Church Cathedral, Springfield, on Thursday, June 5, 1947, and the large attendance paid high tribute to his place in the hearrs of his friends and co-workers.
---