MAGLLSouthard
From MasonicGenealogy
LOUIS CARVER SOUTHARD 1854-1922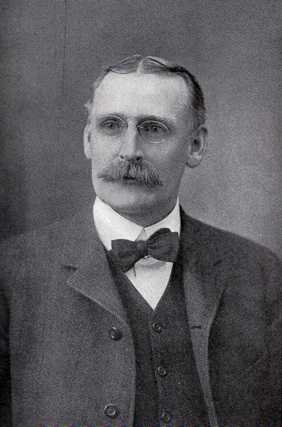 MM 1879, WM 1904, 1905, Paul Dean
Affiliated 1908, Beth-Horon
Charter Member 1921, Brookline
Junior Grand Deacon 1904
Deputy Grand Master 1905
MEMORIAL
FROM PROCEEDINGS, 1922
From Proceedings, Page 1922-429:
Louis C. Southard served this Grand Lodge as Deputy Grand Master in 1905 and. he has been for many years the President of the Board. of Trial Commissioners. His judicial mind and his fidelity to the preservation of the dignity of this Grand Body and the fulfillment of Masonic obligation made him a valuable contribution to our best welfare. Our debt to him for his long and painstaking service was very great and we held him in universal respect and esteem.
He left a place not readily to be filled. when on the 29th of September he .vanished like a flash from our earthly sight.
His was a manly, conscientious life. He lived his Masonry and we were bound to him in truest friendship. He is gone but he will never be forgotten.
From Proceedings, Page 1923-56:
Right Worshipful Brother Southard was born in PortIand, Maine, April 1, 1854, and died at his home in Brookline, Massachusetts, on September 29, 1922. He was the son of WiIIiam Louis and Lydia Carver Southard and was of Pilgrim ancestry, being directly descended from Constant and Elizabeth CoIIier Southworth, who came to Plymouth in 1623. The family name was officially changed to Southard in the seventeenth century.
In 1875 he graduated from the University of Maine with the degree of B.S. and was honored by his Alma Mater in 1892 with the degree of M.S., and in 1904 with the degree of LL.D. In 1875 and 18?6 he studied law in Boston University Law School, and with Hon. Clarence Hale, later Federal Judge; and was admitted to the Bar of Massachusetts in 1877, the U. S. Circuit Court in 1887, and the Supreme Court of the United States in 1889. For three years after leaving the Law School he was editor of the Easton (Mass.) Journal, but since that time he has been exclusively engaged in the practice of law in North Easton and later in Boston.
He was a member of the Massachusetts House of Representatives in 1886 and 1887, and of the Senate in 1895 and 1896; member of the Republican State Committee from 1884 to 1894 inclusive; lecturer in the University of Maine Law School since 1897. He represented the State of Massachusetts at the United States Centennial Convention at Philadelphia in 1887; was an alternate delegate-at-Iarge in the Republican National Convention of 1896; and delegate to the Universal Congress of Lawyers and Jurists in St. Louis in 1904. He was a member of the American, Massachusetts, and Boston Bar Associations. He also served as President of the American Invalid Aid Society for some years.
Recently he had given his attention to business law, and in that capacity was Treasurer and General Manager of the International Purchasing Company, Treasurer of the Hudson Tannery Company, and President of the City Wharf and Storage Company; also trustee of the Dorchester Savings Bank. His club membership included the Twentieth Century, Puddingstone, University, Commonwealth, Country, and Boston City Clubs.
Bro. Southard was married at Easton, Mass., June 1, 1881, to Nellie Copeland, who survives him, as do their three children, Louis Keith, Frederick Dean, and Lawrence Southard.
Bro. Southard was forceful, energetic, and possessed of strong executive ability and stood very high in his profession.
Bro. Southard's Masonic record is as follows:

In Paul Dean Lodge of North Easton he was entered November 20, 1878; passed December 18, 1878; raised January 22, 1879; Senior Deacon 1890; Junior Warden 1891; Senior Warden 1892 and 1893; Wor. Master 1894 and 1895. He always retained his membership in Paul Dean Lodge, although some time after moving his residence to Brookline, he affiliated with Beth-Horon Lodge February 11, 1908, and became a charter member of Brookline Lodge upon its organization. Beth-Horon Lodge conducted a Masonic service at his funeral.
In Satucket Royal Arch Chapter, Bro. Southard received the Mark degree December 31, 1886, Past Master's degree January 14, 1887, Most Excellent Master's degree January 21, 1887, and was exalted to the Royal Arch on February 4, 1887. From this Chapter he dimitted on March 13, 1908. In Bay State Commandery he received the Red Cross degree on June 6, 1892; was made a Knight Templar on June 13, 1892; and a Knight of Malta on June 20, 1892.
In the Scottish Rite Bro. Southard received the degrees in Boston Lafayette Lodge of Perfection on April 7, 1893; in Giles F. Yates Council, P.J., April 14, 1893; in Mt. Olivet Chapter of Rose Croix April 21, 1893; and in Massachusetts Consistory April 28, 1893. For six years prior to his death he held the office of Councillor in the Consistory.
Bro. Southard in 1905 served as Deputy Grand Master of the Grand Lodge under M.W. Bro. Sanford. He became one of the Board of Commissioners of Trials on December 28, 1909, remaining a member thereof until his death. During the two years prior to his death he was President of the Board.
On February 10, 1912, Bro. Southard acted under appointment of the Grand Master as one of a delegation to extend an invitation to our M.W. Bro. H.R.H. the Duke of Connaught, Grand Master of the United Grand Lodge of England, and then acting as Governor General of Canada, to visit the Grand Lodge of Massachusetts. An interesting report of this delegation. written by Bro. Southard is to be found in our printed Proceedings for 1912, page 205.
R.W. Bro. Southard was able and forceful and had determined opinions. At the same time he was one of the most affable and courteous of what are sometimes called "old school gentlemen." He was very highly respected by all those who were close to him, not only in family life, but in social, professional, and Masonic life and activities. It is an open secret, but one which perhaps we ought not to hesitate to put upon permanent record, that had Bro. Southard been spared, he would in all human probability have been elevated to the highest office which Freemasonry knows. We can pay him no higher compliment.
From a tribute issued by the University of Maine we quote:
"As a lawyer and a public-spirited man the late Mr. Louis C. Southard was well known in and about Boston, while his continued interest in his college made him a familiar figure in Maine. Those who knew him only professionally or politically saw but one side of his character. A wide interest in affairs and a discriminating reader made him an easy talker, an agreeable addition to any company.

"But to know his gentler side one had only to be in need of his advice, to seek help over a hard place - without funds to pay for it - to find him always generous in assistance. Many with small or no means went to him freely because he gave freely. Invariably courteous, he received. them all with kindly attention. He was never too busy to give his time to a friend. in need. However hurried he might be, his own affairs would wait while his friend's received immediate attention.

"His keen sense of humor never failed him. He heartened many a timid client with an appropriate story, and brightened dull situations with a joke. Generous, helpful, he was



'The kindest man,
The best condition'd and unwearied spirit
In doing courtesies.' "
Melvin M. Johnson,
J. Albert Blake,
Leon M. Abbott,
Committee
FROM NEW ENGLAND CRAFTSMAN, 1922
From New England Craftsman, Vol. XVIII, No. 1, October 1922, Page 25:
Louis Carver Southard died suddenly Sept. 29th, at the Eliot Hospital, Back Bay, to which he had been taken tor an operation only four days before.
Bro. Southard was born in Portland, Me., April 1, 1854, and his parents were William Lewis and Lydia Carver (Dennis) Southard. He was educated at the University of Maine, subsequently receiving several degrees; and than entered Boston University to take a law course. He was admitted to the bar in 1877, and was given the privilege of practising in the United Circuit Court ten years later, and in 1889 the Supreme Court of the United States was opened to him.
Early in his career Bro. Southard was editor for three years of the Easton Journal; he was a member of the Massachusetts House of Representatives in 1887, of the Senate during 1895 and 1896, and a member of the Republican State Committee from 1888 to 1894. He was a lecturer at the University of Maine Law School for a number of terms, beginning in 1897, and he had always kept up a close association with that institution of learning and for a number of years was president of the Boston alumni. He was a State delegate to the United States Centennial convention in 1896 and an alternate delegate-at-large to the Republican National Convention in 1896. He also was a delegate to the Universal Congress of Lawyers and Jurists held at St. Louis in 1904.
Ha was a member of the American, Massachusetts and Boston Bar association, the American Invalid Aid Society, of which he was at one time president; Boston Chamber of Commerce, Boston City Club, and was very prominent in the Masonic fraternity, being a thirty-second degree Mason, and allied with numerous bodies in the order. He had been prominently mentioned for the grandmastership of Massachusetts this fall. He was also a member of the University Club, of the Society of the War of 1812, the Puddingstone Club, and in a business wav he was vice president of the Dorchester Savings Bank, and had been associated with several industrial concerns.
Bro. Southard was married June 1, 1881, to Nellie Copeland of South Easton. She survives him, as do three sons. Louis T. Southard and Frederick Dean Southard, both of Brookline, and Lawrence Southard of Berlin, Conn. He is also survived by a sister, Mrs. W. B. French of Winchester, and an older brother, Dr. W. F. Southard of San Francisco, Calif. Mr. Southard had offices at 601 Tremont Building, and his residence was at 21 Francis Street, Brookline.
Funeral services were held at his home, 21 Francis Street, Brookline, Monday afternoon at 2:30 p. m. Rev. Eugene R. Shippen, minister of the Second Church in Boston officiated and there were Masonic services. The pallbearers were Dean James N. Hart of the University of Maine, Prof. Hammond, also of the University of Maine, Solomon Bates of Portland, Me., Dr. Samuel Crowell of Dorchester, David O'Donnell of Boston and George Keith of Hudson, There was no music. The body was taken to the Forest Hills Crematory.
Among the friends of Bro. Southard present were C. O. Stevens, who represented the alumni of the University of Maine, and George Hamlin, who represented the trustees of the university, as well as many prominent members of the Masonic fraternity by whom he was highly esteemed.
---