MAGLLLohnes
From MasonicGenealogy
LESLIE P. LOHNES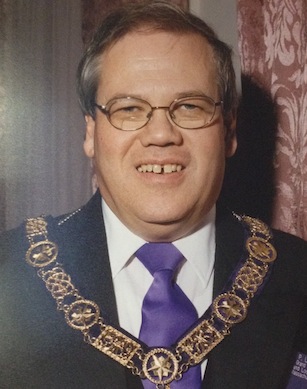 Junior Grand Warden, 2002
BIOGRAPHY
From TROWEL, Spring 2002, Page 7: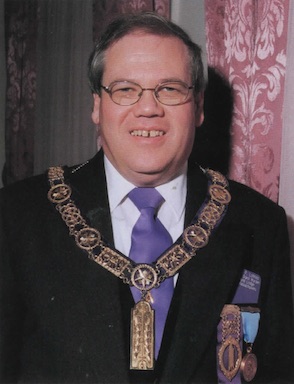 Junior Grand Warden Leslie Lohnes says he has no particular hobby or special outside interest, except of course Freemasonry — which has led to his being elected and installed to the third highest elective office in Grand Lodge. The youngest of five children, he is the brother of the late R. W. Donald J. Lohnes, who was Deputy Grand Master in 1977.
Now Human Resources Director for Dielectrics Industries of Chicopee. where he has been associated for thirty years, R.W. Les graduated from high school in that city in 1967. He went on to earn an undergraduate business degree and an MBA from Western New England College. He is also a real estate broker, and a member of the Greater Springfield Association of Realtors. Bro. Lohnes has been involved with local United Way campaigns, and since 1994 has served as a director of Goodwill Industries of Greater Springfield-Hartford Area.
He and his wife, the former Cherie A. Hughes, have resided in Wilbraham since 1988. They are members of the First Central Baptist Church of Chicopee, where Bro. Lohnes was church auditor for 12 years, and an usher.
Raised in Belcher Lodge (now Elm-Belcher Lodge) in 1976, he served as Worshipful Master in 1979-81 and 1983-85, and as a trustee for nine years. He affiliated with Newton Lodge in 1989, where he was Treasurer 1994-97. and a trustee and ritualist since 1996. He is an honorary member of Roswell Lee-Indian Orchard Lodge, and Longmeadow Lodge.
R. W. Leslie Lohnes was appointed a Grand Steward in 1995, and received the Joseph Warren Medal in that year. He served as District Deputy Grand Master for the Springfield Thirty-Third District in 1997 and 1998.
In the Masonic Leadership Institute he was a member of the R. W. Robert C. Patey Class in 1998; the M. W. Stanley F. Maxwell Class in 1999; and the R. W. Oscar A. Guinn Jr. Class in 2000. He has been active with the Grand Lodge Masonic Awareness Committee and with the CHIP program, serving as the area chairman for the Valley District.
In 1976, Bro. Lohnes joined all four bodies of the Scottish Rite in the Valley of Springfield. He has been a cast member in each, and in the Connecticut Valley Consistory. Working in the Masonic Learning Center for Children, he is chairman of the Valley of Springfield Planning Committee. A member of Melha Shrine Temple. he is a member of the Hadji Unit, Past Masters Unit, and the membership committee.
---