MAGLJSkinner
From MasonicGenealogy
JOSEPH OBERLIN SKINNER 1816-1879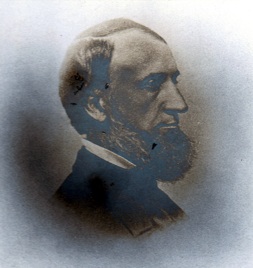 BIOGRAPHY
From Proceedings, Page 1873-339:
REV. JOSEPH OBERLIN SKINNER, A.M., BOSTON, Universalist. 1844-1848.
In a note addressed to the compiler of these sketches, he remarks : —
"Your letter of the 24th inst. [December, 1873] revives very pleasant recollections of my early Masonic acquaintances and experiences; and I remember with unalloyed pleasure my connection with the Grand Lodge of Masons of Massachusetts. Revs. Asa Eaton, George M. Randall, E.M.P. Wells, Samuel Barrett, and Charles Train, among the clergy; and Charles W. Moore, John B. Hammatt, John R. Bradford, Winslow Lewis, Senior and Junior, and Thomas Power, among the laymen, are names that came first and forcibly to my mind."
Bro. Rev. Joseph Oberlin Skinner was initiated in 1840, in Middlesex Lodge, Framingham, where he was chosen Junior and Senior Warden, and afterwards Master for two years. He was one of the Grand Chaplains of the Grand Lodge in 1844, 1845, 1846, 1847 and 1848. On the 24th of June, 1845, he officiated as Chaplain of the Most Worshipful Grand Lodge at a great Masonic celebration at Charlestown, Mass., when a miniature monument (an exact model of the original monument erected by King Solomon's Lodge, in 1794, and by them presented to the Bunker Hill Monument Association) was placed inside of Bunker Hill Monument. He was chosen a member of this Lodge Nov. 19, 1846, and was Master in 1847 and 1848.
Bro. Skinner is of good old Connecticut stock. His grandfather, Benjamin Skinner, was born in Hebron, in that State. He is the oldest child of David and Abigail Skinner, and was born on the 18th of February, 1816, in Piermont, N. H. He was employed on a farm in the summer, and attended school in the winter, from the age of 11 to 17, when he commenced teaching a district school, first in Fairlee, Vt., next in Oxford, N. H., and lastly in Barnstable, Mass. In June, 1836, having received no other than a common-school education, he commenced the study of theology with Rev. Sylvanus Cobb, of Maiden, Mass. In July, 1837, he took the pastoral charge of the Universalist Church and Society of Holliston. From thence, in February, 1840, he removed to Framingham, and continued there until March, 1844. He then removed to Dudley, and from that place he came to Concord, as pastor of the Universalist Society. In May, 1848, he settled in Ludlow, Vt., and remained two years as pastor of the Universalist Church. In April, 1850, he was settled in Chester, Vt., for three years; thence he removed to Rockland, Maine, in October, 1853, and is now settled over the First Universalist Church of that town.
He was twice married; first, May 21, 1846, to Miss Maria T. Barnard, of Hartford, Ct.; she died without issue, in Chester, Vt., May 15, 1852. He was married again, June 29, 1854, to Miss Candace L. Fullam, of Ludlow, Vt.
While Bro. Skinner presided over our Lodge it was just beginning to emerge from a long slumber, and very little was done in the way of making Masons; his attention being devoted chiefly to reviving old and sleepy ones, and exemplifying the work. He is a member of Aurora Lodge, Rockland, Maine.
— Sketch of Corinthian Lodge, Concord, by Louis A. Surette, 1859.
Brother Skinner was a member of Middlesex Lodge during five years. He was its Master in 1843 and 1844. He received the Chapter Degrees in St. Andrew's Royal Arch Chapter, Boston, in 1843. He is now a member of Waterville Lodge, No. 33, of Waterville, Maine, and has been its Chaplain about three years. He is preparing a History of Waterville Lodge, which completed its first half century in 1870. This Lodge was formed immediately after the erection of the District of Maine into a separate State.
He was settled in Nashua, N. H., for nearly three years; about two years from January, 1864, in St. Albans, Vt.; and about two years from December, 1865, in Malone, N. Y. He was one of the editors of the Christian Repository, in Montpelier, Vt., for one year. During the past four years he has bad charge of a parish in Waterville, Me. He has published some discourses in pamphlets, and written for newspapers. The Universalist Quarterly Review, from 1854 to 1870, contains some of his labored writings. He has edited The Universalist Register and Almanac for 1871, 1872, 1873, 1874. The Honorary Degree of Master of Arts was conferred on him by Colby University, Waterville, July 26, 1872. He has taken much interest in public schools, and devoted much of his time to their superintendence.
---