MAGLJBradford
From MasonicGenealogy
JOHN R. BRADFORD 1790-1865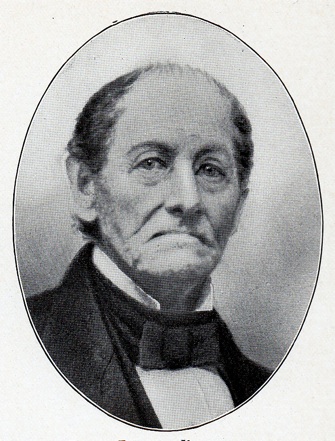 MEMORIAL
From Proceedings, 1865, Page VII-7:
"Whereas it has pleased Divine Providence to remove from us by sudden death our highly esteemed late Bro. John R. Bradford, a past Officer of this G. Lodge, therefore
Resolved. That we cannot part with our deceased Bro. without some expression of our grateful attachment and respect for his person and of our high estimate of his character both as a Mason and as a Man.
Resolved. That his long and unfaltering devotion to the principles and interests of our beloved Order, a devotion signalized for over half a century by a multitude of valuable services, calls for our most thankful recognition.
Resolved, That his example is a model of firmness, industry, benevolence, temperance, purity, and energetic integrity, worthy of reverence and imitation on the part of all.
Resolved. That his memory is most dear to us, and That in the circumstances of his departure, taken directly from his tasks to his reward, without suffering or fear, we own the merciful hand of the heavenly Father, and feel that his family and friends are comforted in the assurance that they now have this precious additional treasure laid up in Heaven.
From Moore's Freemason's Monthly, Vol. XXIV, p. 167:
The following sketch of the Masonic life and services of this esteemed Brother, with the accompanying Resolutions, were offered by R. W. Br. Moore in St. Andrew's Lodge, and adopted by that Bordy, on the 9th of March last.
Since our last meeting, a strong pillar in our Israel has fallen! - Death has been among us! He has waled silently through our little Lodge, and has taken from us our elder Brother! One whom we loved, and whom, had it pleased our Heavenly Father, we would have kept, and cherished. But God's will be done! The number of his days were accomplished: his work was finished; and he has gone where
From that Fount, forever pouring,
Flows the tide of Bliss above,
Where the hosts of Heaven adoring,
Shout forever, "God is Love!"
Bro. John Rufus Bradford was born in Boston on the 19th day of September, 1790, and he died at his residence, in his native city, on the 27th day of February, 1865.
He was educated in the public schools of Boston, and, at the usual age, was apprenticed to the grocery business, which he followed until the year 1827, when he was appointed by the City Government one of the Public Weighers. And so faithfully and acceptably did he perform the responsible duties of this important trust, that he was annually re-elected to the place for the long term of thirty-eight successive years! This simple and significant fact says all that need or can be said of his honesty, of his faithfulness to duty, and of the high integrity and character as a business man. One of the most philosophical of the English Poets has said that
"An honest man is the noblest work of God.
We accept the definition, and hang it as an imperishable wreath around the memory of our departed Brother!
But it is as a Mason that we would especially remember him.
He was initiated into Masonry in Mount Lebanon Lodge of this city, on the 2d day of March, 1813, and it is a remarkable and interesting coincidence, that the day of his burial should have fallen on the fifty-second anniversary of his initiation. For the long period of fifty-two years, he has labored faithfully, zealously, earnestly, in the Mystic World of Masonry, when, on the anniversary of his Masonic Birth, God, in His wisdom and in His own inscrutable way, saw fit to translate him to those Greater Mysteries, over which He Himself presides, and where the rage of passion is lulled, the poignancy of sorrow is not felt, and "pleasures flow upon the soul as the honied breeze flows upon the flowers" of the earth.
Our Brother was admitted a member of Mount Lebanon Lodge in the July following his initiation, and was soon after engaged in its active duties. In 1820 he was elected Junior Warden, and in the following year he filled the office of Senior Warden. In 1826, he withdrew his membership, and did not connect himself with any other Lodge until 1836, when he was admitted a member of St. Andrew's Lodge. He was not, however, either remiss or indifferent to his Masonic duties in other departments of the Order, where his services were in constant requisition.
In 1815, he received the degrees of Royal Arch Masonry in St. Andrew's Chapter of this city, and was admitted to membership the following year. Having filled most of its subordinate offices, in 1823 he was elected its High Priest, which office he held for three years, discharging the duties with credit to himself and to the acceptance of his Companions. In 1832, he was again elected to the same responsible and honorable office, and served another term of three years.
He was also for many years an original and efficient member of the Boston Council of Royal and Select Masters, which was organized in 1817: and he subsequently presided over its proceedings from 1829 to 1839, a period of ten years.
In 1830 he received the Orders of Knighthood in the Boston Encampment, and was soon after admitted a member. Having filled most of its inferior offices, he was finally elected its M. E. Grand Commander, which office he held for several years.
In 1848, he was elected Grand Master of the Grand Encampment of Massachusetts and Rhode Island, and presided over that Body for two consecutive years.
In 1845, he was elected Junior Grand Warden of the Grand Lodge of Massachusetts, in which office he served three years.
As already stated, he was admitted a member of St. Andrew's Lodge in 1836. He early became active in its duties and zealous in the advancement of its welfare. During the long period of his connection with the Lodge, he was rarely absent from its meetings. As there was no more punctual, so there was no more active member on its roll. As he was competent and able as a Ritualist to teach, so he was always ready and happy to give instruction to the younger and less informed of his Brethren; nor were his services in this respect confined to the Lodge. They were in equal demand throughout all the various grades and departments of the Order. In the Chapter, the Council and the Encampment, he was of the highest authority, and among the most reliable of teachers. He was always ready, in season and out of season, to answer the calls of his Brethren for instruction, whether from among his friends at home, or strangers from abroad. It was enough for him to know that they were worthy Masons, and that by aiding them he could best subserve the great cause he so dearly loved. And it is due to his memory to say in this connection, that he was no mercenary lecturer. What he had freely received, that he freely gave.
In our own Lodge he was almost always constantly in office, and always engaged in active duties. At two difficult periods he was, by the unanimous voice of his Brethren, called to fill the chair of W. Maser. How well and ably he discharged the duties of that responsible place, the records of the Lodge fully attest. On the death of the late lamented Brother Thos. W. Phillips, he was elected Treasurer of the Lodge, the duties of which office he continued to discharge with his accustomed fidelity and accuracy until his death.
Such is a very brief and imperfect sketch of the more obvious points in the Masonic life and character of our deceased Brother. It is sufficient however to show his great activity and the extent of his valuable labors in Masonry. For these and for his unwavering fidelity to its interests in the day of trial as well as in the hour of joy, the Masonic Institution in Massachusetts, at least, will honor his memory with grateful recollections.
The following resolutions are respectfully offered for the records of the Lodge.
Resolved. That in the sudden death of our late Treasurer and Past Master, Brother John R. Bradford, we humbly and devoutly recognize the hand of that All-Wise and Gracious Providence, who doeth all things well.
Resolved. That we thank God that our Brother was permitted to continue with us, even to the fruition and fulfillment of the Scriptural promise, "Thou shalt come to thy grave in a full age, like a shock of corn cometh in his season."
Resolved. That in the decease of our esteemed Brother, we feel that our Lodge has lost a faithful and upright officer, an active and zealous member, a bright and accomplished Mason, and a tried and trusty friend, whose memory must ever be associated in the minds of his surviving Brethren, with the honor due to official integrity, manly worth, and Masonic virtue.
Resolved. That we feel it to be an act of justice to refer to the faithful and honorable manner in which, through a long series of years, our departed Brother discharged the duties both of a municipal officer of this community and of a private citizen; showing himself in both capacities and characters, to be firm, faithful and true.
Resolved. That while we offer to his family the expression of sincere sympathy and condolence, under the loss and sorrow with which it has pleased our Heavenly Father to visit them, we feel that one of their most solid sources of consolation will be found by them, in the loving memory of the constant care and conscientious kindness, with which he ever sought to provide for their happiness and welfare.
From Moore's Freemason's Monthly, Vol. XXIV, p. 201:
ADDRESS By Rev. Brother Wi. K. Alois, at the Funeral of Brother John R. Bradford, March 3, 1865.
An old man, in the ripeness of bis years and experience, his work finished with blameless fidelity, his life strikingly well filled and rounded, has suddenly escaped from time to eternity; and we have come up to pay him our parting tribute of love and honor.
Forty-three years in immaculate domestic faithfulness and content he lived with the wife of his youth, ere she fell from his side to the tomb,—or rather I should say, in speaking of such a model, as she was, both of the private and social virtues,—ere she rose from his house to the heaven. Thirteen children she had borne him, ten of whom lived to stand around his death-bed in tears. His children's children rose up to bless him with their affectionate veneration. They always sought his counsel, loved his person, revered his will and worth. He was most emphatically the head and front of his family in every sense, its centre of strength and bond of uuion, respected and beloved in that circle as few men ever are. For half a century he stood before them, a pattern of sound judgment and sterling integrity, a shining embodiment of every domestic virtue, uncorrupted by prosperity, unshaken by adversity.
Fifty-two years ago this very day, he became a member of that venerable Order so largely represented in its different branches here at this funeral,—a Free and Accepted Mason. And, from that hour until now, very few members of the Fraternity, in this jurisdiction, have been more zealous, competent, and unwearied servants of its interests, upholders of its honor, representatives of its spirit and works, than he. Very few have been placed in more numerous offices of credit and care. And no one has been more punctual at his posts, or more conscientious in the discharge of the duties they entailed. He was inflexible in his adherence to the old landmarks. Nothing, either by persuasion or intimidation, could induce him to violate or neglect the traditions and proprieties of the Ancient Craft. But accurate and rigid as he was in the rules, symbols, ceremonies he was no mere external routinist. He breathed the breath of life into the technicalities. He well appreciated the true meaning of every rite and emblem, and gave the spirit its due prominence above the letter. His character and example afford an honorable illustration of the proper fruits of Freemasonry. And the Brethren who have been intimately associated with him in the various branches of that honored Institution will gladly unite to praise bis estimable qualities, and will gratefully linger on his memory. Fragrant and fadeless the sprigs of green they will drop into his grave; more fragrant and more fadeless the recollections of the virtues he has left to bloom in their minds.
Thirty-eight years he has filled an office of trust and labor in our city, whose duties he has discharged with a singular exactness and promptitude no less honorable to him than useful and pleasing to those he served. The regularity and readiness with which he kept his post the whole year round, from sunrise to sunset,—for these were the old-fashioned hours he always observed,—were something impressive. It is pathetic now to remember how the old man, verging towards fourscore years, never would leave his place, even in the longest summer days, one instant before the almanac indicated that the sun had set. What uncounted thousands of loads he weighed on his scales there in Hay market Square! Many an honest face will sadden at missing his. Never had any one less reason to fear the text of Scripture, often humorously quoted to him, "an unjust balance is an abomination to the Lord." It was no uncommon thing for men who brought their merchandise to be weighed, to try, by all sorts of persuasions, to induce him to set it down at more than its real weight. Such men got weighed themselves right speedily by his impartial eye and keen wit. They might as well have tried to bribe the balance-beam itself.
For about the same length of lime that he has filled the office of city-weigher, he has been an active and faithful member of this religious society. Nearly forty years, as treasurer, as member of the standing committee, as one of the church communicants, or worshipper, he has come in and gone out among us; in each capacity showing zeal, uprightness, and the utmost punctuality. Almost invariably in his seat at every service, a fixed and eager listener, it is with deep regret that his pastor and fellow-worshippers feel, that, from this hour, they shall see his face no more.
And now, with signal clearness, he has completed his earthly tasks. At their close, he sleeps well, embalmed in the grateful memories and esteem of all who truly knew him. Summoned by the warning bell, we have turned aside, for a moment, from the rush of secular lile to speak a word of justice and kindness above his remains, and then to follow them to the last sleeping-place of mortals. Of most men, when they come to be buried, it will do to speak merely those general truths which are applicable in general. But over this man, so independent and pronounced in his individuality, so poised and weighty in his will, so prominently stamped and generous in the chief elements of his character, every fitness requires that somethiug be said discriminatingly descriptive of him, and not appropriate for men in the average. He was himself so strong in self-sustaining resources, thar it was difficult for him to sympathize with fickle weaklings. Such might consider him wanting in tenderness. He was so little ruled by sentiments, so prevailingly ruled by principles, that the sentimental, if not magnanimous in their temper, and careful in their estimate, would be sure to do him injustice. So clear and fixed were his perceptions, so rootedly conscientious bis motives, that many persons of opposed opinion who came in contact with him would naturally think him narrow and unjustifiably pertinacious. But to those who really knew him as he was, and who had themselves a little generosity of judgment and feeling, his absolute incorruptibility, with his indefatigable attention to every practical detail of duty, neutralized what might otherwise have been repulsive; and they loved as well as honored him. The compact and persistent fibre of his being, and the solid basis of his trust, were such as equally to defy the melting of persuasion and the shocks of opposition. Time and fate might wear, they could not bend, the rocky fabric of his inner strength. Small and fragile as he was in form, he bore within him a will competent to face angry armies, or to sway the destinies of empires.
Of all the men I have known, I do not recall one, who, in independent force and originality of character, appears to me superior to him whose remains now lie before us so cold and still. When he had once made up his mind to the rightfulness of any course of action, not all the arguments, not all the persuasions, not all the threats in the world, could induce him to deviate one hair's breadth from the path he had marked out. His worst foe or his best friend might ask his opinion with the infallible certainty that, without fear or favor, they would hear the truth exactly as it lay in his mind. The man did not live on the face of the globe who could either frighten him or flatter him. Place him in a company of a hundred and fifty persons,—his oldest and fondest associates among them,—on a given question let one hundred and forty-nine vote "aye" in unbroken phalanx; if his judgment and conscience dictated a different view, his solitary "no" would be heard rising as inevitably and as unfalteringly as though all the rest were with him. In some instances, this amazing self-reliance and firmness would undoubtedly seem ungracious. An all-yielding flexibleness would be more winsome. But I must admire and praise the man who so respects himself, that he will not, by any consideration, be prevailed on to falter in the allegiance he pays to his own sense of right and propriety. In a world so full of arrogance on the one side and of servility on the other, a man who aims to be inflexibly just, without arrogance or servility, is a refreshing spectacle. In an age when the characters ot most men seem wax, to take an impress from every outward contact, their purposes a mere mush of impulse at the mercy of every obstacle, the example of a man whose character is granite and whose resolves are adamant is a public benefit. When you have confessed that sometimes his views were perhaps a little too old-fashioned, not quite open enough to new conditions and new light; that sometimes his prejudice was a little too narrow and intense; and that sometimes be may have carried firmness to the point of obstinacy,—I verily believe you have said all that can justly be said in derogation from the great mass of high virtues exemplified in the character and life of John R. Bradford. How many of us are there against whom nothing more can be brought? As I lay this garland of praise on his unsullied forehead, I pray God, that, when I shall be called to judgment, I may but have as clean a record to show, tried by the standard of my own conscience, as he has, tried by the standard of his.
The shell around our departed Brother might be a little hard, but it was not bitter; and the whole soul of the old man within it was as sound and sweet as a nut. He teemed with genial sociality, and was very tenacious in his friendships. He walked most intimately for a long series of years with many such men as Hammatt, Lash, Newman,—numbered now among the dead,—to whom he was unwearied in his attentions, even up to the edge of the covering sod. And a host of those still living and honored among us, who penetrated into his confidence and took him into theirs, will gratefully testify to the pleasantness of his intercourse, the unstained purity and truthfulness of his word, the tenacity of bis attachments, and the extreme value they set upon his friendship. It is well that they have gathered to-day to express their affectionate respect for him who never failed on similar occasions to pay that tribute to his departed Brethren.
One of his most attractive traits was the fine blending of a genuine vein of humor with his seriousness and dignity. The merry twinkle of his eye; the contagious sincerity of his laugh; his ready fund of comic perception; his love of poetry, with the store of verses he could felicitously quote when he pleased. his hearty abandonment to the feast and flow of reason and soul in hours of congenial companionship,—are the particulars by which his closest comrades will remember him longest and most vividly.
A still further feature in his portrait is too beautiful and sacred to be neglected in this sketch, all rough and rapid though it be. 1 mean his substantial kindness of heart as shown in active works of beneficence. He was exceedingly given to deeds of charity. The soul of the good Samaritan glowed in his bosom. His kind offices to the poor and distressed are to be numbered by the thousand. It was a sincere joy to him to distribute in person, to those whom he knew to be needy and worthy, the funds given him by the various charitable societies of whose boards of relief he was a member. And, to the sums he scattered as almoner for others, he never failed to add, with a large generosity, from his own restricted means. No pressure of many anxious affairs, no fatigue of the arduous toils of the long day, prevented him from running hither aud thither with busy feet and open hands to fulfill his self-imposed labors among the bleak and lonesome children of misfortune, the hungry, the naked, and the cold. Ah! ere now the divine Voice has thrilled him in heaven, " Inasmuch as ye did it unto these, ye did it unto me." The unostentatious but unfailing promptness, perseverance, and liberality with which he aided, by his countenance and his pecuniary contributions, in supporting the various educational, philanthropic, moral, and religious institutions among us, on whose strength so much of our social prosperity depends, and with whose decay so much of our virtue and welfare will be found also to decay, reflect honor on him. They also rebuke that glowing multitude in our community, who, in their selfish indifference, absorbed in their personal gratifications, do comparatively nothing in answer to the requirements of an exalted public spirit. He whom we miss and mourn to-day was an unusually methodical, temperate, and prudent man. If he was ever extravagant, it was not in ministering to any pride or luxury of his own, but in sustaining good institutions and in giving to the poor. Such citizens are the health of Boston, and should be its pride. Such disciples are the jewels and boasts of Masonry. Such members are the pillars of the Church. By showing that we appreciate the sterling merits of such men, when they leave us, we furnish a new motive to become like them, and so make their places good.
Active in limb, fresh in faculty, alert and sportive in wit and fancy, still young in the quickness of his interest and the warmth of his affection, he was able to continue at his work to the very last. He had scarcely a taste or touch of the peculiar trials of old age. His strong self-sufficing spirit was mercifully spared the pain of uselessness and dependence. At sunset, on Saturday, he locked up his office and went home. At sunrise, on Monday, he threw off the body, and went home indeed—to God. The pilgrim, who, on the rugged way, had so often manfully shouldered the cross sent him, and then bravely trudged forward again, grew weary at last, and, lying down to rest, found himself unexpectedly safe at the goal. Transfigured into eternal truth, he rose from the off-cast frame with its worn and dusty weeds, pack, sandals, staff, and scrip, to the inheritance of the spirit,—the fixed perfection of destiny. There is nothing to blame. It were wrong to lament him. We ought to congratulate him and rejoice. He who was so truly prepared, who knew so many pass-words, whom time and providence had initiated into so many deep secrets of experience and hidden truths of divinity, has been admitted behind the great curtain, and received into the ultimate mystery. Hail, ascending Brother! and farewell, until we come!
---