MAGLJPSmith
From MasonicGenealogy
JAMES PATRICK SMITH 1869-1934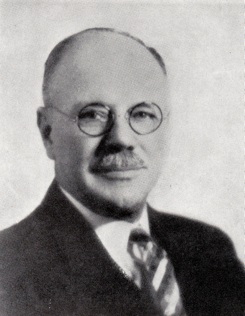 Junior Grand Warden 1930
MEMORIAL
From Proceedings, Page 1934-114:
Right Worshipful Brother Smith was born in Chicopee September 30, 1869, and died in Springfield August 27,1934. His family moved to Springfield when he was three months old and the remainder of his life was spent there.
In 1891, Brother Smith entered the postal service as a substitute carrier. He remained in the service, passing through every grade until he retired on a pension as Postmaster in 1933. This remarkable record, extending through so many changes in the Federal administration, bears eloquent testimony to his efficiency and to his popularity among his fellow citizens.
Brother Smith took his Masonic degrees in Esoteric Lodge in 1909 and served it as Master in 1916. He was also Master of Samuel Osgood Lodge under Dispensation in 1921. He served as District Deputy Grand Master for the Thirty-third Masonic District in 1923 and 1924 by appointment of M. W. Dudley H. Ferrell. He was Junior Grand Warden in 1930.
He was a member and Past High Priest of Morning Star Royal Arch Chapter, and held several offices in the Grand Chapter, including that of Deputy Grand High Priest, in 1932. He was a member and Past Illustrious Master of Springfield Council.
He was a member of the several Scottish Rite Bodies in Springfield, and at his death was Thrice Potent Master of Evening Star Lodge of Perfection and Junior Warden of Springfield Chapter of Rose Croix.
He gave especially valuable service to Grand Lodge as a Representative at Large on the Board of Masonic Relief. While holding no public office except in the Postal service, he was a leading and influential member of a large number of professional and philanthropic associations.
He was a man with whom it was always a joy to work, efficient but not self-assertive, friendly and co-operative at all times, always eager to help and to serve. His death is a great loss to the Fraternity.
From Proceedings, Page 1934-336:
Born in Chicopee, Mass., September 30, 1869
Died in Springfield, Mass., August 27, 1934
The value of a man's life is not measured in cycles of time but by his record of achievement, and Right Wor. Brother Smith filled his life so full of service that the memorial in the hearts those who knew him is of more value than any words that may be written.
He was educated in the Springfield schools and soon graduation took the civil service examination (the first ever in Springfield) and on June 1, 1891, was appointed substitute mail carrier and in November of that year received his appointment as regular carrier. Step by step he won promotion until he was appointed Postmaster on June 23, 1928, being the only man in the history of the Springfield office to rise from the ranks to this position. He retired in 1933.
The love and respect given him by his associates is the tribute to his life work in this department.
He is survived by his widow, a son, and a daughter.
His Masonic record is as follows:
Raised in Esoteric Lodge, Sept. 23, 1909 - Master in 1916.
Charter Member of Samuel Osgood Lodge. Master (U.D.) 1921-22.
District Deputy Grand Master, 33d District, 1924-25.
Junior Grand Warden, 1930.
Representative at Large on the Board of Masonic Relief.
Member of the Service Committee of the Grand Lodge.
Honorary Member of Samuel D. Sherwood and Charles C. Spellman Lodges.
Exalted in Morning Star Chapter R.A.M. October 17, 1912 - High Priest 1924.
District Deputy Grand High Priest, 5th Capitular District, 1928-29.
Deputy Grand High Priest, 1932.
Anointed, Massachusetts Convention of High Priests, 1924, Vice-President, 1931.
Received the Super Excellent Degree in Springfield Council R. & S. M. 1914. Illustrious Master, 1926.
Member of all the Scottish Rite bodies in Springfield, holding the following offices at the time of his death:

T. P. Master of Evening Star Lodge of Perfection
Senior Warden, Massasoit Council, Princes of Jerusalem
Senior Warden, Springfield Chapter of Rose Croix
To "Jim" Smith, Masonry was not merely ritual but was in truth the rule and guide of his conduct in all his dealings with mankind.
While many Masonic honors were fittingly bestowed upon him, perhaps more lasting and more worth-while than jewels and titles is the reputation for unselfish Masonic service which he leaves behind him.
All felt free to come to him with their troubles and perplexities, in confidence that they would there find a helping hand to aid them in their hour of need.
No task was too great, no trouble too small to engage his attention if by his labors he could serve his fellow man and advance the cause of Masonry.
Such was our Brother, Formed on the good old plan,
A true and brave and downright honest man.
He blew no trumpet in the market place,
Nor in the church with hypocritic face
Supplied with cant the lack of Christian grace.
Loathing pretence, he did with cheerful will
What others talked of while their hands were still.
His daily prayer, far better understood
In acts than words, was simply doing good.
So calm, so constant was his rectitude,
That by his loss we know his worth
And feel how true a man has walked with us on earth.
Herbert W. Dean
George A. Guyett
Clifford A. M. Weber
Committee
---