MAGLJNHall
From MasonicGenealogy
JOHN N. HALL 1912-1985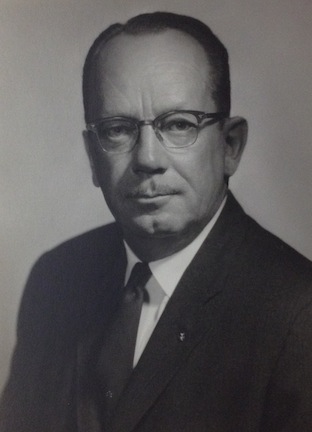 Grand Pursuivant, 1957
Grand Marshal, 1960-1962
Senior Grand Warden, 1963
MEMORIAL
From Proceedings, Page 1985-125:
Right Worshipful John Nicholas Hall was born in East Aurora, New York on January 29, 1912, the son of John A. Hall and Ida M. Hall, and was educated at Cortland High School, Cortland, New York, receiving a B. S. from Cortland State Teachers' College in 1934.
In September, 1936, he married Doric Pearl Locke, who passed away in 1984. They are survived by three children, Clifford Locke Hall, John Nicholas Hall, Jr., Andrea Ayer Smith, and six grandchildren.
He was a member of the Needham Congregational Church and had been active in the Needham Cub Scouts and Needham Chapter, Order of DeMolay, and was a Director and First Vice President of the Needham Cooperative Bank. His professional career began as a teacher at Bishop-Lee School, Boston in 1935, and he worked in professional summer theatre in Malden Bridge, New York as well, from 1932 to 1940. His training at this time was to have a profound impact on his later Masonic career. In 1940, he became associated with H.S. Locke and Son Lumber Company in Needham, and was President of the company at the time of his passing.
He had a long and active Masonic career. He received his Entered Apprentice degree in Norfolk Lodge, Needham, on Ocrober 11, 1948, his Fellow Craft degree on November 8, 1948, and was raised a Master Mason on December 8, 1948. He started in line in 1950, and was Worshipful Master in 1953. He served as Grand Pursuivant in 1957, District Deputy Grand Master of the Brighton 5th Masonic District in 1958 and 1959, Grand Marshal from 1960 to 1962 for M.W. Laurence E. Eaton, and was Senior Grand Warden in 1963. He received the Henry Price Medal in 1960 and was appointed Grand Representative of the Grand Lodge of Panama in 1962. He affiliated with Nehoiden Lodge, Needham, in 1956 and Maugus Hill Lodge in Wellesley in 1964.
He joined Newton Royal Arch Chapter in 1955, Boston Council, Royal and Select Masters in 1959, and St. Bernard Commandery No. 12, K.T., in Boston in 1956 becoming its Eminent Commander in 1963.
In Scottish Rite, he took his degrees in the Valley of Boston in October, 1954, and soon thereafter started to take an active part as a degree worker in Boston Lafayette Lodge of Perfection and Massachusetts Consistory. In 1958, he was appointed an Assistant Master-of-Ceremonies of Massachusetts Consistory, and became Commander-in-Chief 1967-1970. He was honored by being elected an Honorary Member of the Supreme Council, receiving his 33rd Degree at the 1968 session held at Atlantic City, New Jersey. He utilized his training in dramatics extensively in Scottish Rite, as a proficient actor and tireless director in several bodies in the Valley of Boston.
He joined Aleppo Temple, A.A.O.N.M.S. in 1967 and held the office of Chancellor. He was also a member and Past Director of Boston Court #103, Royal Order of Jesters and a member of Massachusetts College, Societas Rosicruciana in Civitatibus Foederatis.
Right Worshipful Brother Hall was relieved of his duties here on earth at Montague, Massachusetts on August 3, 1985. A Masonic service was conducted by Wor. Robert A. Jeffery, Master of Norfolk Lodge on August 6, 1985, and funeral services were held at the Carter Memorial Methodist Church, Needham, on August 7 1985. The service was conducted by Right Worshipful and Reverend Oscar A. Guinn, Jr., with a eulogy by Right Worshipful Manson H. Carter.
Out, out, brief candle! Life's but a walking shadow; a poor player, that struts and frets his hour upon the stage, and then is heard no more -
- William Shakespeare
Respectfully submitted,
Robert A. Jeffrey
James R. Franklin
Brenton E. Tyler, Jr.
Committee
---