MAGLJKeith
From MasonicGenealogy
JOSEPH W. KEITH 1889-1968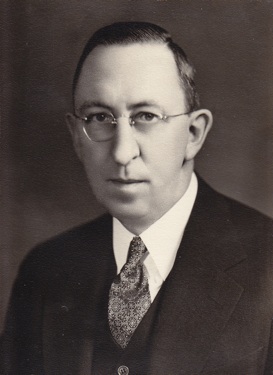 Senior Grand Warden, 1950
MEMORIAL
From Proceedings, Page 1968-25:
Right Worshipful Joseph Wright Keith was born on March 18, 1889 in Bridgewater, Massachusetts, the son of Sumner Keith and Sara P. (Mitchell) Keith. He was a direct descendent of Rev. James Keith who was the first minister to the Plymouth Colony, coming over from Scotland in 1660 to serve in the Church at what is now West Bridgewater. He had ancestors that came over on the Mayflower and others who fought in the American Revolution.
He attended the Bridgewater public schools, graduating from High School in 1907. He was employed at the George E. Keith Shoe Company for a few years until becoming affiliated with the law offices of Edward A. MacMaster. He soon began his law studies at Boston University Law School, graduating in 1913. He was admitted to the Bar the same year. He practiced law with the well-known firm of Nutter and King and became a partner in this firm. At the death of these two partners he became a member of the firm of Keith, Reed and Wheatley. He served as assistant to the U.S. District Attorney, Robert O. Harris, and later as Assistant District Attorney to District Attorney, Harold Williams. For many years Right Worshipful Brother Keith was moderator of the Bridgewater Town meetings, presiding with legal dignity. He was a member of the Massachusetts, Plymouth County, and Brockton Bar Associations.
He was a Director of the Plymouth Home National Bank and Vice-President of the Brockton Savings Bank. He was past President of the Brockton Rotary Club and a former member of the Brockton Commercial Club, and the Union Club of Boston.
His Masonic record was as follows:
Entered Apprentice Degree – June 3, 1913
Fellow Craft Degree - Oct. 3, 1913
Master Mason Degree - Nov. 3, 1913
He received these degrees in Fellowship Lodge.
Master of the Lodge - 1929-1930
District Deputy of the 29th Masonic District - 1941-1942
Grand Marshal of the Grand Lodge of Massachusetts – 1948-1949
Senior Grand Warden of the Grand Lodge - 1950
Grand Representative to Rio de Janeiro – 1950-1953
Grand Representative to Denmark - 1951-1968
Received Royal Arch Degree - May 24, 1916
Received Super Excellent Degree - May 16, 1918
Received the Order of the Temple – Jan. 15, 1923
Boston Lafayette Lodge of Perfection - Oct. 3, 1947
Giles F. Yates Council - Oct. 10, 1947
Mt. Olivet Chapter of Rose Croix - Oct. 17, 1947
Massachusetts Consistory - Oct. 24, 1947
He was a Charter Member of the Bay State Conclave, Red Cross of Constantine, and belonged to Aleppo Temple, Boston, He was married in October, 1916, to Flora S. Wheeler, making their home in Bridgewater at 32 Union Street, with a summer residence for many years in Pocasset, Massachusetts. He leaves, besides his widow, two sons, Lt. Col. Brother Herbert W. of McLean, Virginia and Brother Edward M., of Bridgewater.
Funeral services were held Wednesday, January 17th, at the Central Square Congregational Church, Rev. James D. MacLaughlin and Rev. Richard McClintlock officiating.
Fraternally submitted,
Roger Keith
Stanley H. Peterson
Roland C. Garrison
Committee
---