MAGLJFarr
From MasonicGenealogy
JAMES F. FARR 1911-1993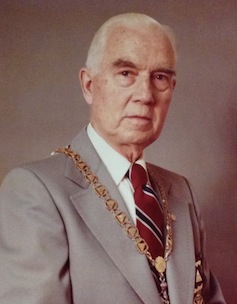 Grand Sword Bearer, 1954
Deputy Grand Master, 1966
MEMORIAL
Right Worshipful James Francis Farr was born on March 17, 1911 at Ludlow, Massachusetts, the son of Charles H. and Stella M. (Greene) Farr He was graduated from Harvard College with honors in 1933 and from the Harvard Law School in 1936 with the Bachelor of Laws Degree.
Following his active service as a Lieutenant in the Coast Guard in World War II, he maintained a private law practice in Boston before becoming associated with the law firm of Hausserman, Davison & Shattuck where he eventually became Senior Partner. From 1989 to 1993, he was a consultant to the firm of Peabody & Arnold. He specialized in probate law and trust and estate planning and was the author of two important reference volumes in this area.
Brother Farr served on a number of corporate boards of directors as well as on many civic and community organizations. These included New England Deaconess Hospital as Trustee and Chairman, Cambridge YMCA as President, Cambridge Home for Aged People as board member, Cambridge Civic Association and Cambridge Community Services. As a member of the Harvard-Epworth Methodist Church, he rendered invaluable service as well as to the New England Conference of the Methodist Church, the Massachusetts Council of Churches, the Methodist Chaplain Commission the General Board of Lay Activities and the National Board of the Coordinating Council of the Church.
Brother Farr was deeply devoted to Freemasonry. The following is a summary of his extensive Masonic career:
The Harvard Lodge, Harvard University

Initiated, Passed and Raised, 1944;
Worshipful Master 1949-1951.

Grand Lodge of Massachusetts:

District Deputy Grand Master, Boston Second Masonic District 1952, 1953;
Grand Sword Bearer, 1954; Judge Advocate, 1954-1957;
Board of Commissioners of Trials, 1957-1993;
Deputy Grand Master, 1966;
Board of Directors of the Grand Lodge, 1975-1993;
Trustee of the Masonic Education and Charity Trust, 1973-1993.

York Rite:

Cambridge Chapter. Exalted June 6, 1962;
Cambridge Council, Greeted August 4, 1962;
Saint Bernard Commandery No 12, Boston, Knighted November 10, 1965.

Scottish Rite:

Received the Degrees from the Fourth to the Thirty-second in the four Bodies in the Valley of Boston, 1947;
Sovereign Prince, Giles F. Yates Cottncil, Princes of Jerusalem, 1962-1965
Created Sovereign Grand Inspector General, 33°, Honorary Member of the Supreme Council in Detroit, Michigan in 1964, and crowned an Active Member at Pittsburgh in 1967.
He was elected Deputy for Massachusetts in 1976 and served for ten years in that capacity. He became an Emeritus Member in 1986.
He died on October 28,1993 at Cambridge Hospital, following a period of declining health. He is survived by a sister, Carol V. Farr of Belmont and a brother Robert H. Farr of Granby, Massachusetts.
A Masonic funeral service was conducted by The Harvard Lodge, A.F. & A.M. at the Brown & Sons Funeral Home in Belmont on Tuesday evening, November 2, 1993, attended by many Masonic and professional friends and associates. Interment took place at the West Cemetery in Granby.
Right Worshipful Brother Farr will be remembered as a man dedicated to his profession, to his church and to his Fratemity.
Respectfully submitted
M.W. J. Philip Berquist
M.W. Stanley F. Maxwell
M.W. Donald W. Vose
R. W. Robert P. Beach,
Committee
SPEECHES
FEAST OF ST. JOHN, DECEMBER 1965
From Proceedings, Page 1965-448:
Most Worshipful Grand Master and Distinguished Brethren all:
This has to be a very high moment for me, but I would be a little less than honest if I said that I was entirely happy to be standing here right now. I suspect I would be more honest if I asked the question that is on the lips of every one of you,
"Why?" "How come?" Fortunately for me that first question probably never will be answered, but perhaps you would like to know "how".
It was November 19, a day long to be remembered. I had just turned off the TV after watching the Harvard-Yale game, and I was basking in the reflected glow that comes to any Harvard man as his team shuts out Yale. The telephone rang and shattered my thoughts: "This is Irvin Gifford of the Grand Master's office. Just a moment, the Grand Master will speak to you."
The next voice, "Jim, this is Neill, but I am speaking to you today as the Grand Master." (A thousand thoughts flashed through my mind. What did he know? What had he found out? The Grand Master is not in the habit of calling me.)
"I have a friend who would speak to you. He is with me now."
And then another voice, "Jim, have you heard the rumor that is going around?"
Well, in November there is only one rumor going around and I said, "Yes".
And without identification he said, "Would you work with me in an exalted position in 1966?" (I pleaded for time to think about it) and he continued: "I will see you a week from Friday."
During the week I asked the then Grand Master for some advice about the office. His advice was priceless, "Make your speeches short."
And I thought of the small boy who asked his father for a little information about algebra. The father was quite pleased and not a little impressed. He asked his son why he didn't speak to his mother and the boy said, "I didn't want to know that much about it."
Misery reigned for a week. How does one say,Yes"? How can one say, "No"?
Then this famous picture flashed before my thoughts again, the picture on the cover of a magazine. It was a great picture. It said so much. The photographer had caught a young boy just as he came off the dawn patrol in Viet Nam. Reflected in the face of the boy was all the disillusionment of the world, all of the weariness of the world, and the photographer sensed he had a great human interest story. He asked the boy what he would want if he could have anything in the world. The photographer expected him to say maybe he wanted to see his mom, maybe a shower, a clean bed, maybe out of this whole damn mess. So the photographer had said to the boy, "Son, if you could have anything in the world right now what would you want?" Without changing his expression, without taking the dust from his face, the boy simply said, "I want tomorrow."
Most Worshipful Sir, I like to think that that boy spoke for all of your officers and that he spoke for Masons everywhere. All that we want in the world tonight is tomorrow, just one more chance, if you will, at being a Mason, one more chance at friendship, one more chance at building character.
And what is this character? We are told that some of us spend the days of the week sowing wild oats and on Sunday pray for a crop failure. Is this character?
Someone else has said character is something each one of us must build for himself out of the laws of God and of nature, out of the examples of others, and most of all out of the trials and errors of daily life, that character is the total of thousands of small daily strivings to live up to the best that is in each one of us.
Most Worshipful Sir, with you guiding us, your officers will find that tomorrow. Thank you.
---