MAGLJDorsa
From MasonicGenealogy
JOHN JOSEPH DORSA 1927-2008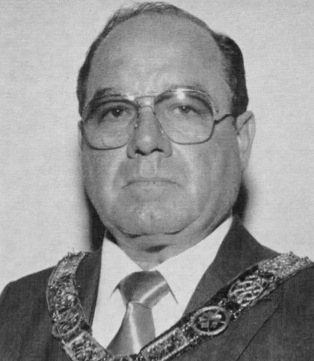 District Grand Master (Panama), 1984-1986
BIOGRAPHY
From TROWEL, April 1984, Page 16:
Right Worshipful John Joseph Dorsa is the new District Grand Master of the District Grand Lodge at the Panama Canal Zone working under the jurisdiction of the Most Worshipful Grand Lodge of Masons in Massachusetts. Appointed by Most Worshipful David B. Richardson, Brother Dorsa was installed December 27, 1983.
Born in New York City, he went to sea at age 16 and attained the command of his own vessel 15 years later. In January of 1964 Brother Dorsa joined the Panama Canal Company in the demanding position of Canal Pilot, a post he still holds.
A Past Master of Darien Lodge (now Balboa Lodge) of Balboa, Republic of Panama, he has been District Grand Lecturer, District Senior Grand Warden and Deputy District Grand Master. He was coroneted a Thirty-Third Degree Mason, Inspector General Honorary of the Supreme Council Thirty-Third Degree for the Southern Jurisdiction of the United States. He is now the Almoner of the Panama Canal Scottish Rite Bodies at Balboa.
Brother Dorsa is a Knight Templar, a Junior Past Potentate of Abou Saad Temple, A. A. O. N. M. S., Balboa, and a member of Panama Canal Court No. 18, Royal Order of Jesters. Married to the former Evelyn Gusler of White Gate, Va., the couple now resides in Los Rios, Republic of Panama.
MEMORIAL
From Proceedings, Page 2008-125:
It is with sadness that we have to report the passing of Brother Dorsa, Past District Grand Master of the Panama Canal Zone, on August 6, 2008 after a long illness.
Brother Dorsa received his degrees in Sojourners Lodge Republic of Panama in 1972 and then affiliated with Darien Lodge, Balboa, which later became Gatun Lodge in the present Panama Canal District.
He was Master of Balboa Lodge in 1976 and received the Distinguished Service Medal in January of 1983. Brother Dorsa served as District Grand Master from 1984 thru 1986.
He had a distinguished career of almost three decades as a senior Panama Canal pilot and was well-respected in the maritime community. Brother Dorsa will be remembered with great affection.
---