MAGLJCotton
From MasonicGenealogy
JOSEPH R. COTTON 1890-1983
Senior Grand Steward, 1936
Deputy Grand Master, 1950
MEMORIAL
From Proceedings, Page 1983-206:
Right Worshipful Joseph Russell Cotton, Past Deputy Grand Master, died in Lexington, Massachusetts, on October 28, 1983, at the age of ninety-two years.
Right Worshipful Brother Cotton was born on November 16, 1890, in Charlestown, Massachusetts, the son of Henry Ward Beecher and Ruth C.E. (Tibbetts) Cotton. He was also a twin brother to Henry C. Cotton. At the age of four his family moved to a farm at 123 Marrett Road in Lexington, Massachusetts and he lived there until a few years ago.
His early schooling was in the public schools of Lexington, Massachusetts. After graduating from Boston Latin School, he entered Boston University of Law received his L.L.B. degree in 1912 and his L.L.M. in 1913. He was admitted to the Massachusetts Bar in 1912, the same year he graduated from law school. His service to his community, state and nation was exemplary and merits our attention. He became active in Lexington politics, being elected Town Moderator in 1919 and Selectman in 1921. He was elected to the State Legislature in 1923 and the State Senate in 1927; two of his fourteen years in the Senate he served as its President and also Chairman of the Public Utilities Commission. He served the late Governor and Senator Leverett Saltonstall as chief secretary, and was appointed by him an associate Judge to the land court in 1943, where he remained until his retirement in 1969.
During World War I he served as a Lieutenant in the U.S. Infantry and was Organizing Commander, Stanley Hill Post #38, American Legion in Lexington.
During his long career in public service he was once described as "amiable as a good day in May." When interviewed after being appointed to the Land Court in 1943, our Brother commented, "When I begin to act the way a Judge is supposed to act on the stage or in the comic sections, I have instructed my friends to give me a good swift boot."
Right Worshipful Brother Cotton served the Craft well and faithfully over many years. He was raised a Master Mason in Simon W. Robinson Lodge A.F. & A.M., in Lexington, Massachusetts on March 11, 1912 and was its Worshipful Master sixty years ago in 1923. He was appointed Senior Grand Steward in 1936, District Deputy Grand Master for the Somerville Sixth Masonic District in 1949, and Deputy Grand Master in 1950, serving under MW. Roger Keith, who presented him with the Henry Price Medal. He served on the Board of Commissioners of Trials from 1958 to 1966, and as Grand Representative of the Grand Lodge of New York from 1950 to 1979. He received his Grand Lodge Veteran's Medal in 1962.
He joined the Scottish Rite in the Valley of Boston in 1939 and became a Guard in Mount Olivet Chapter of Rose Croix in 1944, serving that capacity for over thirty five years. In the York Rite he was exalted in Saint Andrew's Royal Arch Chapter, Boston, on June 19,1945; greeted in Boston Council, Royal and Select Masters, on August 15, 1959; and Knighted in Saint Bernard Commandery No. 12 KT. on January 9, 1946.
In the appendant bodies, Brother Cotton joined Aleppo Temple A.A.O.N.M.S. on May 16, 1950. He was admitted into the Massachusetts College Societas Rosicruciana in Civitatibus Foederatis on May 5, 1948. He was a member of the Appalachian Mountain Club and a Corporator of the Lexington Savings Bank.
Right Worshipful Brother Cotton was a distinguished and dedicated Mason, an upright citizen, a man of keen foresight and sound judgement, and a man whose qualities one would do well to emulate. The great sense of humor he displayed on many occasions will be sorely missed.
He is survived by one nephew, Laurie P. Cotton of Braintree and several grand nieces and nephews. His wife Dora L. (Meserve) Cotton predeceased him. Funeral services were held on October 31, 1983 in the Douglass Funeral Home of Lexington; cremation followed. In attendance were the Most Worshipful Grand Master J. Philip Berquist, and other Masonic and governmental dignitaries.
Fraternally submitted,
Merwin E. Chandler
Paul C. Davidson
Robert W. Custance
Committee
SPEECHES
FEAST OF ST. JOHN, DECEMBER 1949
From Proceedings, Page 1949-232:
Most Worshipful Sir, Distinguished Guests and Brethren:
Many a time over the years I have attended these Feasts and always had a carefree evening. Tonight, however, I feel far from carefree. I came to these Feasts to see and hear the justly noted leaders in Masonry who graced the head table. There was also another purpose — to view the new Deputy Grand Master. I rather considered him a surprise package, his appointment, coming as it does, so near Christmas. I would warn you, however, that I am not a package you can wrap up and exchange tomorrow.
It is a pleasant surprise finding myself on the official side of the head table, and I take comfort as I see here so many of those whose friendship I have counted on over the years. I first met the Grand Master when he was in the Senate, so he had better be careful what he says about me. That was back in 1928, and we sat there side by side for four years. It was the beginning of a beautiful friendship. One Samuel H. Wragg was also in that Honorable body. To us here he is a Past Grand Master, but there he was President of the Senate. Looking around that circle, he picked me as his floor leader, and in the Senate, that amounts to being classed as a glorified office boy and messenger. There the king can do no wrong and the floor leader takes the rap. I wonder if there is any analogy to my present position as a Deputy here tonight?
The years I worked with the Honorable Sam Wragg were most happy ones, and the same was true of my present boss. I know I shall enjoy working again .with our Grand Master, for in the Senate he labored well for the common weal and now labors well for the Masonic weal. In the Senate we all followed our party line, but beneath it all, we followed the Masonic line. It will mean much if all of us would first and foremost follow the Masonic line.
We learn Masonry from experience, that is to say, we learn it from others. As an Art, it is best expressed in behavior. Public opinion of Masonry emerges from those Masons who practice it in acts and deeds. It is because Masons practice Masonry that it has grown to such proportions, and so long as we continue to do so, Masonry will be safe for posterity.
I have enjoyed thirty-eight years as a Mason. For those many years I have tried to follow its dictates and have learned to love the Royal Art. In pledging my duty to the Grand Master, and through him, to the Craft, it is my sincere hope, yea my prayer, that I shall so acquit myself that my conscience will permit me to continue to call myself Master Mason and to feel that in a small way I have merited the honor on me this day conferred. For your attention, Brethren, my thanks.
---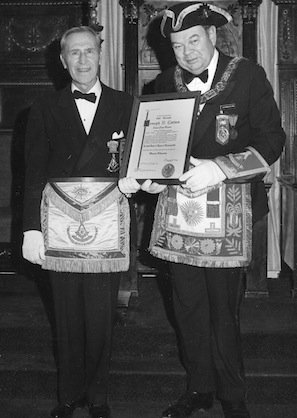 Presentation of 50-Year Past Master Certificate by Grand Master Vose, 1974
---