MAGLHStoddard
From MasonicGenealogy
HATHERLEY A. STODDARD, JR. 1902-1982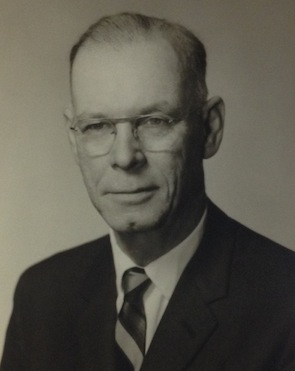 Senior Grand Warden, 1968
MEMORIAL
Born in Salem, Massachusetts on July 12, 1902, the son of Hatherley A. Stoddard and Jannette (Littlefield) Stoddard. He received his education at the Horace Mann Training School and Salem High School and received a certificate from Northeastern permitting him to teach at the Vocational School.
He was employed in the automobile business from 1925 to 1942. He was a U.S. Army Civilian Inspector for the Gulf Oil Corporation, retiring in 1966. His desire to remain active led him to part time work in a hardware store.
He was a member of the First Church of Christ Scientist of Boston, a past Ieader and was President of the Church at the time of his death. He was a member of Essex Lodge, being raised in 1924, (March) and was its worshipful Master in 1940 and its Treasurer in 1941-43. He received the appointment as District Deputy Grand Master of the Salem 8th District for the years 1945-46. His desire to hear the ritual presented as perfect as possible led to appointment as Grand Lecturer in 1953. He continued to serve in that position for 14 years at which time he expressed the desire to run for the office of Senior Grand Warden. He was elected and served Grand Lodge faithfully for the year 1968. He was awarded the prestigious Henry price Medal in 1968 and was appointed the Grand Representative of the Grand Lodge of South Dakota near the Grand Lodge of Massachusetts.
He was a member of York Rite Bodies in Massachusetts, and was Excellent High Priest of washington chapter in 1938. He was Grand principal Sojourner of the Grand chapter in 1942 and served Grand chapter as District Deputy Grand High Priest in 1943. He received the Super Excellent Degree in Salem Council in 1939 and the Order of the Temple in Winslow Lewis Commandery in 1944.
He was also a member of the Scottish Rite, including Sutton Lodge of Perfection, Jubilee Council, Princes of Jerusalem, Emmanuel Chapter of Rose Croix, all in Salem and Massachusetts Consistory.
His civic activities included specifically, being a member of the Y.M.C.A. where he had been a corporate member for 56 years.
Besides his wife, Myrtlg R. (Jones) Stoddard, he leaves a brother-in-law, Stephen Jones of Swampscott, a niece and several cousins. He left this Earthly Temple on Tuesday, February 23. A Masonic service was conducted at the Full Memorial on Thursday evening by Essex Lodge. Funeral services were held on Friday at I P.M. at the Full Memorial. A host of friends were present.
Respectfully submitted,
Thomas A. Booth
Harry A. Powers
John S. Linehan
Committee
---