MAGLHMills
From MasonicGenealogy
HENRY JAMES MILLS 1854-1918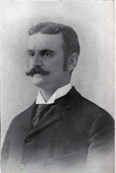 Junior Grand Warden, 1895
MEMORIAL
From Proceedings, Page 1918-187:
Henry James Mills was born at Bow, New Hampshire, on August 29, 1854. He was a son of Thomas C. and Martha A. Carter Mills. He moved to Saugus March 17, 1866, and was educated in the Saugus Public Schools. He was engaged in the dry goods business, and was Postmaster at East Saugus for many years. He was a member of the School Committee of Saugus from 1890 to 1908, a member of the Essex Chapter, Sons of the Revolution, the New England Historic Genealogical Society, the Lynn Historical Society, the Society for the Protection of the New Hampshire Forests, and the Saugus Board of Trade. He was a Trustee of the Methodist Church at East Saugus.
MASONIC RECORD.
Right Worshipful Brother Henry James Mills received the Entered Apprentice degree on November 11, 1875, in William Sutton Lodge; the Fellow Craft degree on January 13, 1876; and the Master Mason's degree on March 9, 1876. He was Worshipful Master of William Sutton Lodge for the years 1882, 1883, and 1900. He was District Deputy Grand Master of the Seventh Masonic District for the years 1887, 1888, and 1889, and was Junior Grand Warden of the Most Worshipful Grand Lodge of Massachusetts in 1895.
He received his Royal Arch degree February 26, 1885, in Sutton Chapter, Lynn. IIe held the office of Excellent High Priest during the years of 1889 and 1890. He received the Super Excellent degree June 18, 1890; in Melrose Council at Malden. He received the Order of the Temple May 20, 1895, in Olivet Commanclery, Lynn.
IIe was,a member of Boston Lafayette Lodge of Perfection, Giles F. Yates Council, Mount Olivet Chapter of Rose Croix, and Massachusetts Consistory.
Right Worshipful Brother Mills was a member of the District Deputy Grand. Masters Association of Massachusetts, and was its Secretary and. Treasurer for a quarter of a century or more. His especial interest in the affairs of this Association contributed largely to its continued success.
Brother Mills came from good Revolutionary stock. He was a loyal citizen and true Mason, always courteous and considerate of the rights and. feelings of others.
Right Worshipful Brother Henry James Mills died on Wednesday, August 7, 1918. His funeral was held on Saturday afternoon, August 10, at the East Saugus Methodist Church. The services were attended by representatives of the Grand Lodge, officers and members of William Sutton Lodge of Ancient Free and Accepted Masons, and representatives from other Masonic bodies of which he was a member, as well as friends and neighbors.
This Brother has passed from our vision, but the pleasant memories of his acquaintance will continue until time shall be no more.
Fraternally submitted,
George W. Bishop,
Charles S. Norris,
E. Everett Ferris,
Committee.
---